Every year, our local radio station, CFOX.com holds a Santa Fox Ball with proceeds going to the Lower Mainland Food Banks. This year, they held two balls – aptly dubbed 'the left ball' and 'the right ball'. The first ball was held Tues Dec.16th, and the Commodore Ballroom and featured Incura, Mobile and State of Shock. My friend Grace and I both attended, neither of us had seen State of Shock live before.
The band came out ready to rock, and kicked it up a notch even before the first song was over! Cameron Melnyk has an incredible voice – awesome range and strong as all get out.. melodic and rich too – he can sing a Papa Roach cover or switch to a ballad just as easily and both sound great. Jesse Wainright and Kadooh play guitar and both men are solid musicians who know their instruments well. Alley Toews plays bass and is a rockin chick with a no nonsense approach to her performance – a few bruises or a broken nail wont stop her from giving it everything she has. The band is rounded out with Johnny Philippon on drums and unlike most drummers, he's not forgotten by his band mates way back there – this band moves around on the stage, takes possession of it and uses it to the fullest.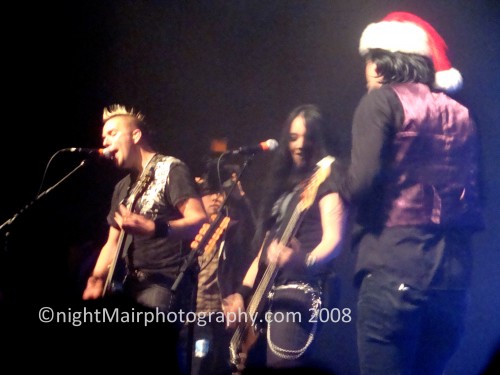 The band played for a solid hour with little down time between songs and each member of the band gave it all they had – and I had the distinct impression that they play like this every single time – playing it like its their first show (or their last) and making sure they give the fans their best.
I was totally impressed.. and even better, I was totally absorbed in the show from start to finish and didnt want the show to come to its conclusion. Next time State of Shock is in town – I'm there!
You can view more State of Shock photos in the Gallery
Check out State of Shock on Facebook or Twitter
Copyright © 2008 nightMair Creative All Rights Reserved