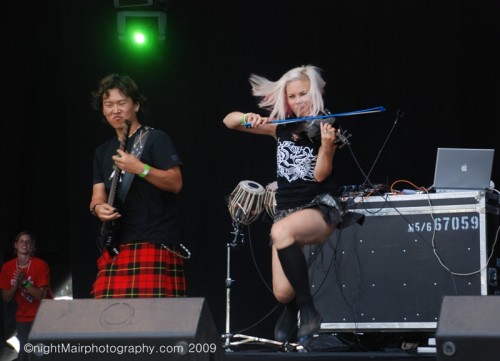 Each year Nakusp, BC holds a music fest over a weekend in July. This year, Delhi 2 Dublin was one of the bands performing at the Music Fest, so of course I had to brave the incredible hot weather and watch the show they put on mid afternoon Saturday.
My first introduction to Delhi 2 Dublin was when I attended the BC High School Bhangra Competition as a volunteer photographer a few months ago. Delhi 2 Dublin opened the Indian dance competition, performing three songs for an enthusiastic audience. I was in awe then, and was again the afternoon of the Nakusp Music Fest.
Delhi 2 Dublin is a 5 person band that mixes traditional Punjabi sitar and drums, with Punjabi lyrics and Celtic fiddling – along with electronic beats from a laptop/mix table. It's truly one of a kind – a fusion of music that is unique and unlike anything I've ever heard – or watched!
The band is comprised of Sanj on main vocals and drum, Andrew on electronic sitar, Tarun on mixing and drums that are reminiscent of overgrown bongos, and Kytami on fiddle.
This band is fantastic to watch – live is definitely where they excel, giving a performance full of vigor and charm and they really connect with any audience they play in front of. When the concert started, I had no problem finding a spot up front to snap photos from – by the time their one hour set was over, there were people stacked up at least 30 rows deep, not including festival goers who chose to stay sitting in their lawn chairs. They appeal to a wide mix of listeners – but have a definite following amongst the 18-30-ish age group; I could tell that many fans were familiar with the songs, some even singing in Punjabi along with Sanj and Kytami obviously recognized a few fans in the front, sending smiles out to them in between fiddling.
I thoroughly enjoyed the entire show; the mix of different music styles and sounds really engaged me and had me wanting to tap my feet (hard to do while trying to stay still enough to take decent shots) and if I have a chance to see this group again, I'll be sure to catch them.
Dehli 2 Dublin can be found on Myspace HERE and on their official website HERE
Be sure to check them out and give them a listen. You'll be entranced.
Copyright © 2009 All Rights Reserved