U2 has been my favorite band for as long as I remember being interested enough in music to actually attend concerts – and over the years even as my musical tastes changed, bands would come and go on my 'top 10' list, but U2 always remained. I've always gone to see U2 live in concert whenever I possibly can; in fact, in all the years of concert going, I've only missed the band once – Easter vacation and I was already booked for 10 days somewhere else but I did seriously consider cancelling my holiday! This time was no different – I've recently moved away from Vancouver, but bought my tickets months ago knowing I'd make the 5 hr trek back to the coast to see this band.
I can honestly say I've never seen a bad U2 show. I've been to shows where Bono was so hoarse at some points that he's had to encourage the audience to sing the song with him, for him – and they do. And somehow his voice kicks in again and he's able to continue pushing his limits, and its grand, and wondrous, and somewhat magical.
Last time I saw U2, I was able to see the band up close and very personal. I bought a general admission ticket, stood in line for nearly 24 hrs in an ice storm in the middle of December, and was 3rd in line to get into the venue. I magically ended up in the inner circle (fans called it the Bomb Shelter) and was literally so close to The Edge, that if not for the very nice security guard, Mike, I could have reached over and tied Edge's converse Chuck shoe laces together! It was most literally the best night of my entire life, past or present. How on earth can you ever top the experience I had that night with 15 of my closest friends, some as far away as Belgium?! You cant. So I was hesitant about seeing U2 this time, knowing that instead of a 20,000 seat venue it would be 55,000 people. Instead of doing general admission, I would be in a reserved seat. Instead of being close enough to Edge to hear him harmonize on I Still Havent Found What I'm Looking For (without hearing it on the speakers and mic), I'd be so far away that Edge would look like a miniature figurine… I had a hard time getting excited about attending this show… all because of these differences. Until 2 days prior to the show that is. Suddenly I could hardly wait! It was difficult to sleep the night before the show but somehow I managed; fueled perhaps by dreams/memories of my last U2 concert.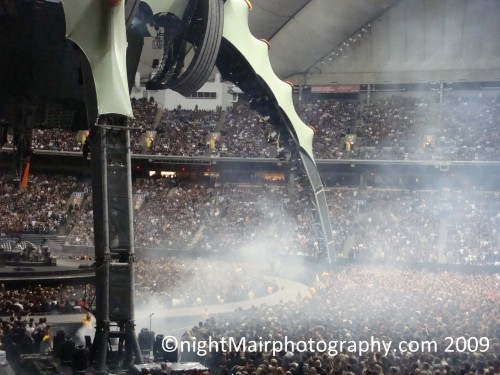 The stage for the show was phenomenal ( you can see by the photo above); its been dubbed 'The Claw' and extended to about 10 feet within the top of the venue roof. The massive black bands at the top are banks of speakers and the stage in the middle was connected to the outer ring by two moving bridges that rotated around and allowed the band to walk from the inner to the outer walkways – right over fans' heads! The crowd was incredible – a massive sea of bodies all waiting for one thing – the band.
After a quick changeover from Black Eyed Peas equipment and a very brief sound check, the speakers cranked out David Bowie's Major Tom amid smoke pouring out from all 4 legs of the 'Claw' and as the song reached its crescendo, the lights dimmed down and suddenly Larry Mullen Jr was walking out in pure white light to his drum kit with a purposeful stride. Sitting at the drums, the man who started the band 25+ years ago, started the show and we were in for over 2 hrs of an experience unlike any other.
The band opened with Breathe (which I didnt think was a good opening song actually- too slow), Get on Your Boots (which got the crowd going full force), then straight into Magnificent – my favorite song from their new album,  then into some older crowd pleasing favorites: Mysterious Ways and Beautiful Day, then my personal favorite, Still Havent Found What I'm Looking For. The audience had sung snippets of each song leading up to this one, but when this song hit – it was 55,000 strong singing and without the heavy guitars and drumbeat to muffle our singing, it was clear, strong and electric. "Take us to church Edge," from Bono on the chorus and God was walking through the room. (Bono's term). My friend recently tweeted from his own U2 experience that he was 'replenishing my soul,' and indeed tonight so was I. This, like most U2 concerts, wasnt just a show, but like being in an old time Gospel Tent Revival meeting.
At this point, Bono spoke to the audience, telling us that the band's very first roadie was attending the show all the way from Dublin – Mrs The Edge – Edge's mom who had tooled the band around in her van when they were fresh faced kids just starting out. He also informed us that Bill Gates was 'in the house' and it was his birthday so we all sang Happy Birthday to the man who has helped Bono with DATA and fighting AIDS in Africa and we cheered for him.
A few more toned down songs- Stuck in a Moment You Can't Get Out Of and No Line On The Horizon, the title track of the new album, then kicking it up a notch with Elevation, (which saw Edge doing pogo while playing guitar and the audience following suit en mass), In A Little While, Unknown Caller, Until The End Of The World (hey Judas! was Bono's rallying cry), The Unforgettable Fire  (never thought I'd hear this one live), City Of Blinding Lights (my favorite from last tour!), Vertigo,  then a treat with I'll Go Crazy If I Don't Go Crazy Tonight which saw Larry leaving the standard drum kit and walking the 360 ramp with a portable drum and all 4 band members roaming to try and include the entire audience in the experience. It had this funky tribal feel to it totally different than the album version and I loved it. Sunday Bloody Sunday with references to Iraq, MLK, and Walk On for Burma's Aung Sun Suu Chi, complete with One Campaigners and Product RED supporters in Aung Sun face masks walking the ramp, finished the set before the band left the stage in darkness.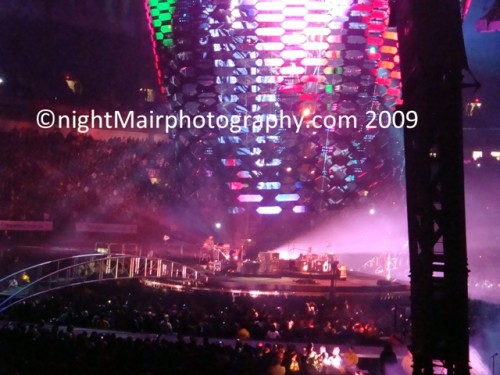 We were greeted back by a taped message from Bishop Desmond Tutu thanking us for WE being those people who had stood up against Apartheid, who had campaigned for AIDS medicinces in Africa, who had raised our voices and as a result the stats on children in Africa now in school, now on AIDS drugs, now surviving, and grown by leaps and bounds. This segued into One, and Bono singing Amazing Grace on a darkened stage with a single spot light and thousands of cell phones like tiny stars in the night sky. Shivers. Where the Streets Have No Name finished it out and I was content. My soul too had been replenished.
Second encore brought back perennial favorites – Ultra Violet, With or Without You – and the band chose to close with Moment of Surrender (rather than their traditional closer – 40) which seemed fitting somehow.
All in all, this show was less rock and roll than typical past U2 shows, less preachy or political comments from Bono but it had the same impact – he used the band's music to preach love, peace and faith to the masses instead of his commentary inbetween the songs. The support of the fans on all levels is still there – from singing for him when his voice started to crack on With or Without You, to raising the roof to show support of his and the band's humanitarian pursuits on Where the Streets Have No Name and One. This band is unlike any other – what rock band could ever stand on stage and sing Amazing Grace and have people sing it with them?
U2 singing Amazing Grace into Streets intro
Copyright © 2009 All Rights Reserved