It's a lazy afternoon and it's too cold outside to do anything useful so I'm cleaning up my studio space and purging things I don't need anymore. Listening to music of course (some Tom Cochrane, Collective Soul, Sam Roberts, and Massive Attack). I just found all my old concert ticket stubs dating back to mid 2007. I didn't start keeping them in earnest until last year though – and last year was a boom year in Vancouver for great concerts. Too many to afford to be able to see them all, so I had to do triage. Concert Triage 🙂
So, I'm going through my ticket stubs and remembering the good, the bad, and the indifferent and thought I'd blog about them. Here they are in order of oldest to newest.
-New Years Eve 2007 – Tom Cochrane dinner/dance
Okay, technically more than a year ago but I had to include this one! Found out last minute and was 'just' able to get a ticket for the show. Dinner was not bad – buffet style and lots of food and an assigned table with 6 other strangers all there to eat, drink and be merry – but I was there for the show. I only did the dinner because it was the only way to get a seat right up near the front of the stage 😉
Tom and Red Rider rocked all night long – nearly 2.5 hrs and he stayed on stage long enough to toast us all with complimentary champagne and sing one more song  just after midnight. It was hands down *the* best New Years bash I've ever attended. I usually detest such events.
February 1, 2008 – Collective Soul @ Red Robinson Theatre
I just started liking Collective Soul in the last few years (didn't know much about them during the 90's) and again this show was last minute but i managed to get a decent seat. I went alone as I didnt know any 'fans' at that point. Five minutes from where I live, and I arranged with their management to do a charity photo through my Comfort Doll Project charity. I was able to attend a meet and greet, get a good photo of the band, and then enjoy the show. They put on a decent show – not 'great' but well worth my money and then some.
Next day I developed the photo, and was able to take it to the River Rock casino and do another meet and greet with the band, who autographed it for me. What attracted me to this band even more than their music was how they treated their fans; with the utmost respect and tenderness. The photo was auctioned a few months later and brought in over $200 dollars which were spent at the World Vision Gift Catalog
May 3, 2008 – Tanya Tucker
I'm not a country fan by any stretch of the imagination but sometimes one must give in order to get – my partner often goes to Rock Concerts with me so about every 8 of my shows, I go to one of his. This was one such evening. Tanya was not in top form vocally – in fact sound issues plagued her all evening with the house sound system and her voice was very gravelly and rough but she put on one hell of a show.. very intimate and she's a very funny lady. Just enough talking in between the songs and in one song she shared some of her childhood photo album with us via the screen behind the drummer. All in all it was an interesting evening and I'm glad I had a chance to see this lady legend of country.
May 10, 2008 – Alan Jackson
Two country music concerts in merely a week – what *was* I thinking? As much as I liked seeing Tanya Tucker, I did not enjoy Alan Jackson. I found the concert to be predictable, and Jackson himself overly contrived with each look and each pose – as if he's done that same pose at each show for the last 20 cities on tour. I really enjoyed Johnny Reid though, who at the time was a virtual unknown in our neck of the woods and who opened for Alan Jackson.
June 1, 2008 – Tom Jones – the Legend!
This was probably the best concert I've ever been to… in my entire life. Almost. I'm not a big Jones fan; cant tell you the names of more than about 3 of his songs, but the man is a legend – and with good reason. He put on such an incredible show that nobody in the audience was bored. AND he had such unique audience participation too! women coming down the ramp to the front to toss their bras at him and him eating it up and loving it. It was worth every penny and more.
June 21, 2008 – Dwight Yoakam
What can I say? Not much. Barely remember this one. Never looked at the audience all night. Hat never came off. Never said a word either. Shy? So I've heard, but if you're a performer get over it. At least say hi, or thank you, or even goodnight. A miss all the way.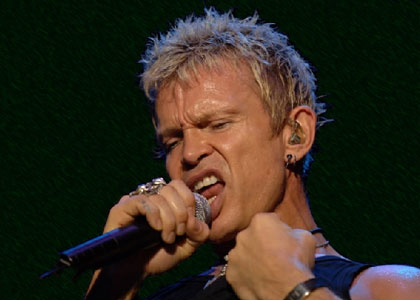 July 4, 2008 -Billy Idol
HOLY CRAP and every other expletive you can think of yourself 😉 As soon as the lights went down in the small casino, people filled the void at the front – me being one of them! A slim, trim. and toned older Billy Idol came on stage amid such a din that it was like he's never been gone. The ice blond hair replaced by a darker shade of blond, the buzz cut still slightly standing on end, and the sneer replaced by a genuine smile. It was non stop rock and roll all night with Billy and the band singing all the old greats but also some relatively new songs as well – I never thought I'd get to see this rock icon in my life time and it was astounding, amazing and incredibly fun!
July 8, 2008 – Collective Soul
Yep. They came back to Vancouver and of course I had to go see them. This time it wasn't at the casino though, it was at a local nightclub so the band didn't get on stage till nearly 11pm after us having to endure 3 -count em, 3! – opening acts. Not impressed with that part of it. Was impressed by the band though. Had a chance to interview 'then drummer' for the band, Ryan Hoyle Find it here who was an incredibly nice guy and very fun to talk to.
August 27, 2008 – Oasis
I've never seen this band live, I don't own any of their albums, and I can't name one song to save my life, but I am familiar with their music on radio at any rate, and what I've heard on radio I quite liked. The show was a bitter disappointment however; I expected some sort of interaction with the fans or at very least for the singer to 'move' somewhat.. no such luck. Apparently die hard Oasis fans already know this about the band 🙂 I wrote a somewhat blunt review of my experience HERE and got some decent comments from fans. A week or so later, Liam and Noel were attacked on stage by a fan in Toronto. My CFOX Radio DJ friend, Neil Morrison, found a youtube video of the incident and sent it to me. Nobody deserves this.
October 17, 2008 – 54-40
54-40 is a sleeper band – you know all their songs, they get tons of radio airplay, they've had mega hits but are still 'small time' local, and have maintained being 'real people' rather than 'rock stars' despite the hits and popularity. They're a hard working fun band and always put on a good show regardless of crowd size or venue. They are what more bands should aspire to be like. I also found out that night that the band sponsors two children through World Vision, which would explain why they were so keen on participating in our Comfort Doll charity a few years back.
October 25, 2009 – Bob Dylan
Glad I got to see one of the founders of rock and roll. I didn't know about Dylan until high school when my English teacher inflicted his music upon us all as a writing exercise. Needless to say, at 16 yrs old I wasn't impressed much. However, my musical taste and appreciation has grown in those many years and so I jumped at a chance to go see the man himself in the flesh. A detailed review can be found HERE
November 5, 2009 – Lenny Kravitz
The show that never happened. Sadly the concert was cancelled. I was really looking forward to this one too.
December 2009 – State of Shock
Each year our local radio station holds a Santa Fox Ball and all proceeds go to the Vancouver Food Bank. Each year, they feature past CFOX FM Seeds Winners (winners of a yearly contest for a recording contract). This year's Ball featured Incura, Mobile and State of Shock. I had never seen Mobile or State of Shock in concert before – boy was I in for a treat! Mobile was absolutely phenomenal! Hard working -every band member gave it 200% for the entire set and singer Mat Joly came out into the audience at one point.
State of Shock was equally as good – again each band member giving everything they had. The crowd got a little rough toward the end of the show and we left early as public transit closed down early and it was snowing like a bugger but the show was fantastic. You can read more about it HERE
(*note-I was fortunate to see State of Shock again this past November in a small club-killer wicked show – REVIEW here )
February 20, 2009 – Little River Band
The band from Down Under – I didn't expect too much from this show – most 70's or 80's bands are never the same now as in their heyday, but the voice of the lead singer was all that I remembered from my favorite LRB songs back then – and strong! No has-beens on a Casino reunion tour; this band rocked it all night. The younger members that filled the band out, most definitely brought in energy and spark. I really had a good time.
April 4, 2009 – Kris Kristofferson
It was Kris, a stool, a guitar. and us. That's it. No backup band, no drums, no bass, no singers to help out.. just Kris. And a stool which he hardly used 🙂 It was a very unique experience and I thoroughly enjoyed every minute of it. More HERE
July 4, 2009 – Green Day
This was one of the best shows I've ever seen. Again, familiar with the radio hits but not so much with their other material… don't own one single Green Day album – well, okay, I do now.. I went and bought one after the show, that's how good the concert was. It was at one of the largest venues in Vancouver, and despite it being sold out, Billy Joe and the boys managed to connect with the audience, connect with me – way up in the nosebleeds. Only one other front man does that for me in an audience this big – Bono. The show was incredible – solid sound and vocals, impeccable lighting and pyrotechnics, a heaving seething floor of fans in general admission, and non-stop energy by the band all night. The finale was perfect too, as was the song they chose to send us all off into the night. So glad I went.
October 22 and 23, 2009 – Collective Soul
Yes, it's no secret I love Collective Soul. I bought a ticket for Vancouver, then months later found out by accident they were coming to Kamloops too which is actually much closer to me – so I bought a ticket there as well. I called it my 'Collective Soul bookends shows.' New gear, new songs, renewed energy. You can find a review HERE for Kamloops.
October 28, 2009 – U2
We're gonna start on Tom Cochrane (my top 5 of all time) and end with U2 (my top 2 of all time). I won't go into details about the U2 show… go read my review about why U2 is still the Biggest Band in the World HERE including some awesome pictures of 'the' most amazing stage set I've ever seen!
Its been a bumper year plus for concerts – most definitely it won't continue like this next year – besides, I can't afford it! 😉 But I was fortunate enough to see some really great acts, some legends, and some new people/groups that I've gained appreciation for in a live setting. I can only imagine what next year, 2010 brings. I hold out hope that its not a barren wasteland of an 'in between' year and that it's just as exciting musically… maybe I'll discover some new bands.
*Edit – I had to add one more concert!
November 21, 2009 – Jann Arden
I went to see Jann Arden in Kelowna at the arena – our floor seats were folding chairs sitting on plywood which was covering the ice in the hockey area – it was cold! But the show was fantastic.. one of the highlights of my entire year of going to shows. Jann was truly amazing – her voice is crystal clear, she's funny and witty and invites audience participation. None of this 'sitting like a lump in your chair being entertained'… she has us entertain her back! You can find my show review HERE for The Portal Magazine and I also wrote a personal blog about meeting Jann after the show: Why I didn't dress up for Jann Arden
Cheers to 2010!
Copyright © 2009 nightMair Creative All Rights Reserved