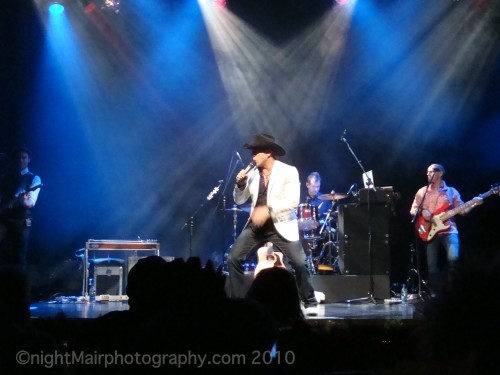 The current economy seemed to have an impact on traditional New Years celebrations; many of my friends decided to stay home and celebrate low-key, and finding a local event proved impossible so I had little hope of any memorable way of saying goodbye to the current decade.
However, I follow Canadian country singer Aaron Pritchett on Twitter (@AaronPritchett ) and one day he tweeted that he was doing a New Years Eve show at Cascades Casino in Langley. As we were down in Vancouver for Christmas anyway, we stayed over to ring in the New Year with Aaron and his band. The Casino had a dinner/show package available and we booked a room in the hotel as well so neither of us would have to drive home. The buffet dinner was acceptable, but the party was grand!
The venue is inside the Casino itself, and oddly, we were not given reserved seating when purchasing the show tickets – we had to line up 'outside' the venue doors a few hours prior to show time, to choose our own seats. The lineup formed earlier than anticipated, but I still managed to procure seats third row from the stage and very much center stage. Until we actually entered the venue though, I had no idea whether I had done well or not 🙂  We decided to go back to our room until show time, to watch the final segment of the Canadian Jr Hockey team playing off against USA – they won in the final round of shoot-outs so I took that as a sign of good things to come.
Once inside the venue, we found our seats – cabaret style tables replaced all the lower section of seating, and we found ourselves at an intimate table for two resplendent with table candle, a princess style tiara for myself, a party hat for my partner, a Hawaiian lei, and a noise maker, all for the midnight countdown later. We got a couple of drinks and the show started promptly at 10:30 with Aaron's band coming on stage first to crank up the music – allowing Aaron to walk on stage ready to kick it into high gear from the start. And he did!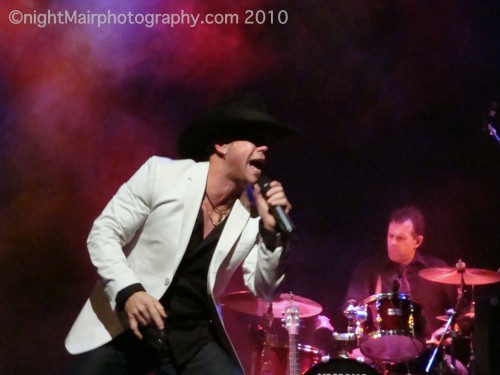 Resplendent in white jacket, black shirt, black cowboy hat and white cowboy boots, Aaron jumped into the setlist with high octane usually reserved for Rock and Rollers. By the time he lit into the third song, he was looking for a towel to daub the sweat off his face, grinning at the crowd in absolute delight to be there with us, and as much as Aaron Pritchett has a rock and roll energy, I realized suddenly that his heart really does belong to country music.
At one point, Aaron mentioned the lack of a drink in his hand, and magically, a beer appeared on the stage at his feet. Toasting the male fan who bought it for him, as well as the rest of the crowd, he lifted it high only to have the fan yell out to him 'chug it', to which Aaron replied something to the effect that if he chugged the entire beer we'd not have a concert! But he did take a good swig, toasted us all again and continued on to the next song…. shortly thereafter, another drink was handed to the singer mid song – and he took it, sniffed at it delicately, smiled and finished singing. This drink elicited a small sip and was put off to the side beside the half empty beer. This went on nearly all night, and thankfully Aaron only took small sips and maintained his energy and focus on the job at hand – entertaining us!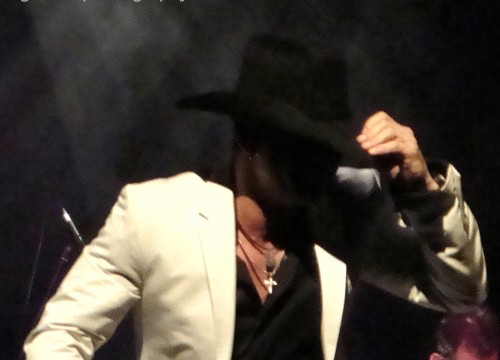 The band took a short break, and Aaron did a few acoustic songs; a new one called Sweet Karma caught my immediate attention and we were informed it was cowritten by two of his friends who were in the audience. It will also be on his new cd due out in early 2010. As well, he sang How Do I Get There – one of my favorite Aaron Pritchett songs. He also dedicated a cover song to his late Grandmother. (can't remember the song, sorry) The acoustic set blended well in between the heavier, flashier tunes and gave the audience a chance to go get another drink from the small bar on the side of the venue floor, as well as afford some people to sneak up front and do some dancing – to the delight of Aaron who at that point invited us all to come fill up the floor between stage and first row of tables. (I wish more bands would come out and say that, rather than just think it and wonder why us Canadians all stay in our seats – we're notorious for being too well behaved at times 🙂 )
The band came back, the energy continued to the point that the jacket came off, the shirt sleeves were rolled up, and the serious dancing started. Of course, Hold My Beer, and Let's Get Rowdy were both in the set list which elicited massive singing of the choruses by the crowd who were in party mode but still well behaved (very nice!)
About 20 minutes before midnight, the venue put the count down timer up on the big screen and we all experienced this heightened sense of urgency, including Aaron and the band, who continued to serenade us with much audience participation by this point. At 2 minutes to midnight, Aaron stopped, knowing that doing another song would take us past the magic moment of a new decade so he spoke to us and just 'hung out', tossing guitar picks into the audience gathered up front. The drummer gave one fellow his used drumsticks, much to his delight, and as the timer continued to run down, Aaron counted down with the crowd … ten, nine, eight, seven (etc) – til on the stroke of midnight, the balloons in a ceiling net were let loose, people used their noise makers and Aaron bent down to clink his half empty beer bottle with as many of us as he could. One lady fan dragged her reluctant/shy friend up front, and as Aaron bent down to shake hands with people, he noticed her hanging back – he purposely stuck his hand out again and again (having it snatched by other fans each time) until the shy lady reached up and shook his hand to the delight of them both.
Two more songs amid the audience up front singing, dancing and popping every last balloon underfoot, and the night was over to a great success. As people gathered up their belongings and finished the dregs of their drinks, the MC announced that Aaron would be up front shortly to sign autographs and pose with people for photos… nice 🙂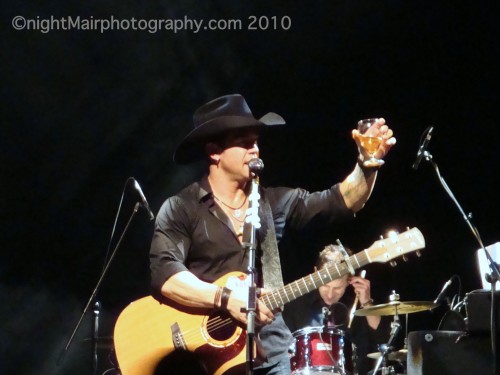 Happy New Year people – it was a pleasure ringing in a new year to come, a new decade, with Aaron Pritchett and his amazing band. It bodes well for what is in store for me, both personally and musically, for 2010.
8/10
Copyright © 2010 nightMair Creative All Rights Reserved