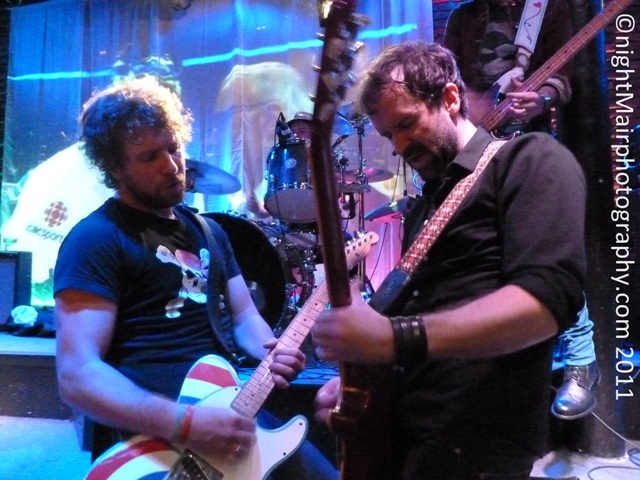 When one lives in an out of the way hamlet with no 'culture' to speak of, one must be willing to travel to find music – but when that drive is over an hour long – one way (at freeway speed the entire way), the miles anticipated can easily cause an adverse reaction – mental excuses as to why one really doesn't 'need' to see that particular band. Especially when most of the drive is in the dark and on rural roads with absolutely no light standards anywhere. So… you know the band has to be good to get me to do all that!
The Trews played Kamloops the other night. Booked as an acoustic gig, I had no idea what to expect. I'd seen the band months prior, at an outdoor music festival with full on gear and sound, and it was great – most bands that do acoustic just never seem to sound full bodied or pleasing to the ears… hard to take a rock anthem and turn it into a sit down hushed serenade and have it sound even halfways decent.
The venue was a community theatre with tiered seating so everyone could see perfectly. The stage was an assortment of guitar racks, throw rugs and half-back stools with microphones set strategically. The drum 'kit' boasted one cymbal and snare, and a bongo on which a tambourine sat. There were paper lanterns hung from the ceiling behind the gear and a 'The Trews' sign hanging from the red velvet stage curtain in the very back. Intimate, cozy, promising.
Opening act Tim Chaisson held my attention throughout; not quite folk music, not quite rock – his sharp wit and endearing humor punctuated the short anecdotes between songs – including a humorous plea to buy a cd (portion of sales to the Canadian Cancer Society) or the band's t-shirts with "our logo just sort of slapped across the front – don't really know why they're not selling?" His band partner, Tian Wigmore, was resplendent in bare feet (I love it!) while Tim's boot heel clicked time out on the wood floor with enough force to be easily heard in the first 10 rows (another bonus to acoustic gigs done in venues built for proper sound). Trews guitarist Colin MacDonald joined the duo on stage for one song amidst subdued cheers from the audience, before they closed out the set.
A short reshuffling of gear and then The Trews took to the stage with the ease of a friend walking into your living room for the 100th time. Quick to settle in and get to business, first song up is perennial favourite/radio hit Poor Ol' Broken Hearted Me.  First song out of the way, the ice is somewhat broken but not quite – sit down gigs are hard to know what to do – can we cheer, whistle, catcall in such a hushed environment? So how to break the ice in a creative and fun way? A reverse on the old 'beach ball in the audience' thing… THE  BAND brought their own 2 huge balloons, tossed them into the crowd with instructions to keep them going as long as we could, without them popping. Lightened the mood, joined the audience to the band and to each other – made it a shared experience. Cool.
Sounding every bit as good as the full on rock version of a few months ago, the band continues into the set list – Den of Thieves, InAmbition, So She's Leaving, Locked Doors – about two-thirds into the set they stop and Colin MacDonald asks a fellow to come up on stage from out of the audience – calls him by name and asks if he's there tonight – the fellow comes up, takes the mic and talks about how his girlfriend introduced him to The Trews music 3 yrs ago, and that it was their 3rd anniversary tonight – but he was adamant to clarify that it was 3 yrs of dating – but tonight he was going to change all that – they called the lady in question to the stage and it turns out we are in the middle of a real life proposal complete with bended knee and presentation of the ring – of course she said yes.
Rounding out the first set was Sing Your Heart Out with the addition of Jeff Heishol on accordion and Tim Chaisson band back on stage to add to the mix. I think this is my favourite song so far this night. A short intermission is announced, as well as a chance to buy merch and have it signed at the end of the show by both bands.
The second set starts with high energy and just progresses – at one point the band is introduced by Colin MacDonald: brother John-Angus MacDonald on a plethora of guitars including a 12 string, Sean Dalton on percussion, and Jack Syperek on bass. All four men provide vocals and the blending is harmonious and natural. I can't take my eyes off Syperek at one point – his bass style is laid back and mesmerizing to watch; he makes it look effortless but the speed of his fingers and the sweat on his brow prove how much he's putting in to it. They all are. So much so that Colin takes a short breather to raise a beer – then realizes that the audience is not responding in kind! "Are they not serving you all beer out there," he asks, surprised. The negative answer elicits more response from him and the band – they promise next time they play Kamloops that it will be in a Venue that allows the audience to have a beer with the band. I'm sure we'll hold you to that!
The last song is Ishmael and Maggie, with the band and audience singing the chorus: I'd better go home' but us all knowing that the band isn't ready to go yet.  It takes longer than usual, but the band (with Jeff Heishol, Tim Chaisson and Tiam Wigmore) comes back for the encore after much cheering and foot stomping by the audience, and they round out the evening with 3 final songs, one of which is new. Colin MacDonald wryly tells us that when the new album is finished in the new year we can buy it… "oh.. no. You can buy the file… all that work that goes into making an album and you'll listen to it on those crappy laptop speakers in mp3 format. I hate the future!" (He's right!) The evening ends on a high note as it started, with a familiar radio hit, Hold Me In Your Arms.
All in all the evening was a great treat – acoustic doesn't always mean less of a show. The Trews are a tight band that complement each other well, and can make a huge sound with a few instruments. The key to all this is well written songs both lyrically and musically. They also capture the audience's attention and hold it for the entire 2+ hours – I didn't see anyone leave the venue until the end. If you have a chance to catch this band on their 'Friends and Strangers Acoustic Tour' – do!
9.5/10
Copyright © 2010 nightMair Creative All Rights Reserved