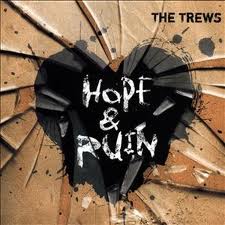 I won't spend time on the packaging, as its what's inside that has me all fired up!
The album starts out forceful with Misery Loves Company – the harmonies are gloriously 'Trews' sounding and Colin's voice is strong but effortless, and in top notch form. High energy and rauchous.
One by One is softer; the lyrics tell of a broken heart and loss, "one by one every heart is a loaded gun – I've been shot down…" There are layers of harmonies with the instrumentation that keeps the vibe going from the previous song. The snappy tight lyrics are like a poem – rhyming with nearly every line (which I think is unusal for a Trews song). There's a bluesy guitar solo in bridge that fits well without being obviously a solo, and I think I'm hearing a celtic or native drum in there too. This song has a hook and you'll be singing it by heart before you even realize it!
People of the Deer boasts a killer rock riff at the start that is repeated throughout. It's a powerhouse and electric all the way, like a buzz saw inside an echo chamber! Heavy on the drums and high hat cymbal? Harder edged sonically than Paranoid Freak (which is pretty heavy) and I like how it sounds, especially as it builds to the kick-ass ending.  I think Colin stretched his voice to the height of range and still sounds great. Emotionally and lyrically, I didn't quite 'get' the song; it didnt seem to fit with the rest of the album. I cheated and checked out The Trews 'track by track' video on their Facebook page. The song indeed was inspired by Farley Mowat's book, People of the Deer and watching the guys talk about the song, was enough to make me go back and give it a listen with a new perspective.
Stay with Me begins with a wicked bass line that is reminiscent of U2's With or Without You (ie its going to be instantly recognizable- listen with headphones to hear it better though). This song is all about the lyrics and emotions for me. The vocals are raw, breathless, unpolished in production. It sounds like the emotion and sentiment of this song is still raw and personal to the singer… right down to the quiver in the voice in spots, that seems to be authentic. The chorus is deliberate and forceful, both in lyrics and instrumental (the guitar strum and the drum beat).. and it ends abruptly. Leaves you wanting to hear the chorus one more time, but after listening to it at least 5 times, I think the way it ends gives it more finality. It's already my favorite song.
Hope and Ruin is the first single from the album, the radio play song – its a good song, but would not have been my choice for single – the chorus doesn't have much of a different tempo than the verses and it's definitely one of the slower songs on the album. Colin's voice is in top notch form though, and the backing vocals by the rest of the band give the song some variation.
Sweet piano notes lead off If You Want to Start Again, a serious song about loss and recovery -"If you want to start again… know your real friends, let the right ones in, forgive yourself" and  "I can see you're not doing well – losing the life, feeling it fade, praying to find your way back from the grave." It's a hard hitting song but also a song of encouragement and honesty from someone willing to stick by a friend in need.
The World, I Know – this aint no Collective Soul song 🙂 . It has an off beat sort of tempo to it punctuated by woah-oh's from the rest of the band in the backing vocals. It's a hard hitting song about viewing the world through jaded eyes. Perhaps not so much jaded, as seeing the world with the blinders off. It took me about 4 listens to get used to the tempo but I love how it changes speeds in the middle bridge. Colin describes it as a Beatles-esq touch and he's right. Sort of a Sergeant Pepper vibe to me.
Dreaming Man is just that – it has a very ethereal quality to it. Light and breezy in tone with acoustic guitar and softer background vocals. it has almost a floating cloud quality to it in tone and texture. It almost feels like a traveling song.. "fortune fades, faith begins.. a dreaming man is what I've been since I don't remember when.."
"Will your smile light up the room and set off the alarm – you better break my heart real soon or I'll Find Someone Who Will"- a fun song about a guy wanting a girl who he hopes wants him but wont come to get him – more likely she doesn't want him!  "Come on baby light my fire, I'll inhale the smoke – your silence frankly deafenes me so much space to fill… if you don't break my heart real soon… I'll find someone who will tear it apart."
Love is the Real Thing –more vintage Trews sound… perfectly blended harmonies from the first note – opens with the chorus before the first verse.. intriguing. Easy to sing along to this one right off the bat. Very descriptive of what the emotions are when one person is in love – hopeful that the love will be returned by the other person.. first you're up then you're down – is it the real thing, do they love me back? If not why not? How will I know if they do?
Burned is more organic bluesy…I love how the guitar follows the voices up and down in the melody, and the backing vocals fill the spaces well. I also love the random guitar picking on the electric as it improvises to the tune almost randomly but very harmoniously. I really like this song! "Be careful what you wish for – you may end up wanting more! Too much love? If we keep going like this, someone is going to get burned – the last to know will be the first to fall… and they won't see it coming at all." Lyrics with depth and detail.
You Gotta Let Me In -I love this song! I think I heard this song live at the show a few months back.. beautiful song… melodically, sonically beautiful.. but also for the sentiment of being able to accept someone for all their faults and issues and baggage, "but you have to let me in to love you for all that.. trust me and we can make it work for the rest of this bittersweet life.. but you have to let me in."  Amazing song… perfect ending to this album
Many albums are easy to listen to – but just as easily forgotten. Not this one.. the songs are stuck in my head and will be for months to come. This album is rich in sound and texture.. but also in the depth and meaning of the lyrics which are open to interpretation while still allowing you to identifying with the writer. Each song stands on its own powerfully, but together they tell of love and heart ache, of separation and trying to work things out.  This album speaks of the intricacies of love from a very adult perspective. It's about hope – and ruin – from the heart's perspective. The album cover is perfect — a heart under shattered glass – Hope and Ruin. Brilliant.
You can find The Trews video snippets on their FB page (where you will hear a snippet of each song). And follow the guys on Twitter as well – they very often do their own tweeting (and answering).
©nightMair Creative 2011
all rights reserved