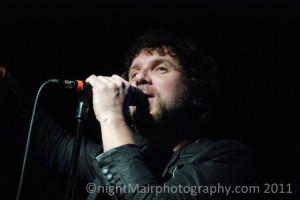 "Hey there, fancy meeting you here… next time don't be a stranger.. " greeted eager fans after The Trews took the small stage at The Roxy last week in Vancouver. Billed as an intimate acoustic gig, the show was in support of The Trews new album, Hope and Ruin, and was the band's way to thank the fans for their support over the years. Intimate yes! The stage is so small that there is no fencing up front and no security.. and we find ourselves literally leaning on the edge of the stage the entire night – close enough to high five singer and front man Colin MacDonald, close enough to almost be run over by guitarist John-Angus as he joined brother Colin for a guitar jam. Acoustic? Not likely 🙂
People of the Deer follows opener The World I Know -the two heaviest songs from the new album. Seeing them performed live- watching drummer Sean Dalton share a killer kick ass drum solo with guitarist John-Angus who sways with eyes closed, fingers flying over the strings as he rips it up in the chorus -has changed my opinion of both songs, especially People of the Deer. I absolutely love them!
Not Ready to Go, So She's Leaving and Paranoid Freak follow – a quintet of the band's most rocking songs.. and as I watch and listen and become part of the experience, I begin to realize … for the band it's ALL about the music.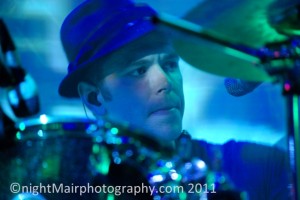 Stay With Me is my favorite song from the new album, and bassist Jack Syperek shines in this song .. from the opening bass notes, to being able to watch his magically long fluid fingers strike each rich note – its a joy to see this song come to life live. The drums too have a unique rhythm in this song.. and drummer Sean Dalton is close enough to almost touch it seems… all the better to watch and analyze how the notes are created.  "Stay … with me…. I've got something to give, something to live for, something to set me free… " I'm singing it at the top of my lungs and it feels awesome.
Hope and Ruin isn't my favorite song but I take the opportunity on this song to look around at each musician and watch… the band fits together like …well like they've been together for years and actually like each other. There is no grandstanding by any one member, no hesitations when singing background vocals. Each man knows his instrument intimately and even on the new songs, there is a unity here that goes beyond being well rehearsed. Watching them in this song gives me a chance to wave at bassist Jack Syperek who smiles back! I also notice that singer Colin MacDonald is not wearing his in ear monitors – in fact, Colin doesn't wear them for the entire show – and is on key the entire night.
Misery Loves Company goes over well (another new song) and then Poor Ol Broken Hearted Me and the audience sings along with the perpetual favorite. The amount of sound coming from the band is phenominal… and not noise, harmonious wonderful music.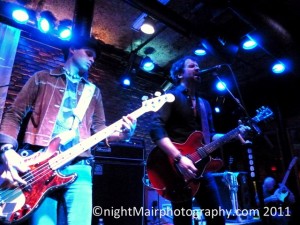 One by One is another new song that I absolutely love – Colin's voice is strong, Jack has a groove and a way of moving his body that is poetry, Sean is 'head down' as he concentrates on the complex drumming pattern, and John-Angus is so into the music that his eyes are closed (again, still), as he transitions into the slide guitar bit in the bridge of the song.. and it almost seems like we should be holding up lighters at the end of this song.
I Cant Stop Laughing and I'll Find Someone Who Will follow, and then a complete change of pace… Dreaming Man. Colin is on acoustic guitar and I'm mesmerized by his finger picking combined with his vocal,s and I can't take my eyes off him even when I hear John-Angus doing wonderful things on his own guitar. This song is amazing live!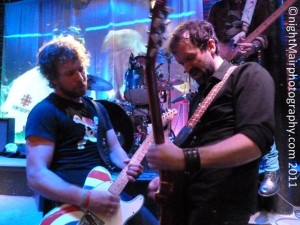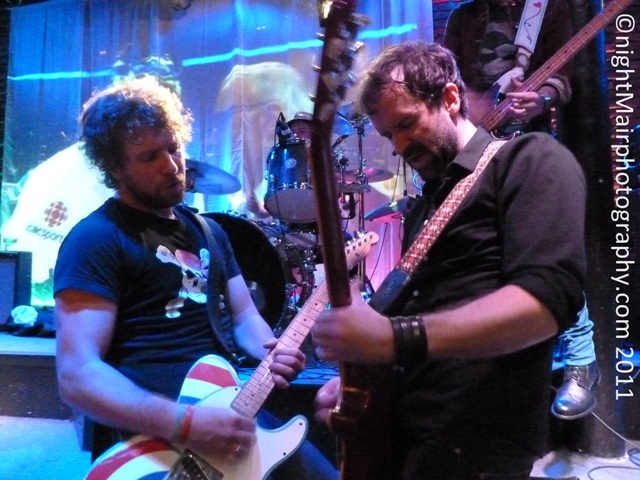 Tired of Waiting and Hold Me In Your Arms round out the setlist. The final song is hugely poweful and full of energy – despite the effort the entire band has put into the show all night, they don't flag; if anything they kick it up a notch and we are treated to the guitar duel with both brothers on their knees battling it out right in front of us while the rhythm section keeps time behind them. The band leaves the stage walking down the steps at the front and are not mobbed… we make enough noise that they jump back on stage in mere moments and finish off the night with Burning Wheels.
The band leaves the stage to resounding applause and a short time later are mingling with fans in the venue, signing things and having a beer. I go up and say hello and they're all delighted to see that I made it to the show (despite Colin giving me a high five from the stage and John-Angus literally standing over me to point at the speaker and asking the sound man to turn it off…. they're so into the music the details elude them 🙂 ). The band are completely unpretentious both off stage and on; no egos, no divas, no rock star complexes. It's refreshing, and is what I think makes them even more special. It really is all about the music, not about fame or money or 'the spotlight'. Colin writes heavy hitting thought provoking lyrics, the band creates music that is full and rich and more than one dimensional, and that is part of what makes The Trews unique and unlike any other band out there.
You can find more photos here, on my photography site, and my album review of Hope and Ruin here. Interview coming soon!!
9/10
Copyright ©nightmair creative 2011