I'm sitting behind the temporary stage waiting for State of Shock's guitarist Jesse Wainright. I'm early, and so have the opportunity to watch the band unload their gear for tonight's show on Granville Street, and it makes me smile to know that despite numerous Juno nominees and awards over the band's 7 yr history, they're still real enough to just be themselves. This is proved again when a few random strangers recognize the band, lean over the low traffic barricades and shake hands before carrying on up the street.
Jesse comes over, limping and using a knarly wooden cane, sits down on the speaker beside me in the shade and we proceed to talk, amid the occasional boom of Johnny Philippon's drum kit on the other side (sound check). Of course, my first question now is….
nightMair Creative: So what did you do to yourself? Motorcycle? Falling off the stage? Planking?
Jesse Wainright: (laughing at the 'planking') I wish it were something more Rock and Roll, but no.. I'm having some spinal issues at present that are affecting my leg a bit, so off stage me and the doc figure it's good to use the cane.
nMC: the obvious question fans are going to have when they see you is – will this affect you on stage?
JW: Nope… I might not move around as much as usual onstage, but I'm pretty much the same. (watching Jesse later one would never know about the cane).
nMc: So State of Shock has a new album out soon- when? Where? What's it called? How many songs? Where can we get it? (laughing)
JW: It's called Rock n Roll Romance (smiles). It's available on our site and iTunes right now, and in cd form Sept 20th . There are 12 songs, and the first single, Have a Nice Day, is out to radio already.
nMc: What does it sound like?
JW: It's a mix of Pop and Rock, a little heavier than our last album (Life, Love and Lies) but not as heavy as our first album (Guilty by Association).
nMc: State of Shock is now on a new record label (Universal) after parting ways with Cordova Bay Records – how's that working out for you?
JW: So far it's working well. We have always been happy with Cordova Bay, but it got to a point that we outgrew them. They realized it, we realized it, and so we made a change, and got picked up by Universal based on a few of the new songs on demo.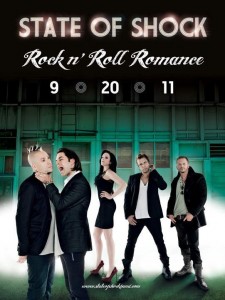 nMc: Are you reinventing State of Shock? You guys are all a few years older, and the album promo photos are wicked – styles (in clothing) and music change. Have you rolled with the punches? And if so, how?
JW: We're a little more Pop than before with the music, but the songs are well written, punchier and catchier. To me it doesn't seem like that much of a switch, as I've been along for the ride the whole way.
nMc:  I've heard 'Have a Nice Day' and it is indeed punchier, and catchy! I love the lyrics, and can't stop humming it! What is your favorite song on the new album?
JW: All of them (laughs).. what I have as a favorite song, changes over and over as I get to hear them or sing them. They all have their own special 'uniqueness' to them. We're really happy with the record, and hope that the fans will love it too.
nMc: So the album is due out Sept 20th, do you anticipate a tour in support? And will you do all 19+ shows or any all ages? You guys have a very wide demographic of fans.
JW: Yes! We'll be touring Western Canada around the release date – Victoria, Nanaimo, Vancouver, Kamloops and a few other cities at first, then a full tour later on. And we'll be doing both!
nMc: Will you have any fan specials for the first leg of the tour? Basically it's your cd release party!
JW: Fans can buy tickets from our Website which include either a cd, or a cd and a t-shirt for the first tour dates. And we'll be signing cds at the shows where and when we can. (one of the things fans love about this band – they make time to meet fans whenever possible)
nMc: Can't wait to see you guys perform some of the new songs live tonight, and again on tour. Thanks for your time Jesse!
JW: Hope you like what you hear tonight (smiles).. and thank you!
State of Shock can be found on Facebook and on Twitter and are quite active on both.
Go HERE for a review of the new album. You can also find a good interview with State of Shock singer Cameron Melnyk HERE on BC Lifestyles Magazine
State of Shock's Jessie, Cameron and Kadooh doing new song, Runaway, acoustic at Kelowna Radio Station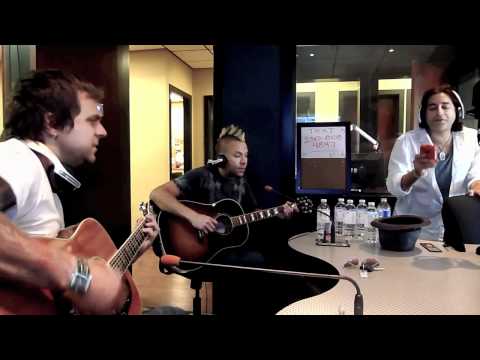 ©nightMair Creative 2011 All Rights Reserved