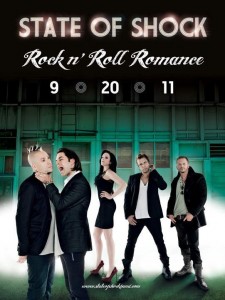 I have always liked Vancouver rockers State of Shock. Can't help it – what's not to like? Good tunes, down to earth personalities, kind hearts – so when I knew their newest album, Rock n' Roll Romance was due out shortly, I had to get my hands on a pre-release copy and listen to it, write about it, share it.
A friend of mine asked me the other day (and rightly so!) How are you going to objectively review an album from a band that you really really like? Well… its actually not that difficult to be objective. I know what I like and don't like when it comes to music. I know what moves me and what leaves me feeling uninvolved or 'feeling flat'. And I know what makes me tap my toes and sticks in my head for days – or is forgotten after the first listen .. my office shelves are stuffed full of just such albums! So… I present to you State of Shock's 3rd release due out tomorrow – Rock n' Roll Romance.
The 13 track album opens with a one minute 'Intro' which segues into 'The F Word' – gang vocals and huge drum sounds fill the air as the band launches into a song that seems to be about how fleeting Fame is:
We all wanna be so oh so famous,
But we're only the way that God made us,
So in the limelight soak soak it up tonight,
Cuz 15 minutes fades faster than the moonlight.
It could have come across as a cynical look at the 'F' word treadmill (fame), but it really is a tongue in cheek poking fun at themselves sort of song. The boppy tune and light hearted way it's sung keep you going to the next lines:
So from us to you,
this is our salute,
Everyone together now,
Thank you!
The band has opened each show on their current tour with this song,  and the fans have quickly taken ownership of it, literally shouting out the chorus like an anthem – what started as a song to thank the fans has become dual purpose, and is now a way for fans to thank the band at live shows.
Have a Nice Day is a modern twist on the cheating theme – "you text trouble with the car, Facebook says you're at the bar" as the man in the song has to deal with a girlfriend who is 'running around' cheating on him. He's not push-over though! Tossing her 'shit out in the street'  and finally telling her to 'get out' even while his heart is breaking and he wishes for a way to work through it all.
"I never knew someone could get to me
Till ya got me, shot me, rocked me
right through the heart."
Although the subject matter is somewhat turbulent, the song is catchy, has a hook, and a simplicity of chorus to have you singing it after hearing it only a few times. Great choice by the band to release this as their first single.
Runaway – the first time I heard this song was an acoustic version when it was performed at a local radio station.. I just cant describe this song but I really like it and find that it's been stuck in my head for weeks and materializes at odd moments. You'll just have to listen for yourself and make your own judgment. (see video below)
Innocent Girl -This song has grown on me each time I listen to it; a ballad directed toward any young girl who's been hurt by rejection – she leaves home to leave the hurt behind. A song of hope too – advice to those young girls – "even if it takes a little bit longer" you will eventually hear someone tell you "everything wasn't anything without you" – you will find that true love, just hold out and wait for it a little longer. Don't give up hope. "To every innocent girl around the world, you may lose your way but don't lose your faith."
I Wish I Woulda Wowed U – another cheating heart song – this time the man has strayed and it's unusual in that the cheater is contrite. "I coulda had one, but I had to have two… I wish someone woulda told me that I had it all." Heavy guitars and a great backbeat with more 'all band' backing vocals make this one a powerhouse of sound.
Mary, Goes' Round – This is the one track on the album that I don't fancy… possibly because it evokes a feeling of hopeless futility. Mary hits the bright lights and big city to make her dreams of making it 'big' come true. They never do, and she's on an endless loop of auditions, graveyard shift work and fooling herself that one day it's going to happen.
Gone 'n Done 'n Did It – more Rock from The Shock… heavy guitars, drums and gang vocals at top volume with an intro that is reminiscent of some of the best Def Leppard songs. A song about living in the fast lane but to hell with the consequences – done with humor. The bridge of the song has State of Shock giving themselves a shout out by name a la Hip Hop bands – their own 15 minutes of fame while poking fun at the absurdity of it all.
Last Call – from the moment I heard this song, it was my favorite – still is. A ballad. A blue collar worker musing about a girl he wants to get to know better, but feels he can't because he's out of her class…. one of the best lines of the entire album (imho): "What if you could take a chance on me, What if you could see all I could be?" Does he ever find the girl again? Does she ever give him a chance? The ending is up to each listener to decide for themselves.
Still Got Tomorrow – Looking back on a life and musing on the heartaches, the disappointmens and things that didn't happen. The small air of hope keeps this song from being melancholy – even though you wasted parts of your life, make something out of what you have left – "you still got tomorrow."
Call Me Crazy – Although this is a love at first sight song, it's probably my least favorite song on the album, but is possibly one of the most 'radio friendly' songs on the cd. As with most of the songs, it's catchy but it doesn't stand out for me like the others.
Used to Be – slightly reminiscent of Best I Ever Had only in that its a definite State of Shock song. A broken heart song  – a powerful ballad with emotional vocals, and keyboards that lend an air of tenderness in the bridge. I love this song.
Rock 'n Roll Romance – the 13th and title track to the album, one wonders if this song is autobiographical. State of Shock write from their own life's experiences and are truthful in their writing – which is what draws me back to their music again and again… there is always something in the song lyrics I can relate to.
"Cause it's a Rock and Roll romance,
Let's not let it be our last dance,
So throw the spotlight on this chance,
It's a Rock and Roll romance."
This album offers up ballads, good heavy Rock tunes, and Pop/Rock crossovers. It's fresh and new, and different from the band's previous album, while still maintaining that 'State of Shock' vibe we've come to love. The songs are honest, gritty, funny, endearing, addictive and above all, well written. The band shares writing credit for two songs (Runaway and Still Got Tomorrow) with Raine Maida (Our Lady Peace) and Hedley's Chris Crippin plays drums on Last Call. Rock 'n Roll Romance is due out tomorrow at all usual record outlets, and on iTunes.
State of Shock can be found on Twitter, and Facebook where they are personally active. You can also find an interview with guitarist Jesse Wainright HERE
Photos of their live show in Kamloops can be found on my photography site Here
State of Shock live acoustic of Runaway for Power 104 Radio in Kelowna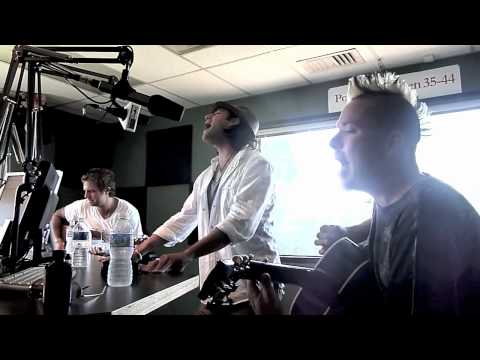 ©nightMair Creative 2011 All Rights Reserved