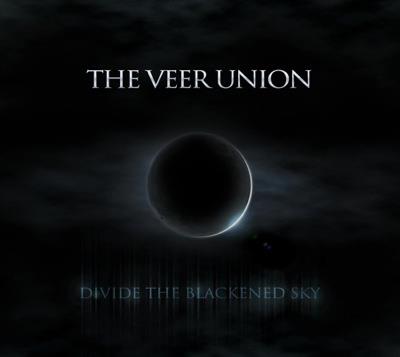 I first saw The Veer Union during the Vancouver 2010 Olympics and was struck by how great their live show was, so had to get my hands on their new album, Divide the Blackened Sky.
Borderline is a great kick ass opening for the album, and sets the tone for the remainder of the album. Hard core without being screaming, the vocals are sharp and well toned and the contrast between singer Crispin Earl's voice and the backing vocals is distinctive and fresh. The song does have parts to it that are too reminiscent in tone and texture to Nickelback, Theory of a Deadman etc… and the song is too short – which actually could be a good thing. Leaves me wanting more.
Bitter End is the album's first radio single and is all The Veer Union – almost an anthem song of sorts, a song of not surrendering to anything, it's a kick in the gut to get off your ass and get it done, no excuses. One of the best songs on the album and reflective of what the band has gone through the last few years (new band members, label changes and more)
I Will Remain is very discordant which makes it highly interesting, begs to be listened to to completion. Guitars almost sound like heavy metal cello in the chorus and the overall feel is dark, moody and angst laden. Love it! Love especially that it's not a self pity song but a bold statement that 'I Will Remain' despite it all.
Buried in the Ground is even heavier than the previous song I Will Remain, but despite the darkness doesn't come across as hopeless as the lyrics would make it seem. It evokes strong emotions, which is what music should do!
Inside Our Scars starts out softer but kicks right into gear. Earl's clear softer vocals are balanced perfectly by background vocals from guitarist (and founding member) Eric Schraeder -the softer/harder, higher/deeper contrast really makes this song punch.
Live Another Day gives no respite – this album is a hard hitting collection both in sound and song sentiment. Keyboards are heard in the background and the drums are more prominent – I love how the chorus pauses for small breaks of softer sounds. "You will live Another Day, you were meant to live again….  you are nowhere near the end, cause you were meant to live again." Positivity in the midst of turmoil.
Title track Divide the Blackened Sky starts out wickedly with drum solo and heavy guitar, followed by duel voices in monotone, somewhat reminiscent of Alice in Chains but quickly goes its own Veer Union way. Again Earl and Schraeder's voices compliment each other to make this a smorg for the ears. This song gives me chills.
Silent Gun just when you think you're going to get a ballad on this album, you are once again assaulted (in a good way) by the rougher tempo and guitar laden riffs. In all fairness though, this is the 'softest' song on the album and I love the way it ends.
Last Days of Life -I like how Schraeder's vocals are in the forefront and muted in the intro – somewhat reminiscent of Seether but not overtly so, and where Seether might be self pitying, The Veer Union kick it to the curb and carry on. The song itself is decent but not one of my favorites.
Stolen almost feels like a continuation of Last Days of Life, or perhaps Part 2. The closing song leaves the album on a somewhat hopeless feel – being the eternal pessimist I am I would have liked to have the album end on a brighter note perhaps.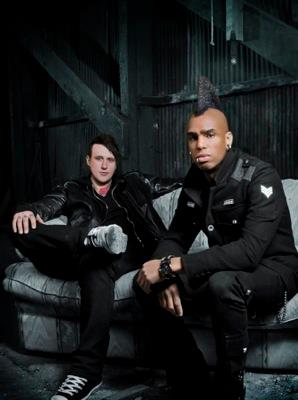 This album is heavy, dark in places, and speaks of tough times that have left emotional impact on a personal level, but it's also about perseverance despite it all – the will to survive and remain intact despite.. this album begs to be listened to over and over.
All in all this is a must have for  The Veer Union fans – and if you've never listened to them, this is a great album to have as an introduction to their music and style. The album is now available digitally on iTunes, and via the band's website.
8/10
©nightMair Creative 2012 all rights reserved