Social media is a great way to discover new music and today Mary 5e caught our ears via Twitter! The ever lovely Bif Naked send a #musicmonday tweet out and Mary5e was one of the artists Bif suggested we check out. Since Bif has great taste in music, and a bit of a quirky vibe to what she listens to that we like.. we followed the links to Mary's Twitter bio, and to her website (thank goodness she has links in her bio so we don't have to 'Google'). Fabulous site, stellar artist bio that says it all without being melodramatic, too hipster, or over the top like so many new artist bio's are. Next stop – the music!
Four songs greet the new listener: So Bad, Breaking Free, Hurricane, and Rewind.
So Bad has "shades of early Bif Naked," was our first thought and is a catchy tune but doesn't showcase this powerhouse vocalist's best abilities. The song writing is decent, but not memorable either, but just wait for song #2.
Breaking Free starts out softer – not acoustic, just softer to a degree but wait for it… 'wait right now' (the last words of the first verse) are a precourser to how this song sounds going into the chorus. Mary's vocals shred but she never loses her diction (I understand every word which is not common these days!). High notes are just as powerful as the mid range, no breathless wimpy Taylor Swift half whispers here. The band is spot on, but lets the vocals and writing shine. Heartfelt and honest, gritty as if the singer has lived the words she sings (which she probably has!).
Hurricane is a demo, but hardly a demo! Other bands would do well to have finished product songs as good as Mary's demo. Hard rocking ballad to the max. Flashes of Joan Jett go through my mind and I peruse Mary's site (in a new tab) while I listen – sure enough a link to Joan's website in the 'Links' section.. The bridge of the song is pure rock-almost a touch metal, and again the vocals never falter even in the raw 'rawrs' at the end.
Rewind is another Demo but again more like the finished product. Very soft, not really a ballad (ballads denote shades of romance), and almost acoustic, this song really highlights Mary's vocal range and ability. For such a tiny lady ("tattooed, 5'2″ frame, with long dark hair and David Bowie eyes") , she can pack a punch. The song is basic, not a lot of 'rhyming' going on but its a glorious song that I can identify with on an emotional and personal level – if life only had a rewind button indeed!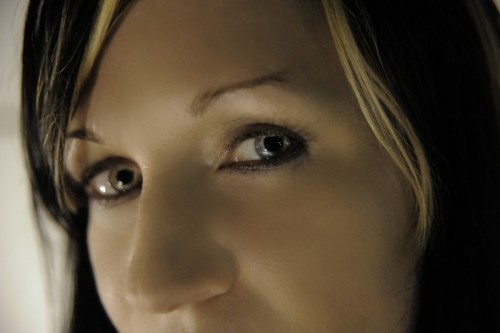 "Mary 5e has rocked anywhere from the legendary Horseshoe tavern in Toronto, Ontario, Canada to the legendary CBGB's in New York city, New York, U.S.A.
She has rocked festivals, clubs,coffee shops, parties, funerals to headlining the Air Canada stage for the Toronto pride festival with the attendance anywhere between 50-5,000."
"Earlier in her career Mary found herself receiving regular rotation on all the local radio stations and opening for well known acts such as 90′s red lip sticked rocker Alana Myles , Kiss the Midget, Kim Mitchel etc.. Today You can find Mary and her Band rocking all over the map sharing stages with such acts as , Bif Naked, Gilby Clarke (G"N"R) John Corabi (Motley Crue) The Marble index, the Creepshow, Platinum Blonde…etc"
Wanna listen? You bet you do! Check out Mary5e songs on her Site, and read her Bio.. you'll like it.
©nightMair Creative 2012 all rights reserved