I want to like Canadian singer/songwriter/performer Dan Mangan. I really do. Everyone else loves the guy. He holds a crowd's attention and has a good sense of humor, and seems like a nice guy but I just can't seem to 'get it'. He is my enigma of music. Perhaps its the hipster, indie, CBC mainstream style of music I don't get, don't connect with, that holds me back.. at any rate, tonight was my second time seeing Dan Mangan – previously he was the opener for Sam Roberts in Banff (a hipster gone mainstream that definitely has a place on my music list, always), and tonight Mangan was the headliner at the Kelowna Community Theatre.
The band was tight, and Mangan was engaging – addressing the audience after every few songs, at one point holding up what looked to be a $20 that someone had placed on the stage in front of him, saying, "Where were you in 2002?" and, "any money left on stage tonight, is going to be kept and not returned," with a wide smile on his face. At that point, someone else tossed a Twoonie onto the stage at his feet. Amid jokes about luxurious beards, and anecdotes of where the songs might have come from or his frame of mind while writing them, the songs were one right after the other in a good steady flow. The audience had filled the gap at the front row of seats after song #2 and most of the audience were on their feet by the third song into the set.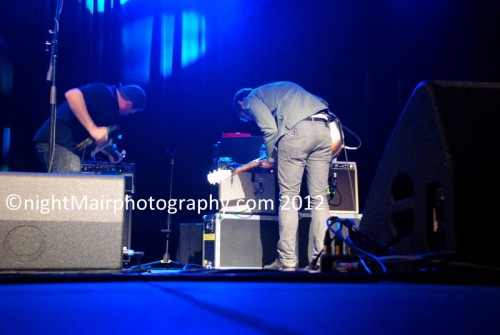 The songs themselves are what stump me. Mangan has a tendency of mumbling and I hear about 1/3 or or less of the lyrics of each song. The style of the instrumentation leaves me flat as well.. what starts out as a song I could like, ends in discord amid a bevy of over processed sounds and feedback done on purpose between guitar and amps. One song like this might be entertaining and unique but more than that makes it difficult to sit through, even if it might be the band's signature sound.
The finale didn't stir me either, despite the roar of the crowd and the smile on Mangan's face.. going from the reaction of both, the audience and band left on an incredible high, a solid love affair continuing for some time to come – but this outsider looking in, didn't find a way to share that love affair.. the enigma continues.
Opening for Mangan was The Rural Alberta Advantage, a pseudo Arcade Fire three piece who's saving grace was their incredible percussion and rhythm section. Their drummer sat facing the singer rather than the audience which afforded us an unobstructed view of his amazing skill and precise control. The keyboard player looped her sounds into the mix, added her own drum beats, and both complimented and enhanced the singer on acoustic guitar. The songs themselves were somewhat forgettable though.. it became more like watching performance art than a music concert, and despite the audience's standing ovation it just didn't connect with me on an emotional level.. I can appreciate the skill needed to coordinate the sounds, but none of the songs will stick in my head or push me to want to purchase a cd or check the band out further and to me that's what it's all about.
All in all it was an insightful, interesting night, and perhaps one day Dan Mangan's music will speak to me.
7/10
©nightMair Creative 2012 all rights reserved