Often one has to sift through a lot of crap bands to find the gems – and when the pearls are found they should be celebrated. A Primitive Evolution's The Prize is no pearl however – more like a voyage through the very fabric of imagination and creation.
Opening track Lord of Reason makes the hairs on the back of our neck stand up in an uncomfortably thrilling way. Deep lyrics, haunting melody, and the twisting turning vocals of Brett Carruthers combine to create a sonic masterpiece you'll want to hear on perpetual repeat.
Show Me (The Prize version) is a remix of a song found on the band's debut album, A Primitive Evolution. Stripped down to it's barest form, it draws attention to the details – better ear shattering lyrics, boppy backbeat from bassist Stephany Seki and drummer Stu Dead, and a reworked bridge that gives the tune a whole new evolution.
"I see the world different than you…. millions of years will pass on, I've seen the end of us all." I Feel it All could be a dour depressing dirge with an opening lyric such as this, but it's anything but. The lyrics have your imagination working double time to produce images in your head, and the bridge is uplifting and does an about-face both musically and mood setting.. there is an air of hope and joy in this song, closing lyrics 'I'm ready to go home," give the song a somewhat spiritual finish.
First thing you'll notice with Won't Let You Down is the grooving bass line. Don't let that fool you. Listen to the lyrics – a touch of sadness and melancholy belie the snappy tune. A little more introspective, Won't Let You Down is more personal, less grand and sweeping than the previous tracks but not any less emotionally touching.
Falling Far Behind is a wicked song. Strings compliment a very Celtic sounding drum beat in the intro, shades of 70's group Big Country creep into my head – Carruther's vocals compliment the sing-song effect of the strings to perfection, and you'll find your foot tapping to the beat whether you want it to or not.
Dead End (The Prize Version) is a second remixed track from debut album track list, but as with Show Me, it has distant ties to its former self rather than being a twin. It's probably my least favorite song on the album (always has to be a least favorite). Love the nearly acoustic guitar in the bridge, and the addition of backing vocals by Seki (?) add a nice compliment to Carruther's vocals.
Title track The Prize falls near the end of the track list. It often helps when a singer plays guitar and Carruthers' vocals are punctuated by guitar strums in perfect timing and tone. Stu Dead's drums are so smooth they're almost indistinguishable and the entire song blends together in an amazing display of harmonies and melodies.
Coming and Going (The Prize Version) A song of a breakup (friends, lovers? you decide) the mood is reinforced by the heavy staccato drums and harsh guitar licks. Carruther's voice lends an air of venom to the lyrics perfectly.
Train Wreck (The Prize Version) At over 5 minutes one would think the song is too long, but it isn't. With a distinct lack of drums in the first verse, the song highlights the vocals. Carruther's voice stretches to his upper range limit, but never cracks or weakens, and when the drums make their first appearance it is both powerful and moving. The band's musicianship really shines on this song as it all fits together in a symphony of sound.
We Are Lost.  With a jazzy guitar/drum solo slightly reminiscent of Marotta/Griesgraber (Peter Gabriel's long time drummer), and subtly influenced by Audioslave  Incubus, Nirvana, and U2, this song is still uniquely A Primitive Evolution, and a smorg for the ears. A fitting close to the album and a slight nod to some of the bands A Primitive Evolution has been influenced by over the years.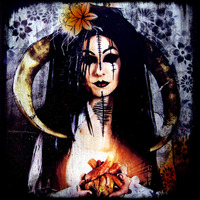 The Prize is a multidimensional, sonic treat for the ears. Evoking a gamut of emotions for the listener, this album will stick with you. We rate this album
4/5
You can find A Primitive Evolution on Facebook, Twitter and listen to their tracks/purchase the album HERE
@nightMair Creative.com 2013 all rights reserved