Review by Cindy G,
Contributing writer
The first stop on the CMT Hitlist Tour was Vancouver's Vogue Theatre. When we arrived, the line-up was down the street and around the corner! We thought we'd be sitting way in the back (general admission), but we ended up center/left in Row 7 – with the angled seating of the theatre, it was perfect.
Opening the show was newcomer Tim Hicks.  He was very confident and comfortable on stage as he sang songs from his newly released self titled EP.   Songs included his first single "Get By", followed by "Hell Raisin' Good Time". He finished with "Stronger Beer", a fun song about the differences between Canadians and Americans.
Next up was home town Canadian Country Artist Aaron Pritchett.  From the moment he hit the stage, people were on their feet, and many ran to the front of the theatre.  Aaron always puts on a fun show.  He's so full of energy and loves the crowds and it shows. He's always quick to say hi to people in the front, and wave to those in the back. The more they react, the more he moves!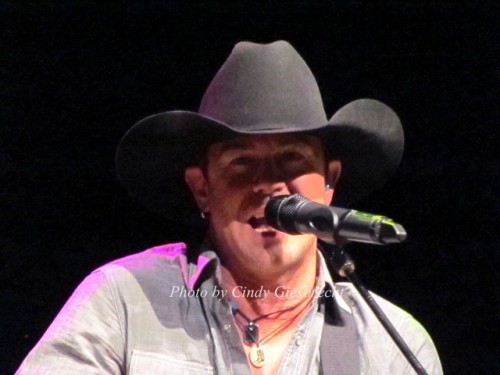 Aaron's songs included such favourites as "Let's Get Rowdy", "New Frontier", "Big Wheel" and "Hold My Beer".  The theatre erupted in cheers and loud clapping when Aaron began to sing "Suntan City", a Luke Bryan song he hopes to release soon.  Not long into his final song, a couple of bras flew through the air and ended up at his feet.  Not missing a beat, Aaron grabbed the bras and attached them to his cowboy hat.  With the crowd roaring, he strutted across the stage and back again.  Soon after, Aaron waved goodbye and left the stage.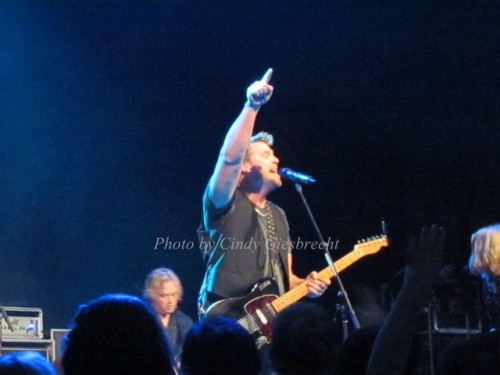 Doc Walker is up next.  These Manitoba boys always put on a  memorable show.  The band members are always smiling and looking out into the crowd.  You can see they have fun on stage and are always interacting with each other.  They opened the show with one of my favourites – "I'm Going To Make You Love Me", then quickly went into their new release, "Put It Into Drive".  The band played such hits as "Driving With The Brakes On", "Get Up", and a crowd favourite " The Show Is Free". Throughout the evening, lead singer Chris Thorsteinson acknowledged people with a smile or a wink.  He'd also throw his arm in the air and point to everyone in the balcony.  Doc Walker's many catchy tunes had everyone singing along and dancing in their seats.   The evening was going by much to fast and soon the stage grew dark again.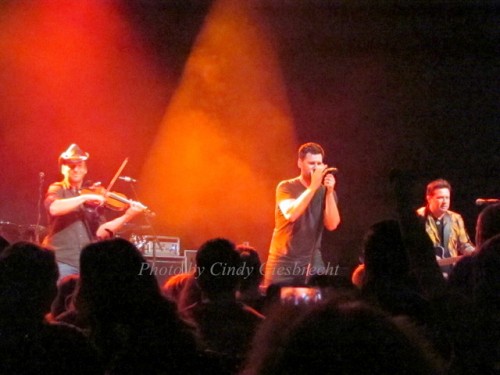 The final act of the evening is Emerson Drive.  I have to admit, I don't listen to their songs often, and have only seen them in concert once after accepting an invite from a friend. I was amazed at how good they were back then and certainly wasn't disappointed this time either.  Brad Mates hit the stage running and belting out "That Kind Of Beautiful". The man does not stand still!  He is back and forth across the stage, interacting with the audience and then back to sing along side his band mates. Throughout the evening, my eyes were always drawn to fiddle player David Pichette.  Not only is he an amazing fiddler, his never ending smiles are contagious.  He truly loves being on stage and when he approaches his friends, they can't help but grin back at him.  Those who weren't crowding the stage, were moving into the isles so they could dance. "I Should Be Sleeping", "Moments", "Extra Mile" and "She's My Kind of Crazy" were definite crowd pleasers.  As I watched Brad Mates belt out song after song, I could see he loves what he does and sings each song right from the heart.
To end an already wonderful evening, Aaron was invited back out on stage,  where the group sang "The Weight".  Then Doc Walker appeared and joined Emerson Drive in singing their joint single "Let It Roll".  Everyone in the building was on their feet, clapping and singing along.   Before we knew it, all the band members were lined up across the stage, waving goodbye.
It was an amazing evening with a great group of talented musicians and singers.  I was sad to see the evening come to an end.
Find more photos HERE
Our rating 8.5/10
©nightMair Creative 2013 all rights reserved