Canadian Country star Aaron Pritchett is one of the hardest working guys out there… and one of the most fun. Whether its playing to a crowd of 10,000 or to a room of 100, Pritchett always gives it all he has, tries to make a personal connection with as many people in the audience as he can, and doesn't take himself too seriously – preferring to have a good laugh (even at his own expense) if it creates a connection to the people he cares about most – the fans.
Pritchett has had an illustrious career over the last 17 years (5 albums, 22 singles, and numerous CCMA, BCCMA and Juno nominations and awards), but isn't resting on his laurels or accolades.. fresh off the CMT HitList Tour (with Doc Walker and Emerson Drive), with a new song, Suntan City, out to Country Radio, and a summer full of festival dates, we were fortunate to catch up to him to talk to him about the new song, a new album in the works, and few other surprises up his sleeve.
nightMairCreative: How is the new album coming? Do you have any loose release date yet?
Aaron Pritchett: It's going well! We don't have a slated time to release it yet, we're piecing it together at this point – possibly early next year. I might do a 6-8 song EP rather than a full length album, I'm not decided yet. Three of the songs we have so far were written in Nashville and I'll be writing more myself this fall after the summer festivals are over.
nMC:  You've already released the first single, "Suntan City", to radio and iTunes – how has it been received by fans?
AP: Fans love it, especially at the live shows. It's a great catchy song originally written by Luke Bryan and is doing well on Country Radio so far (Top 40 in the first two weeks)  Most Canadian stations have added it to rotation with more adding it every day.
nMC: We heard it was a Luke Bryan song – many artists will do a remix or cover of someone else's song – Johnny Cash covered Nine Inch Nails (Hurt), Rascal Flatts covered Tom Cochrane's most famous tune of all, Life is a Highway – tell me about "Suntan City".
AP: As soon as I heard Suntan City I loved it, and then found out it had never been released to radio. Its a great tune and it deserves to be recorded and heard, so we contacted Luke and his mgmt people to get permission to record and release it.. it was great that they said yes.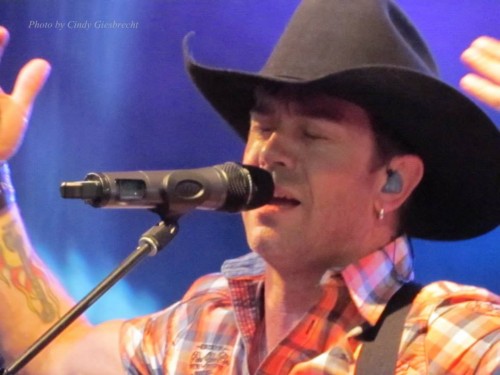 nMC: You're a busy guy – summer festivals -including Funtastic in Vernon, BC, where you just performed to a crowd of 10,000! – writing for a new album, and also working with a new up and coming artist, Leanne Pearson – tell us about that.
AP: Leanne is a great new artist I'm working with within my new management company, Big Wheel Artist Management. Leanne is very talented, and just starting out and I'm excited to be 'coaching' her along at this point – her new song, Get Outta My Heart is getting some good response from fans and from industry alike so keep your eye on her! Ideally we'll be working with more upcoming artists in the future as well.
nMC: We all know your second love (after entertaining), is hockey. We hear you've been doing some coaching?
AP: (laughs) – yes! Last winter I took some training and became an assistant coach on a local Pee-Wee hockey team.. Had a blast! Might do it again this winter, we'll see!
nMC: We have a few questions from your fans too.
AP: sure!
nMC: What is one of your favorite memories growing up as a kid?
AP: I grew up in Kitimat and when I started playing hockey,  that was the transitional point in my life. For the first time in my life, I fell in love with something, felt really connected to it and committed to it – I still love hockey all these years later, and still play when I get a chance.
nMC: Noreen wants to know what makes you so humble and approachable – that "most people have an experience that makes them who they are". You also mentioned in an interview recently, that you had 'a bit of a chip on your shoulder' in your 20's when success didnt come early in your career. How did you realize that and how did the 'attitude and ego' go 'out the door'?
AP: My family was out camping many years ago, and my sister and I were sitting by the fire talking. She told me straight – you're the biggest snob I know. I was shocked. I wasn't offended, but to hear it from someone close to me, from my sister – I was hurt. It forced me to look at myself and realize people saw me differently than I saw myself, and it changed me. The ego was axed at that point. When success did come (in his early 30's), I realized how fortunate I am for that.
nMC: anyone can see your fans are a very important. You spend hours daily talking to them on Twitter, and stay after most shows to sign autographs and take photos. People say you're one of the most accessible and down to earth artists out there.
AP: Thank you. My fans are very important to me. If the venue allows it, I always try to stay to meet fans. Sometimes I'm the last one to leave but I enjoy having a personal connection with the people who came to see me.
nMC: Jill wants to know what was the first song you ever sang?
AP: (Laughing) Foreigner. that one.. (starts singing in a falsetto) I've been waiting.. for a girl like you…
nMC: nice! Tricia wants to know, did you ever take guitar lessons?
AP: yes.. but I didn't like the structure of the learning so I basically learned on my own – which is why I play guitar really badly (laughs)
nMC: Annette (and others including us), want to know if you still get nervous before you go on stage?
AP: Not nervous really… I still get the butterflies in the stomach just before I step out into the light, but its more excitement – I channel it into excitement and that lets me pump up the energy.
nMC: energy is one thing you dont lack! Thanks very much for taking the time to talk to us!
AP: my pleasure! See you again soon.
You can find Aaron on Twitter where he talks to and follows all his fans, and does his own Tweets – the man is a natural! You can also check out his new Website and watch him perform Suntan City live in the video below.
*photo courtesy of Aaron Pritchett from Vernon Funtastic
©nightMair Creative.com 2013 all rights reserved