Canadian East Coast Rockers, The Trews, are the epitome of a Rock n Roll band – face shredding guitar licks, killer bass notes, booming crisp drum beats, and spot-on clear powerful vocals and exquisite harmonies. Combine that with unforgettable lyrics that spark strong emotions, and a live show that's exciting to watch, and one can see why The Trews have not only been around for 10 great years, but racked up 13 singles and 3 albums in the Top 10, 5 Juno nominations including New Group of the Year and Rock Album of the Year, and 4 East Coast Music Awards including Fan Choice Video Award (for Highway of Heroes).
Currently on a summer tour, the band is also in studio working hard on their next full length album, which they have decided to fund through a PledgeMusic campaign. We had a chance to talk to them about the new album, and their decision to fund it through Fan crowd sourcing (with 5% of any money raised over and above the goal, going directly to Cystic Fibrosis Canada.)  Here's what singer Colin MacDonald had to say.
nightMair Creative: The Trews have decided to use PledgeMusic to fund this new album. Some of the perks of pledging include a 20 minute Skype session with a band member, performing Gang Vocals with the band, even 4 on 4 street hockey with the band (all gone btw). We think that's really cool but we're still kind of fence sitting about funding through fans. Its such a new idea that its not quite understood yet. can you talk a little about your decision to go this route, and the fans responses to it? 
Colin: we're really happy with the response to it for the most part. Pretty excited about it actually. I think its like the new frontier of music making and we always like to do new things; we like the challenge of reinventing ourselves and adapting to the changing world of the music business which is changing even quicker than before. I think it's a great way for a band that is fan oriented like The Trews to be able to bring them into the process of making a new record. I feel like Trews fans are very devoted and it's making us more excited about making new music because we feel we're making this just for the people that really love our band. That's inspired us to work harder and write more. Overall I think it's a great thing – it's helping us bring the audience even closer to us than ever before.
nMC: you do realize you may have some fans say they now "own your ass"
Colin: (laughs) Yep I've already read that, (on social media) so um.. we might need to call on them for some lyrical ideas, and suggested key and chord changes (laughs again) There's always that fine line between people dictating what you're going to do and you just doing what you're doing and hoping people like it.. but our fans  have always been pretty cool. I think they have faith in us that after all these years of playing live and putting out records we aren't going to give them a product thats sub-par.
nMC: speaking of albums how is the new album coming?
Colin: it's going really really good. We have about 16 demo's done, and we're continuing to write. We're still trying to decide on what we want to do for a producer. We're right in the throws of the creative process and its pretty intense – lots of ideas floating around. We're learning to get better at being patient about letting the idea kind of happen on its own as opposed to forcing anything too hard. The artistic process is a fickle and crazy thing and we're trying to capture as many special or magic moments as we can.. we refer to it as like capturing lightning in a bottle. We're kind of always sitting around the jam space waiting for that to happen and when it does we hop on it real quick.
nMC: do you guys anticipate a full length cd, 10- 12 -14 songs? 
Colin: what we'd like to do ideally, is have a more concise maybe 10 song album and a bunch of bonus material. It depends on how the rest of the material shapes up. I like the idea of a concise statement that when, by the time you're finished all 10 songs, you feel like going back to the top and listening again as opposed to kind of getting tired out on the sound and the sonics and the voices.. I find 15 songs is a commitment for a really long record. I like the idea of a 10 song awesome Rock and Roll album. You want to leave people wanting more, not the opposite.
nMC: you guys are doing the summer tour circuit with one-off dates – are you itching to get back on the road full time? 
Colin: Yes, no, maybe (Laughs). Our priority right now is getting this record done so we're kind of devoting most of our energies to that. Live performance is a different thing altogether – presenting the songs and creating the songs are 2 different animals. One thing we are doing is throwing in one new song a night just to test it out on a crowd. At every one of these one-off dates we've been performing one of the new songs. We'll even write a title for the song on the way to the gig just so we have something to call it. Some of the tunes are maybe 60-70% done, but we just want to force ourselves to get moving along with it so we'll play it live and throw caution to the wind. Its actually been pretty cool for us because it challenges us, we're not just playing the same songs we've been playing for the last 10 years, we're playing something brand new and its good.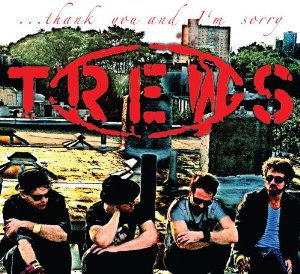 nMC: do you find that some of your fans want to keep your sound the same from album to album?
 Colin: Every time we put out a record, there are always a few people who love the record before that, and are looking for another version of that and are kinda let down, but I feel like – I think fans want something new from the band. I think every time you try to do "your thing" for people – targeting your demographic so to speak – I think thats very boring. I think fans appreciate it in the long run when an artist or a band is trying something different,  I think that has its own special magic to it too as well when you're not just doing the typical thing or re-treading on old ground.
There is a time to go back and do something that is a return to form I believe. With us on Thank you and I'm Sorry EP (released late 2012), I find we went back on a couple of tunes that are 'Trewsy' sounding songs, like The Power of Positive Drinking. The thing I always like about The Trews is we do songs that maybe people aren't expecting and maybe when they first hear it it'll be like "whoa this isn't like Not Ready To Go or Poor ol Broken Hearted Me," but the point is we've already done that. We want to do something different. We want to broaden our horizons and round out the set in a different way so we're not just doing the same thing over and over again. A band I think that does that very well is U2. They're always able to reinvent themselves and yet maintain this gigantic fan base all over the world.
nMC: and a band (even U2) has to change as they age  and go through life – passion and anger in their 20's mellows out into their 40's and 50's.
Colin: yes or you just become a grumpy old man (laughs)  I guess I try to fight cynicism especially as I get older, and I find its always there, but I think it just takes effort to get past it and work towards the catharsis or lighter side of things. When you're writing a song it always kind of starts from a sad place but it takes effort to step away from it and get some perspective on it and lighten it up a bit.. or if you're going to go through the sad part, the dark part, try to find some resolve or some light there. That takes a lot of effort.
nMC: the video The Trews did to introduce your Pledgemusic campaign is the lightest hearted we've ever seen the band – it was hilariously funny and very well done production wise. 
Colin: thanks in part to the comedic genius of Sean Dalton and Sean's really good friend, (and now our friend) director Nick Sexton (The Rick Mercer Report). He's truly brilliant and fun to work with. Sean is so funny – a great musician but also a great comic and great personality,  so we let him do what comes natural to him which is be really hilarious.
nMC: that's something that a lot of fans don't know – that Sean is funny and that Jack smiles. The PledgeMusic video helps that come through 3 dimensionally.
Colin: that's a good point. I think that over the years we've been this 'hard working Canadian band' – we're usually just kind of focused on getting the job done. Maybe we can let more of the personality of the band shine.. I think that's something we'll exploit more in the future. You can't put a price on a smile. People like to have a laugh. Life can get pretty hard sometimes, and it's nice to be able to make people smile and have fun and Sean and Jack are definitely good at that.
 nMC: good luck with your campaign, as of today it's now hit the 50% funded mark, with 35 days left – congrats! Look forward to hearing a new tune or two on the road, and the full album later this year. Thanks for taking time to talk to us! 
Colin: Thank you. Hope to see you at a show soon.
You can find out more about The Trews PledgeMusic Campaign HERE… all drum lessons with Sean are gone, dangit, but there are some great perks still left. Check it out, and check out the hilarious video they all did to kick off the campaign.
Find The Trews here: @thetrews, Trews FB
©nightMair Creative.com all rights reserved
*photo credit The Trews July 2013 Keloha Fest