Each summer, we try and attend the Salmon Arm Roots and Blues Fest, for two reasons: they have amazing bands we have never heard of but end up loving, and they're super well organized in an amazingly clean, large, beautiful venue. Now in their 21st year of operation, we were stoked to being this year's adventure.
With hot weather projected for the entire weekend, we chose to hit Friday night around dinner time once it was cooler, and headed to the Boogie Barn to take in The Harpoonist and the Axe Murderer. The name of this duo was enough to entice us and watching Shawn Hall and Matthew Rogers (both of Vancouver) kill it on foot percussion, harmonica and Telecaster was a great intro for the rest of the weekend.
Heading over to the main stage we caught the tail end of Fatoumata Diawara, a beautifully elegant young woman from France who combines traditional Wasoulo music and verse with Pop, Jazz and Funk. After her set we ended up sitting next to her guitarist and drummer, (both mainly french speaking) and having an amazing conversation about their past few months of touring the world.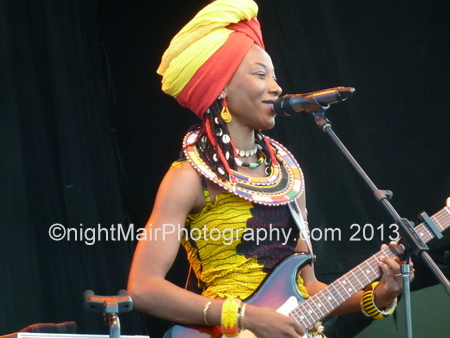 Our most anticipated set of the night was Ky-mani Marley (one of Bob Marley's many sons). The set left us a little ambiguous though -it was good, but not great, okay but not stellar. Still, it was enjoyable and glad we caught it.
The evening closed out with nothing like we'd ever seen before! Corvus Corax is a band from Germany and there are no words to adequately capture their style of music — neo-Medieval is how the band themselves have described the spectacle of 4 bag pipers, and 3 percussionists, all dressed in Age appropriate garb. Have a watch of the video below for a taste of what we experienced. A fitting end to the first night… more tomorrow!
Saturday we spent most of the afternoon looking at the many artisans and crafters and their wares.. everything from fairy princess skirts for little girls, to some very edgy leather work. Henna tattooing, massage therapy, jewelry of all kinds – benches and shade for festival goer's to take a short respite between bands, workshops, and food. Have a look at our 15 second <a href="https://vine.co/v/hOq25xun3Mp" target="blank">VINE video </a>. Our favourite food of the weekend were the Wraps. Bang for the buck, fresh crisp healthy ingredients and enough to satisfy for many hours. We also took in three or four workshops, moving from one to the other to try and soak up as much as possible in the short time.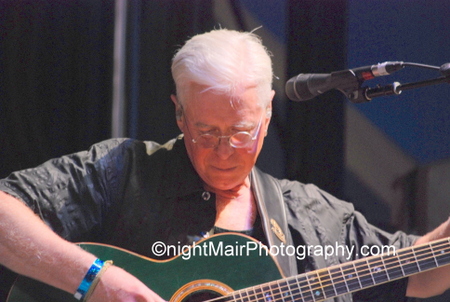 Dinner and the highlight of the evening – Bruce Cockburn! Our first time ever seeing Bruce perform live. A very simple stage set up – Bruce on guitar, a lovely lady on violin and a drummer. No frills, no flashing lights, but Bruce had the crowd (and us) mesmerized from the very first song. Bruce is a storyteller but so much more! He has a presence, a charm, he commands attention. The crowd found themselves rooted to the spot, tapping toes or hands on the railing, heads bobbing.. Bruce touched us with his mix of political, social and personal songs. Selah Sue closed out the evening, and it was only a brief interlude before the final day of the Festival was upon us.
Sunday we really wanted to catch newcomer Devon Coyote as we had missed him the day before.. we had a chance to talk to Devon after his set. He took a leap of faith last year and quit his day job to take up music full time. Good choice! This guy has 'it'. The voice, the musicianship, the stage presence and his band is really great too.. (see video below). Devon's been touring almost non stop since jumping in with both feet, and is on the rise.
This year the Festival also featured something very different – Beat Box! Appealing to the younger generation is a smart move, and the festival continues to grow each year when others are falling off in numbers. Felix Zenger came all the way from Finland and was amazing to hear during the Beat Box Battle… what these artists can do with their voices might not be standard singing and vocals, but it's amazing nonetheless. Have a listen in this short set of  VINE  videos! <a href="https://vine.co/v/hOnLZahQFWi " target="blank"> HERE</a> <"a href="https://vine.co/v/hOnY2OIUwxH" target="blank">and HERE</a>
The evening main stage hosted Canadian musician Daniel Lanois who may be better known for being U2 producer than he is for his own art.. but this man is just too cool for words. His most well known album perhaps, is his 1989 debut album, Acadie, and with his French accent and slightly New Orleans influence, the music is unique and interesting. Again, like Cockburn, a very minimal stage set up – in fact, Lanois pulled the gear to the very edge of the stage to be closer to the audience. For the entire set he regaled us with tidbits of info on the songs' history and beginnings, and even took a request shouted out from another artist watching side stage.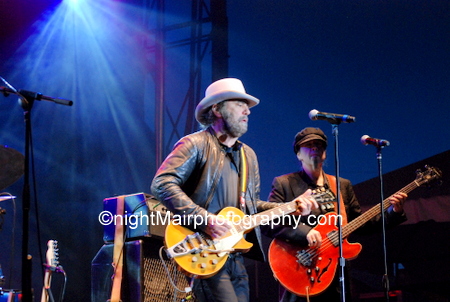 City and Colour ended the night on a mellow note, and we left satisfied and happy for the new discoveries and old favourites.
more photos: click for larger version
©nightMair Creative 2013 all rights reserved