Some bands just perform, while others truly connect with their audience. Papa Roach doesn't just connect, they body slam their fans with an energetic, impassioned experience, and take the ultimate risk of laying their hearts on the floor for all to see.
Front man Jacoby Shaddix is in a good space right now, but a year ago, he nearly ended it all, unable to deal with the pain he was causing himself and his loved ones due to alcohol and substance abuse. Thankfully he found a way past it, but visits those darker parts of his soul each night with songs like Scars, Last Resort, She Loves me Not, and Leader of the Broken Hearts, and that's what connects the band and fans to each other so tightly and emotionally. Add the intensity of a physical show and look out!  Guitarist Jerry Horton had advice on Twitter for first time Papa Roach fans, "Start working out. You gotta try and keep up with us!"
No kidding! Anticipating a bangover (sore neck from head banging) and bruised arms from leaning on the stage's front speaker, I dive into my very first P.R. experience! Shaddix and drummer Tony Palermo are soaked from exertion by the first three songs, Horton and bassist Tobin Esperance catch up quickly as do the exuberant fans who had early on made their way out of the reserved seating arrangement to stand down front where the action is. Shaddix jumps back and forth between side stages and a riser at stage front that elevates him above the crowd, where he leans out teasing people with an 'almost' hand shake only to laugh and jump away to the other side of the crowd. Also elevated to be seen better, Palermo keeps the beat and works his tail off, occasionally pointing at people and smiling, and interacting with Horton and Esperance any time they wandered back to his domain.
Shaddix trips over to our side of the stage at one point, leans down and gives the guy beside me a noogie! The fellow and his girl are definitely long time fans or know the band personally, and Horton who is almost literally standing on top of us, laughs as d0 the rest of us. Next time Shaddix comes to our side of the stage, it's to spit water on us! Baptized into the fold! (actually it was sprayed from his water bottle not his mouth!).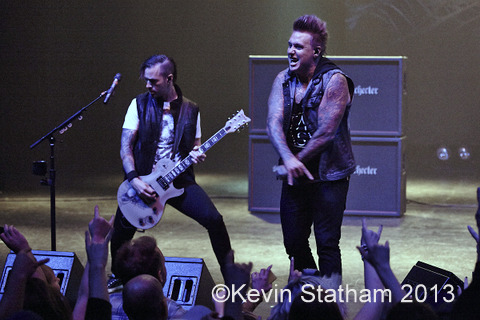 About middle of the show, a fellow who had had too many beer decides to crowd surf, and the crowd isn't into holding him up so try to let him down easy.. next thing, Shaddix is looking down from his perch on stage asking, "did he knock himself out?" Yep… the band keeps playing but Shaddix keeps an eye on him and when the fellow gets up a few minutes later on his own steam, and the venue staff come to assist, the show is back in full swing with nary a beat missed.
Horton walks to stage edge again, this time with a scowl on his face – following the sight line, I see it directed at young fellow standing a few rows back of me, head down, cell phone in hand, texting.. oblivious to the show! His buddy hits him and looking up, he meets Horton's gaze. Horton shakes his head at him in a 'no' motion, and remarkably the cell phone goes back in the pocket! Horton smiles and backs off to his mic and guitar pedals, and I laugh – well done! A few seconds later, Horton skids a guitar pick my way which lands mere inches in front of the speaker I'm leaning on. My noogie neighbour bumps my elbow, leans into my ear, "that's yours." Nice!
We get a few short stories about the songs before a few of them start, which is great. The crowd responds to the honest display of emotion with respect, encouragement and shining faces – many in the audience can relate to the lyrics and to Shaddix' trials, and the biggest thing is, that there is hope for them if their idol can pull himself out of it. Leader of the Broken Hearts is the band's newest song, and is one of the songs that has the loudest response with fans singing along… the smile on Shaddix' face is beautiful to watch, and the rest of the band are glowing too. I'm sure we are as well!
The show ends too soon, with Palermo tossing out 4 drum sticks, and Shaddix tossing out his empty water bottles and sweaty towel. We try for an encore but the venue flips the lights on, and it's time to wander off with bruises, memories, and the desire to dive into the back catalog of this incredibly hard working fun band.
9/10
©nightMair Creative.com all rights reserved
Featured Photo by Harry Reese (thank you!)
band photo by Kevin Statham /courtesy Great Canadian Casino
Cellphone photos: