Drummers have a unique perspective as they sit behind the band, able to watch not just the fans out front, but their own band mates! Tony Palermo, the thunderous explosive drummer for multi-platinum rock band Papa Roach, sat and chatted with us last weekend before the band's first show on their Canadian Tour at the Red Robinson Show Theatre, in Coquitlam, BC.
nightMair Creative: Are you excited to be back in Canada touring?
Tony Palermo: Yes! It's been awhile since we've been to Canada, two years or more. Tonight's venue looks cool.. looks like it's going to have good sound too. (Red Robinson show theatre with tiered plush reserved seating and great acoustics)
nMC: We're in a sit down venue tonight – do you think the band will be able to get fans on their feet?
TP: I'm sure Jacoby our singer will get them to come up front right away! It's a rock show, it will happen (laughs). That happened on the last tour we were on actually. The venue had a bunch of chairs on the floor up front, all zip tied together in a long row.. Jacoby said, "come on up here!" and security was all worried but it was all good.. fans came up front and we had a better show.
nMC: What would you tell a first time Papa Roach concert goer about the show they're about to see?
TP: Expect a lot of energy! Not just from us, but from you. We have a great relationship between ourselves and our fans – they just know its expected to be high energy. It's a truly live show in every respect. They're being fed this energy from us from the stage, and we hope to get it back from them – we like to see fans moving and jumping.
nMC: What would you say is the age range of fans at your shows?
TP: Its wide! Parents are bringing their 8 and 9 yr old kids, and bringing them up front. From that age all the way into the 50's age group. In 2008 we did a tour with Motley Crue and a lot of older people (mostly Motley Crue fans) didn't know what to expect from us but we picked up a lot of fans from that tour. Now those older fans are bringing their kids.
nMC: Adding a new generation – that's cool and gives a band longevity
TP: Yes! When we look out and see a lot of younger faces we feel we are doing something right.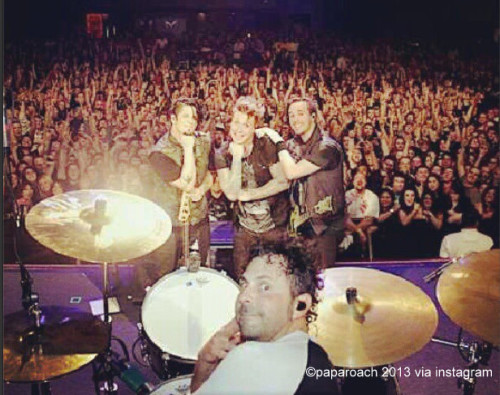 nMC: You guys do have a great relationship with fans -that comes across at shows and also on Twitter where most of you talk to fans daily.
TP: No-one can ever say we don't wear our hearts on our sleeves. Jacoby just lays it all out there, its just pure life. That's the way we've always been.
nMC: When Papa Roach tours (which is all the time it seems) how long are you typically 'on tour'?
TP: We generally do an 18 month to 2 yr cycle between writing and touring. We're hitting Europe in November and then straight into a 6 month break to start writing again.
nMC: If you guys are gone for so long, how do you avoid temptation on the road?
TP: This tour (Canada) is actually 3 weeks, then a short break then more touring. Generally we're away 4-6 weeks, then home for 10-20 days, then gone again. We wouldn't be married for very long if we were gone for 18 months straight (smiles)
nMC: Speaking of family, Jacoby recently had a baby (pictures posted on his Facebook page). That was pretty exciting to see
TP: We were in Vegas on tour and had arranged to end the tour 4 days before Jacoby's wife was due, but she ended up in hospital 2 days early and he was in a panic to get a flight home on time. He left the next morning and the baby was born later that day so it all worked out.
nMC: Can you give us one personal highlight from any Papa Roach show or tour in the past few years?
TP: We played a show called Polish Woodstock.. we got there and the signs said 'capacity 500,000' and we thought it was a typo, and probably meant 50,000 – that someone had misplaced the comma, and we laughed about it. I went on stage early in the afternoon to check the rented drum kit, and the venue area was huge – this big open field with a forest at the back. I thought, "500,000 people, yeah right."
We didn't go back on stage until our set, and we were like, 'holy shit'. They said later that about 350,000 people showed up. People were literally coming out of the forest at the back, where they were set up for camping. It was a free show too! It was incredible. You never try to play badly of course, but it was like.. its just us 4 people up here doing our songs – it forced us, it forced me to kinda say to myself, "if you can't feel it from this, you're dead, you have no pulse!"
nMC: Its been a pleasure chatting to you Tony.. have a great show and a great time in Canada. Hope we give you the energy!
TP: Thanks very much, my pleasure also.
Polish Woodstock with Papa Roach!
©nightMair Creative.com all rights reserved
photo from Papa Roach Instagram