There is always a danger when grouping big names together for an all-inclusive tour, that one star will outshine the rest, or worse, that fans of one band/artist wont attend due to having to sit through sets from the other artists/bands, especially if the bands rotate each night and nobody knows 'who's on first'.
However.. Chad Brownlee, Deric Ruttan and Jason Blaine blew past all these what-ifs and delivered a solid fun show as part of their current Your Town Throwdown Tour, which made it's 3rd to last stop in Kelowna.
Starting the show with all three men on stage together, Chad Brownlee got the crowd going with the mention of how great it was to be back in his old neighbourhood (he grew up in Kelowna), and Jason Blaine carried the wave with "are we ready to party Kelowna?" as all three lit into a series of songs with each man on stage sharing the spotlight equally. As Brownlee and Blaine left the stage with a wave, Deric Ruttan stayed and 'borrowed' a guitar from Blaine's stack, tuned it down, and performed a brand new ballad type acoustic with a single spot. Magical moment, but in Throwdown Party mode, the spell was broken by a humorous quip: "Jason's going to kill me if I don't get this right," while re-tuning Blaine's guitar to what it had been. A few more songs from Ruttan and a few ladies up dancing in the aisles in cowboy boots and dresses, and it was time to bring Jason Blaine out. Ruttan danced off stage to loud applause, all smiles, and we knew he'd be back.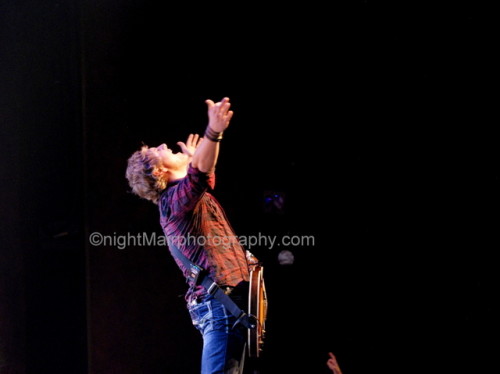 Jason Blaine's set was a little more upbeat and just as enjoyable.. and Blaine immediately invited folks up front "to party,  this is a Throwdown you know!" and soon the gulf between stage and first row of seats was jammed to overflowing with fans of all ages and genders. Blaine was a little more demonstrative with fans -leaning in close to be on eye level and shaking hands here and there as fans sang along to his songs (in the dark- the lights never did hit the front of the stage even when all three artists did).
Like Ruttan, his set ended too soon, but that simply meant Chad Brownlee was up to bat (or in Brownlee's case, he shoots, he scores!). And score he did. More singing along by fans and smiles from Brownlee as he took his ear monitors out to listen to the crowd. Up and down the front row to touch every last outstretched hand, and a few more words about the familiar faces he was seeing in the audience including family and old friends.
Comparing each performer to the other is like comparing apples to bamboo to sneakers -its impossible. Each man brought his own style to his set list, and each performer had his own unique voice and way with the audience. The combined effect was a harmonious mix of fun songs, ballads, and everything in-between – and the icing on the cake was all three men back on stage for the grand finale.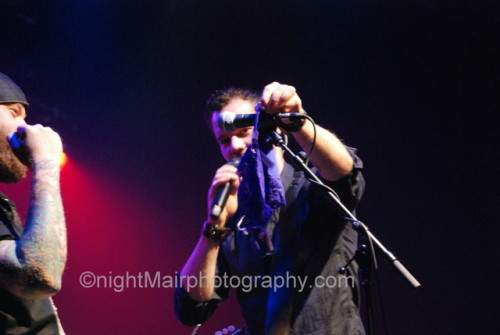 Brownlee started out by drawing our attention to the plethora of bras hugging the drum riser, told the story of how the first one was tossed on stage and hit Deric Ruttan square in the face – after the initial shock and anger, Ruttan "realized what it was and broke out into a grin," said Brownlee. After a few more dates and a few more bras, the three guys started keeping track of who was more bra popular, and then came up with the idea that they'd donate money for each bra tossed, to the Breast Cancer awareness. The bras go to Women's Shelters at the end of the tour. To which, a bra was launched and landed at Brownlee's feet! Followed by 2 more (one of which ended up around the drummer's neck, and then much to the embarrassment of Brownlee, a pair of undies. "Keep it family friendly' he laughed, as he hung bras and undies from guitar necks and mic stands.
A young fan in the audience was noticed, and mentioned – she was having her 10th birthday and had battled heart issues/surgeries her entire life and so turning 10 was a blessing. Blaine asked for the house lights and had the little girl stand up, and fans up front began an impromptu Happy Birthday chorus- over 700 strong sang it while her parents had visible tears in their eyes.
Just before the closing song, someone tossed a box of chocolate Wagon Wheels on stage and Ruttan picked up the box, visibly brightened, opened the package and handed one to Blaine who tucked into it, leaving him unable to sing temporarily and the other two men taking full advantage between smiles and singing. The young lady who tossed the box was brought on stage, given a set list, and sat on the drum riser while Brownlee and Blaine took turns playing to her before escorting her back to her place up front. Wagon Wheel closed out the show to thunderous applause which increased when we were told that Kelowna had 'thrown it down' and that the last two shows were going to be hard pressed to top us!
Brownlee, Blaine and Ruttan came out to the lobby after the show to sign autographs and take photos with those wanting to stay a little longer and watching them was a unique experience… attentive, interested in each person they spoke to, true fan favourites.
©nightMair Creative.com all rights reserved.
Click on photo for larger image