On the first listen of the new Sam Roberts Band tune, Shapeshifters, a die hard SRB fan would have a momentary twinge in the pit of the stomach and the fleeting thought that our beloved Sam and band have gone all Pop dance techno on us, and abandoned their Rock and Roll roots! The song indeed is an out and out dance track.
As the first track written for Lo-Fantasy, frontman Sam Roberts says in a release,"That song is a gateway to a lot of what happens on the rest of the record. It was one of the first I wrote for the album, an all-out dance track, and I felt that with a song like this under my belt, I wasn't going to be pigeonholed into making any one specific kind of record."
But never fear! Give it a listen, and one recognizes the signature SRB themes of digging deeper into questioning oneself and the world around him; "I'm running from me, I'm hiding from you… …open up your eyes, cause the man and the devil are in cahoots, but down here everybody has switched their roots" and "we are all shape shifters… we are all lonely drifters… sometimes you are on your own" the lyrics tell us. (have a listen below)
Although the song starts out quite Pop sounding, it moves and shifts in and out of tempo and style with a very staccato drumming in the middle (courtesy of Josh Trager)  and the bass kicks it in as well (James Hall).. the bridge in the middle also serves to highlight Sam Robert's vocals which often are 'just part of the mix'. Rounding out the band are guitarist Dave Nugent and Eric Fares on keyboards. Give it a few listens and we guarantee it will grow on you as fast as SRB's first single, We're All In This Together!
Sam Roberts Band new album, Lo-Fantasy is due out February 11, 2014 on Paper Bag Records, with a host of dates in the USA first (see image below), and more dates to come for the band's loyal Canadian Contingent. Stay tuned for more info as its made available. We'll be heading down to Seattle so expect a full review!
In mean time, a little info on the new album while you wait, courtesy of World Cafe Live.
"Sam Roberts was living in a hobbit hole on a mountain in Spain, watching the sun set on the hills of Andalucia when the lyrics of "Golden Hour" came to him. If that were the only unusual thing about the making of 'Lo-Fantasy,' his fifth studio album, it would still be remarkably strange, but this is no ordinary Sam Roberts Band record." – read more at World Cafe Live (scroll down the page there)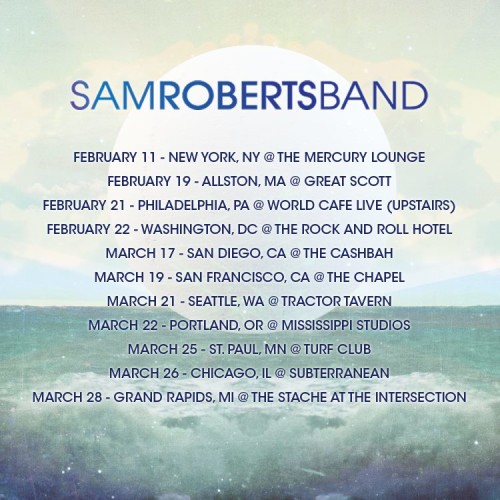 For more info on these USA tour dates, head over to the band's Facebook Page or Website.
©nightMair Creative.com all rights reserved
*image courtesy of the artist
*sound clip courtesy of Paper Bag Records