It's coming! Sam Roberts Band much anticipated release of Lo-Fantasty is less than a week away and we just had our first (of many) listen! What to tell you? Well, the nitty gritty first I suppose.  The band have signed to Paper Bag Records for Lo-Fantasy, which will be on shelves on February 11. The album was helmed by Youth, a.k.a. Martin Glover of Killing Joke and the Firemen, who has produced the likes of the Verve, Beth Orton and Crowded House, and was recorded in literally 12 days 'on the floor'… and it's fucking brilliant! On with the track by track review.
Human Heat has a grooving duel guitar riff happening between Sam Roberts and Dave Nugent (Nuge), and repetitious bass line that ties in seamlessly with the snappy drums, and the entire song has a middle eastern flair in bits and pieces around the dance groove. Keyboards chime in at the second verse and it all blends like some exotic complex perfume to make a perfect scent or in this case perfect sound. This is gonna be a great song live.. dance to it in any style you wish.. the groove begs the body to move. The lyrics are typical Sam Roberts.. that mix of deep thinking with light hearted top note that allows you to decide what you feel as you listen. The song builds heat and literally ends with a bang.
Shapeshifters begins perfectly where Human Heat leaves off (musically) without missing a beat and is straight techno dance groove. Hand claps and boppy guitar keep the body in motion and the sentiment of the song keeps the brain engaged.. as Roberts has said in interviews – he wants to get you out of your seat while still making you think – and he's done that! We especially love how the song's last lyric, nearly the last thing heard, is "sometimes you're on your own", which segues perfectly into "we're all in this together."
We're All In This Together tells of the hope and desire for the human race to help each other more than taking from each other, but at our core we are often just apes shaking the vine to get what we want.. there is less techno, more depth and breadth to this song – as if Roberts and company warmed us up a little at a time to hit us with the tough questions..This song has teeth. Sonically it's the strongest song on the album, lyrically the most complex both with sheer volume of words in each verse, and how many thoughts are stuffed into those words… a smog of thoughts. And it has a hook! And you can dance your ass off – we dare you to try and refrain!
Kid Icarus is our least favorite song simply because one has to end up least favorite and we haven't connected with this one on an emotional level -yet. It has some interesting lyrics "You're not the only one who's flying too close to the sun, I ain't going down easy", and warrants a few more listens before making a final decision.
Never Enough is the first slow song on the album although to call it slow is a disservice really. The lyrics are deep but in a good way – and we wonder if the song is autobiographical in any sense: "keep looking under every rock cause it's never enough.. I must confess can't settle for less." It could well be a commentary on the world in general or it could be closer to home for Roberts… the beauty of his songwriting style. Love the sax on this song and the depth of the booming resonant drums. This is one of our favorite songs on the album.
Too Far opens with another great guitar groove with almost a Reggae flair. Love how it sounds. "if you come with me to the promised land, what are you waiting for, I can't stay here no more." A story of a guy and a girl where the guy is in love and the girl doesn't even know he's alive:  "is this the start or is this the end? Send me a postcard you're taking it too far. I don't get who you are, you're taking it too far." Love the a Capella vocals in the last verse -adds to the emotional hopelessness you feel for the fella.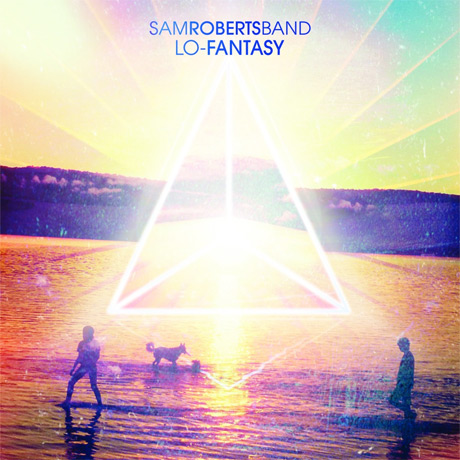 Angola starts with background singing that sounds a world away.. and the lyrics reinforce that feeling of a far away place. Just Sam with an acoustic guitar very spacey and ethereal and somewhat faded like the album cover! Suddenly into bass lines and drums in the foreground, painting a very distinct visual picture of being in an unfamiliar and dangerous place. "You gotta cut that rope till your hands are free and throw off that yoke that keeps you on your knees. Listen to the gunshots echo 'cross the rooftops, Angola, Angola I never should have left you alone." Angola, red sand like a sea of blood – civil war? .. Is this a song to a country in turmoil? Questioning why we in the west are turning a blind eye? Possibly. Very intense song in all respects. This song hits me in the heart, causing that little gasp to gain more air. Top spot on the favorites list.
Chasing the Light is an odd duck! Really! Can't decide if we love it or not so much.. the lyrics have substance (which we love) but its the Beats throwing me off. Very techno electronic which slightly drowns out the lyrics — the beat is stuck in my head! Love this: "I went walking with the devil he had demons on the souls of his shoes, he said from top to bottom you're Vicious and  Rotten, its me who should be running with you" — this one is gonna have to grow on me. It ends with the low vibrating warm notes of a cello. Love it!
The Hands of Love is somewhat techno but also very dream-like, with drums that seem almost tribal in the deep staccato sound – a little reminiscent of U2's Zooropa in the chorus.  "The hands of love are holding you," despite losing material possessions, despite losing your way… love will find you in the end. It's about opening yourself up to love and the possibilities.
Metal Skin – Where The Hands of Love talks about being loved, Metal Skin talks about wanting to shaking off the "metal skin" to become more animalistic.. a metaphor for thinking less and feeling more? "you can turn me on by remote control, you tell me love is just a chemical.. if this is true then I don't need you, I don't need anyone."
Golden Hour is love regained. Depth of love realized. "the glint of gold always pulls the eye, the years unfold as the days go by, I got the holes, you got the kisses, I drew the blood, you got the stitches." On the Reddit Q and A the band did yesterday, Roberts states that this song is closest to his own self, a commentary on himself in a way. "I'll tell the stories, you do the dishes, I'll blow the candles, you make the wishes… I'll be the roots you be the flower" a love between two people who compliment each other's strengths and weaknesses. The drums really shine in this song.. the sax is a great addition as are the gang vocals near the end. Perfect way to end an incredible album.
Lo-Fantasy is a masterpiece.  In the truest sense of the word. As much as we loved Collider, as much as we have nearly worn out our copy of Chemical City.. Lo-Fantasy is the best piece of work Sam Roberts and band have ever created, and to us, to me, is on par with the critically acclaimed Achtung Baby.
This album will work in any situation – in bed with ear buds to hear every lyrical and musical gem, easy listening at a dinner party, cranked full volume and dancing your heart out alone or with a house full of friends.. and most especially live with full band and every fan imaginable. You won't need to hit 'skip' with any songs -the album is smooth and seamless from one song to the next, and there is a message in there somewhere! As with all Sam Roberts Band albums, this one is going to take multi listening to capture the depth of each nugget.
*edit – the track listing above is the vinyl album.. the CD track listing is slightly different.
Our score 9/10
Find Sam Roberts Band on Facebook and Twitter
Buy Lo-Fantasy on iTunes now!
©nightMair Creative.com all rights reserved