I often hear people say, 'if only I could have seen such and such a band in the beginning, before they were huge." What they really mean is, they wish they could have been in that tiny hole in the wall club stuffed to the rafters with hot sweaty bodies jamming out to their band giving 2000% in a joint sharing of raw, throbbing energy. The most amazing arena/stadium show cannot compare to the 'first kiss' feeling of those smaller spontaneous humble beginnings… but Sam Roberts Band had me feeling like I'd traveled back in time to witness just such a show.
The Tractor Tavern, a tiny 450 person (standing room only), music history-steeped venue in the heart of Seattle's industrial core, was host to a sold out Sam Roberts Band show this past weekend. Making the 7 hr trip from BC's Okanagan was a no-brainer just to be able to experience this sort of once in a lifetime show! Grabbing a drink, we found a spot right up against the stage left side, amidst a Canadian contingent – some as far away as Squamish! Polite Canadians that we were, there was no pushing, no rowdiness to get closer to the front; a feeling of community and camaraderie not seen often in larger venues. It was all about the music.
From the minute the band stepped out on stage, the crowd went nuts. Consummate professionals, it showed in how they took charge immediately, setting the tone for the entire night, and the tone was full on 'give it all you got' – them and us! A brief word of hello, a big smile from Sam and down to the business of getting sweaty… by the third song in, I'm sure the people in the very back row could see the droplets falling off Roberts and landing at his feet as he pushed us to get down with the band's new sounds. The songs from their just released album Lo-Fantasy are incredible live! There's NO way anyone could just stand there and sway gently to the tunes.. it was full on party mode with Roberts never losing that intensity of emotion he's so well known and respected for. Despite the size restrictions of the stage, Roberts and guitarist Dave Nugent (Nuge) spent as much time as they could jamming their guitars front to front, feeding off each other's energy and the crowd's. Eric Fares on keyboards and Josh Trager on drums were literally close enough to touch, a welcome treat as they're usually buried in the back somewhere, heard and not seen as well as the guys up front. We were standing literally right under bass player James Hall's nose! Turning sideways to play the keyboards on a few songs afforded us the opportunity to give him a high five and appreciate his grin as he played.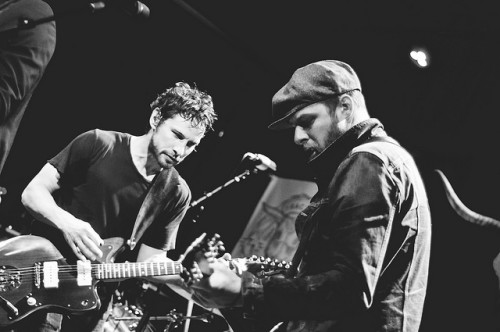 A welcome surprise before the end of the show, fellow Canadian Matt Mayes joined Sam Roberts on stage; his tall lanky frame matching Roberts shorter one in nearly duplicate silhouette as they both bent far over their guitars to jam full on. Waving and smiling to the audience, he departed too quickly, leaving the band to end the set amid cheers, whistles, and rumbling of feet on wood plank flooring as we attempted to call them back for the encore.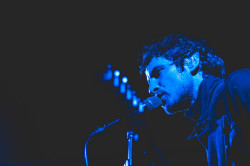 Three song encore included our current favourite new song, the somewhat autobiographic Never Enough, as well as Roberts most well known, recognizable Brother Down (another huge favourite). Hanging up the guitar for the first time all night, Roberts gave Brother Down his customary dance energy, and despite a million cords and monitors on stage, managed to pull it off, moving from one side of the stage to the other a few times, to dance, shake hands, smile, stand on the speaker at the front, and connect with as many of the audience (as far back into the crowd) as he could, before having to leave the stage a final time. Even then, people persuaded Roberts to lean into the crowd and sign items while the band waved and headed off into the back. (Roberts and the band did stick around and sign items after the show too – something else that seldom happens at larger shows!).
The entire night was superb.. thrilling.. made me a little nostalgic for a time when the music ruled, and the rules were simply 'be good at what you do'. All evening I felt like I was part of some epic story, a throwback to the underground movement of a band that was up and coming.. on the cusp of being discovered … it was an odd sort of deja-vu and so much fun! Perhaps this is a new beginning.. a back tracking to smaller more intimate venues, affordable ticket prices that allow you to buy a ton of merch, bring your 20 friends, and support the great ones. At any rate, I danced my ass off, we all bought merch, and the friends I brought are now telling all their friends how great Sam Roberts Band is live. And that's what it's all about.
Set list:
Hands of Love, Angola, Fixed to Ruin, Shapeshifter, Without a Map, Love at the End of the World, Them Kids, Chasing the Light, Human Heat, Where Have all the Good People Gone, Never Enough, We're all in this Together, Last Crusade // Encore: Cocaine Cowboy with Matt Mayes, Kid Icarus, Brother Down.
©nightMair Creative all rights reserved
colour photo of Sam & Matt Mayes courtesy Matthew J Vandeventer
photos of SRB courtesy of
Derek Robitaille.com
Derek Robitaille FB