Seven Nines and Tens concert review at Electric Owl
by Vanessa DeRenzio
As far as opening bands go, Seven Nines and Tens really stole the show tonight at the Electric Owl Social Club, as part of the three band event that also featured Whir and Nothing. Sevens Nines and Tens provided a sound unlike anything that's been showing up in the local Vancouver music scene for quite a while.
Featuring Dave Cotton (guitars/vocals), Mario Neiva (drums), Jay Raven Black (guitars) and Shockk Mongoose (base), Seven Nines and Tens are musicians who know how to play their instruments exceptionally well, and even though the singing was scarce, the instruments truly spoke for them. They featured both waves of melodic intricacy with metal overtones, as well as mellow and simplistic moments. How they string these two polar opposites together is beyond comprehension, but somehow it just works.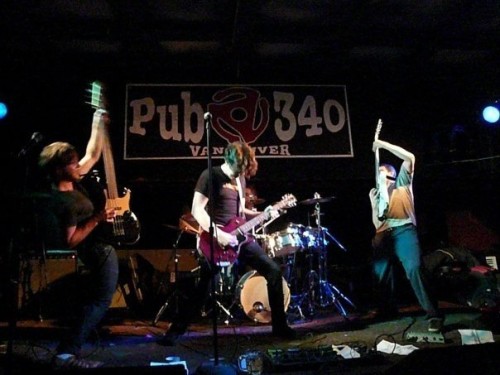 Not only are Seven Nines and Tens musically intriguing, they have a stage presence that leaves nothing to be desired. They truly enjoy their music, and it is obvious they are elated to be up on stage performing. Their bond as a band is flawless – they play as a unit, rather than as individuals, which makes their performance so much more captivating, and definitely completes the package.
Seven Nines and Tens are impressive to say the least. Their stylistic curveballs and overall charisma made them a shoe-in for 'most memorable of the night'. Keep an eye out for them, as they are truly worth watching
Find Seven Nines and Tens on Facebook and check out their tunes on Bandcamp,
©nightMair Creative.com all rights reserved
written by Vanessa DeRenzio
*photos courtesy Seven Nines and Tens file photos