ACTORS at the Fox Cabaret Vancouver
written by Vanessa DeRenzio
 When I first listened to ACTORS on band camp, I wasn't sure how I felt. It didn't sound like anything I'd heard, and I wasn't sure if It was something I would listen to regularly. I was extremely surprised after seeing them perform live. The impact they hold as musicians and their ability to captivate the audience and create an experience throughout their set exceeded my expectations. To put it another way, I enjoyed them more live than recorded, which is a rare quality to find.
ACTORS really brightened up the atmosphere at Fox Cabaret with their performance as part of the album release party held by Sex with Strangers. Their unique upbeat sound, overt charisma, and infectious energy immediately had the crowd (which ranges from nineteen to fifty) up and dancing! From the first note played until the last note heard, it was non-stop electricity.

No-one can resist a little synth, and ACTORS really provides. While some of the songs were borderline pop/rock, their overall sound hearkens back to shades of Iggy Pop, Eno, and the playful romantic sexy mood of Bowie-esq 1980. Frontman Jason Corbett is in his element and his glory – and it shows.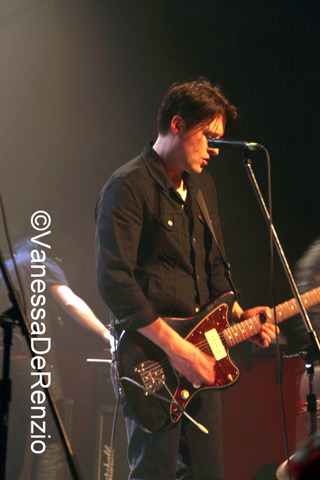 Their second song in happened to be It Goes Away, which was absolutely my favourite of the night by far, and judging by the response of the crowd around me, it seemed to be a fan favourite as well. While it has lots of lyrics, everyone was easily able to sing along to the chorus, and though there was very little space, everyone (including myself) couldn't resist pulling out their best moves.
Corbett and his band mates love being on stage, evidenced by their dancing and head bobbing as they played. Corbett even managed to whip a few jokes out, and though the venue was noisy and I couldn't hear exactly what they were, he got a little giggle out of the audience and his band mates. One fan loving it so much he took it upon himself to sit right on the stage! No-one seemed to mind.

While I went into the show feeling unsure, I came out feeling energized and happy. ACTORS raised the energy of the night and left everyone in a sweaty, feel-good state. They are a must see – and be prepared to dance the night away.
©nightMair Creative.com all rights reserved
writing and photos by Vanessa DeRenzio