"Five days on the road with any band sounds like an adventure to me but when new Canadian country duo Austin Belle extended the invitation to join them for their house concert tour in Ontario- well, of course!
Flying out of Vancouver separately, we hooked up at Toronto's Pearson airport around 1am and I met Stacey McKitrick for the first time. Despite a 6 hr flight and the late hour, Stacey looked as drop dead gorgeous as she does in photos. Both she and Jesse Wainwright were smilin' and excited to kick off the week!
The band recently held an online contest for fans; enter for a chance to win an Austin Belle concert at your house, and the response was fantastic. Three shows in Ontario, two in Saskatchewan, one in Calgary, and three in and around Vancouver.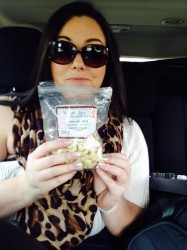 What happens on the road stays on the road- mostly. Austin Belle aren't shy though! Keeping fans in the loop, they videotape themselves doing goofy things throughout the tour and post to Facebook and Twitter. And it started early! All three of us starving as we left Toronto at 2am heading for London, so Stacey GPS's Dennys (restaurant) and Jesse followed the talking voice, until we suddenly ended up in a quiet residential area with the GPS announcing 'you have arrived at your destination'. What? Jesse reads the GPS out loud, "Denny the mechanic" and we all fall into a fit of giggles. Its gonna be a great week!
Breakfast at 4am at the real Denny's, lobby call at 8am for second breakfast, and the band is off to the first of many radio stations we're set to drop in on, visiting old friends and making new ones. The band's reception at the stations is great to see – some ask Austin Belle to play their new single, Just Drive, live on air, some put the recorded version on air for listeners while they chat with the band in the studio and all are super friendly. Three radio stations later and its pretty much dinner time, and time to find our next motel for the night in Winona and gear up for our first house concert!
I'm sure one never knows what to expect when three strangers arrive at someone's home to mingle amongst their family and friends, but the reception for Austin Belle is warm and welcoming. Caleigh's family set the band up on the deck so everyone in the yard has a great view. Beer pong dominates the middle of the yard while tents are scattered in the far end – this family is ready for a house party!
Austin Belle play their set with a short break in the middle, and present Caleigh with a special tour t-shirt they had made up for all house concert winners, and her name, city and date are on the back. She's thrilled. The band plays a game of beer pong before heading back to finish the set, complete with inviting house guests to come up and sing or play with them. A few brave souls get up and jam on the guitar and a stunning rendition of Highway to Hell brings the house down. Eventually we say our goodbyes and hugs are everywhere and we head off back to the hotel tired but happy. Great experience… tomorrow we get to do it all again!
It being a Saturday and 'sort of' a long weekend (Canada Day is on Tuesday so some people have a long weekend and some don't) we have no radio today and have the luxury of sleeping in before heading off to the next town for the next house concert.  Arriving mid afternoon we find a hotel, and Stacey goes for a run. Jesse heads to town to find a gym and I tag along to check out the town of Lindsay. Austin Belle are health conscious (jogging, gym) and I love it. We pick up dinner at the grocery store and its time to get ready for the next show.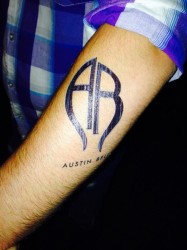 We're greeted at the back gate by an exuberant Paige who, we discover is sharing a birthday today with her father. There's no need to worry about the neighbors here – the next door neighbor is already here!  The neighbors two doors down are having a Canada Day party as well – tents everywhere in both yards! We set up under the gazebo which is dotted with little Christmas tree lights, and the above ground pool and deck are is filled to capacity with guests. Paige's dad has even built a Tiki Bar. Beer pong again dominates part of the yard (welcome to Ontario!) as well as horseshoes and other games I've never seen before. The age mix is fantastic – a slew of 3-6yr old boys all get 'tattooed' by Jesse as he hands out the AB temporary tattoos, and a few grandmothers ask for them too!
Again the reception to the music is great to see. Not everyone is 'country' but people are tapping their toes and Paige sings Just Drive by heart as the band belts it out. Again Austin Belle invite people to come up and sing or play guitar and a little boy of about 3 wants to sing Boys Round Here – priceless! Encouraged by the crowd, he gets louder and ends his solo with giggles and smiles.
The night goes too fast. The band is invited to carve their names in the wooden bar top, custom tour tee is presented, photos are signed and passed out to many, and the parents thank us for 'an awesome time' and we're told over and over, "Lindsay will be talking about this for years!" As we drive back to the hotel, I start to realize how small some of these communities are, even though they're a 'mere' two hours from Toronto.. and how few bands would ever pass through these towns. Most people would have to travel 4 hrs to go see any bands to get their music fix and I'm thrilled that Austin Belle have been some of the first to play here.
Sunday morning, and another packing up and moving on – this time to Brampton to see Lori and her guests. We arrive and stop at a Starbucks for a pick-me-up (for me – Jesse is a staunch Timmy's) and as we get out of the vehicle, you can cut the humidity with a knife! The sky is stormy too but the rain holds off and we get to Lori's place and unload. The band sets up on the deck and I'm sweating like crazy and looking for shade but Stacey and Jesse don't seem to notice and welcome everyone to the show before starting their set. This house concert is in the late afternoon and the tone from show to show to show has been similar but so different… its been interesting to see how each show has it's own personality.
The band invites a few brave souls up to jam and sing, and one fellow blows us away with both! Highway to Hell is a massive hit of course, but so is their new song (not yet out) called Back Where We Belong, which was written by both about each of their divorce experiences and heartache, and one lady over in the corner of the yard is in tears. She comes up to talk to Stacey at the end of the show – "I'm not a country music listener, but that song just hit me like a ton of bricks. It was like you were singing my life, and it's helped me." Wow.. this is what it's all about for an artist (which is exactly what Stacey and Jesse said later when we talked about it). Touching people… changing them, making them feel good or helping them over the bad. The fun is needed too –a good mix of both but every artist wants to touch people in some way.
The rain starts up as does the wind and we say our goodbyes, thank them for the killer ribs and pulled pork (awesome), sign photos and then we're driving off into the sunset –literally. A few hours later and we're settled in Barrie for the night. I'm exhausted and I haven't done 3 shows and 4 radio stations like Austin Belle! They're holding up really great though! Stacey wakes up each morning looking fresh and dewy and Jesse never seems to tire (he's doing all the driving).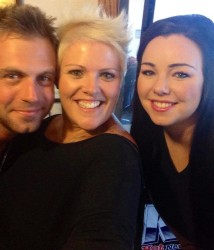 The morning brings back to work mode (Monday) even though some people are on holiday.. we hit up 5 stations: Orillia, Peterborough, Kingston, Bellville x2 and the reception is again stellar. Amy in Orillia looks like Pink, is full of life and smiles, and I loved her immediately! One fellow wants to hear their upcoming song, Back Where We Belong and loves it immensely… one station has a killer view of the lake shore and marina, and at one station we do an impromptu concert in the middle of the DJ booths area – and the Rock guy comes out to listen as Stacey hits the high notes in their songs. Each station doesn't want to say goodbye to the dynamic duo, and I hear more than once how much fun Austin Belle is to have in studio.
We drop the gear at Long & McQuade in Oshawa, and decide to continue to Toronto for the night as we have to catch our flights there next day – long ass day but very satisfying. The band is going to have a ton of road videos, studio videos and house concert videos to sift through despite posting a pile on their social sites 'in the moment'… fans are going to be in stitches with some of their antics. Toronto is an interesting time – and what happens on the road stays on the road – lets just say we blew off some steam 😉
When it was time to leave next day.. it was surreal. On the one hand I'd only been gone 5 days, on the other, it felt like a lifetime. Easy to see how bands lose track of days, and places! Austin Belle were headed to Calgary for the second leg of their house concerts and I was headed home and it was a little lonely on the plane.
Looking back on the five days – Austin Belle gave people something priceless. Not just shows, not just music, but an experience they will never forget and probably never repeat.. for a few short hours the band and house party guests were mates. They laughed and ate and drank together like old friends and the music was the icing on the cake… and not many bands these days would even think of doing that, let alone be able to pull it off. My utmost hats off to Austin Belle's Jesse Wainwright and Stacey McKitrick and I look forward to seeing what this band ends up doing over the next few months and years.
Check out Austin Belle on their
Website
Twitter
Facebook
And check out their video for Just Drive that they posted as part of the BCCMA Spotlight Performance contest last month.