Just mere weeks before Sam Roberts Band's new EP release for Record Store Day, the band dropped a gem in our lap!  Woke up this morning to excited tweets from various SRB fans and from the band themselves, the title track for the 5 song EP on 12 inch vinyl, Counting the Days, has been posted on Soundcloud! We've added the Soundcloud embed for your listening pleasure below.
If you're a die hard Sam Roberts Band fan, and bought the double LP Lo-Fantasy, you might recognize Counting the Days from the second cd of trippy groovy beats and ramblings the band/Sam did with producer Youth.. but this is definitely not the same song! Fleshed out with drums, background singing from Dave Nugent (Nuge) and Eric, with added horns and extra lyrics, this is a complete song that makes you want to get off your ass and dance to the beat. At nearly 8 minutes long.. one would think its too long.. NOT!
Give it a listen and let us know what you think!
our rating 9/10
Counting the Days (EP) drops on Record Store Day in select cities.. we'll be standing in line at 8am for our copy! (our store ordered 2 copies but might only get one!). The image below is what the album is reported to look like!
Track listing for Counting the Days:
1. Counting the Days
2. Broken Teeth (Hockey Night in Canada played this last year)
3. Spirit in the Sky (Tom Cochrane covered this so will be cool to hear it from his buddy Sam!)
4. Chasing the Light (alternate version)
5. Durban Days
**Added bonus, Sam Roberts Band has been confirmed today as one of the many great headliners for Pemberton Fest!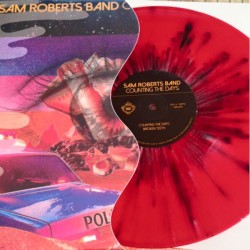 ©nightMair Creative.com
all rights reserved