Kaiser Chiefs Shake up the Commodore Vancouver
written by Andy Knopp
April 21st saw the Kaiser Chiefs play the Commodore Ballroom in what was a fantastic night out. The fact the gig was on a stormy Tuesday night didn't put off punters and the venue filled up nicely.
Opening the night was Portland pop/rock band Priory. This is the second time a UK act has picked up Priory for North American shows, having toured with The Kooks a few months back. Priory suffered from sub-par sound but their set was entertaining and the modest mosh pit were enthusiastic. The band had great use of samples/tracks without it feeling to preconceived and the lively vocals shared by core members Brandon Rush & Kyle Sears with bassist Joe Mengis providing backing vocals. The audience seemed largely unfamiliar with their work, though there were more than a few people singing along with their hit 'Weekend'. Frontman Brandon Rush shared a story about breaking a rib during a failed crowd surf attempt before jumping out into the crowd who thankfully kept him from hitting the ground. It's hard to categorise Priory. They had a good mix of songs but I can't help but hear their songs as stock music, meant for the background of a car commercial. There were definitely some sloppy moments during the performance and I think it would be interesting to see them towards the end of the nine week tour.
The Kaiser Chiefs hit the stage with a bang and kept the high energy rock peaking for almost all of the 90 minute set. Ricky Wilson is a stellar front man and had the audience in the palm of his hand from song one. His entertaining stage antics and mic stand tricks made for an excellent show, though the energy was largely supplied by Ricky alone. The crowd sang along with every word and the mosh pit was an intense but friendly affair. The show was largely made up of older songs with The Kaiser Chiefs not playing anything from their new album Education, Education, Education, War till 5 or 6 songs in. The mostly flawless vocal performance hit some road bumps during another new track 'Falling Awake'. Towards the end of the night they pulled out the obvious crowd favourites 'Ruby, Ruby, Ruby' and 'I predict a Riot' and the audience went mental. One of their last songs for the night was an unexpected treat with the Chiefs pulling off an excellent rendition of The Who's 'Pinball Wizard'.
©nightMair Creative.com
all rights reserved
written by Andy Knopp
all photos by Andy Knopp click on image to enlarge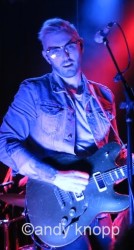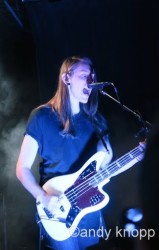 Priory with Kaiser Chiefs