The Glorious Sons have had an amazing year! The band was formed a mere 18 months ago out of Ontario. Entering the Whiskey Rocks Showdown contest on a whim, they not only made the Top 3, but when pitted against the next pool of bands, won the contest and attracted the attention of one of the judges, John Angus MacDonald (The Trews) who was so impressed he wished to work with them as producer.
The album, The Union, has produced radio hits, Mama, White Noise, Heavy and Lightning and the band has toured extensively back and forth across Canada as well as an 8 week stint in the US, gaining new fans thanks to their electric live show. Along the way, they've also garnered two Sirius XM Indie Awards – Rock Artist of the Year, Rock Group/Duo of the Year as well as a Juno Nomination for Rock Album of the Year (up against Sam Roberts Band, Arkelles, and Ian Thornley). We caught up to them amid their whirlwind doings, long enough to get a few questions answered.
nightMair Creative: You guys have had a great few months. How did it feel to be nominated for your first JUNO this year?
The Glorious Sons: Being nominated for our first JUNO was definitely a great feeling. It's great to feel appreciated, and to know that people are aware of your hard work and creativity. Mostly however, it felt best to see how happy our family and friends were. They have been there throughout it all – in little cougar bars, and in our jam room supporting us for three years. To see the gratification on their faces was one of the best feelings I've ever had.
nMC: Not only a JUNO, but The Union was included in Record Store Day this year… Which way do you lean – that its all like a dream and hard to believe sometimes? Or that you've worked hard for this and it's taken longer than expected?
TGS: From the first day I picked up the guitar and started singing, I knew it was what I wanted to do with my life. I would have played every bar in Kingston for 30 years if I had to, to make sure I could support myself by playing music. Its good to know that the hard work has paid off, but to see the response, and respect that our fans have shown us, is something that I'm thankful for everyday. That being said, I am one of those people that has a big hole where his heart is. We will continue to try to improve and create honest music. Whatever happens after that is the product of something we can't control.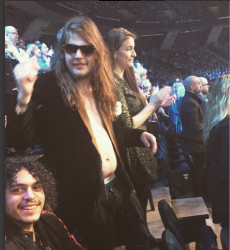 nMC: Speaking of awards – Brett you won your second Sideshow Best Dressed Award this year for your unique JUNO night attire. How did you choose your wardrobe that night and was there any whiskey involved? 😉
TGS: I didn't choose the outfit, the outfit chose me. Actually though, I was in my opinion very well dressed. The buttons came off one drink at a time. In the end, I saw a lot of people trying to look their best and throwing around picture perfect smiles, and I figured that I would do the exact opposite and be myself.
nMC: The Union has been well received not only by radio but by fans! How do you think you're going to top this album when it's time to write the next one?
TGS: I think that trying to create something that is better would be a colossal mistake. As creative artists, the goal is to create honest music. Our fans have been won over by constant touring, and writing good music. The next album will be different, and whether or not it's better will be for our fans to decide. But in the end whatever genre you're in, there are two types of music, good music and bad music. We will burn the jam room down, and runaway to South America before we release a bad album.
nMC: Your live shows are electric. It's like a switch goes off in your brain when you step on stage. Do you feel like you are a different person on stage compared to off stage (Scott Weiland for instance, says he is) or do you find that it's just an extension of yourself up there?
TGS: We love to play, that's all. I think that when I get onstage, I show a side of myself that you don't see in everyday life. The boys and I just like to get rowdy and jam. We want to bleed, and sweat, and scream, because that way we get as much out of the experience as our fans do. The whole point of art is to make people feel things. If you're not feeling it, no one else will either.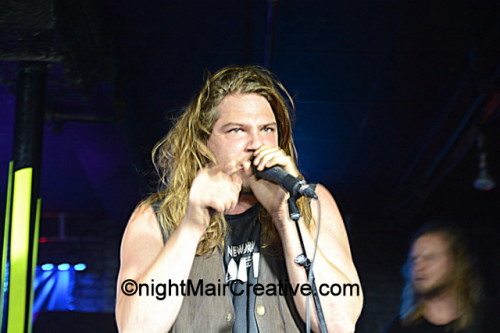 nMC: How do you/would you deal with an audience that isn't into a show? Or if you've played reserved seating venues, how do you get people out of their seats and off their butts? How do you energize a crowd?
TGS: I like to swear at rude audiences. No but really, I just never stop trying. In the end, like everything in life, if you put your best into something and it doesn't go over like you hoped than you can still feel proud of yourself and fulfilled by your experience. It's also a bit of a learning experience. People are different everywhere you go. If you can learn to judge the audience and play to their little differences, then you can really master the art of performing. I am still learning that side of things.
nMC: Where do you want to be five years from now band wise? Personally?
TGS: Five years from now, I want to be doing the same thing I'm doing right now. I do plan on releasing solo music for fun at some point in my life. For the most part I just want to be jamming with my best friends, and releasing music that makes me feel things and others feel things.
nMC: Do you have any favorite memories from the last tour? Did any shows or cities stand out to you for any reason? What about memories from your time spent with the bands you toured with?
TGS: Being in the States can make you feel a little more disconnected and home sick, however when you learn to get over that and experience the cities and people, you learn a lot. I had an amazing time on our day off in New Orleans. The first thing we did was go looking for Crawfish. I ate four pounds and drank a few Long Island Iced Teas. When we were finished, I started walking back to the RV to get some sleep and rest my voice. That night I didn't get back to the RV until three in the morning. The bands that we toured with were also great. Jesse and Tater, from Ten Years were two of the most inspiring people I've met in a long time. We talked about being in young bands, and touring and being away from our families. At the end of the tour, Jesse gave us a painting inspired by the place we are at in our career. It was one of the most personal gifts I have ever received.
nMC: Would you like to work with John Angus and/or Gordie Johnson again in the future?
TGS: If he will have me, whether it's with the band or on a personal level, I will be working with John Angus for many more years to come. He has become a great friend of mine, and I love the way he works. We have a personal respect for each other, and we compliment each other creatively. As far as Gordie Johnson, I am not as close with him, but I will never rule out working with him again. I love his music, and I think he digs mine, so there's a good possibility.
nMC: What are you currently listening to? What music moves you? If you could tell your younger self anything, what would it be?
TGS: At this very moment, I am listening to James Taylor. I have been listening to a lot of singer/songwriters as of late. One person that I have become completely obsessed with is Leonard Cohen. He has a way of saying exactly what he means with as little words as possible. He has inspired me, and I have become a better songwriter just by listening to him. I am moved by lyrics, and simple music. I want to hear somebody show their emotions as honestly as they can. I'm not really sure what I would tell my younger self, as I am in no position to be shaping the mind of a child. So maybe I would just say, "everything is going to be alright."
Thanks for your time Brett!
The Glorious Sons will be playing various festivals and events this summer, including Big Music Fest.
Find The Glorious Sons
©nightMair Creative.com
all rights reserved