Sometimes an opening act takes you by surprise – maybe even causes you to abandon your good spot in the crowd to go meet them at a merch table. Other times, as was the case with Art of Dying, you're really just itching for them to finish so you can see the band you came for – Apocalyptica.
As soon as the band hits the stage in Vancouver's Commodore Ballroom, they dominate the small venue. Apocalyptica is not a band that seeks approval. They know what they are doing, they have been doing it a long time, and they know you're going to love it. Classically trained cellists rocking metal songs? The concept is genuinely unique enough to draw you in, and once you witness their live skill, you will have to declare yourself a fan.
Even fans who are already been familiar with the band's live act were treated to something new – vocalist Franky Perez joining for a handful of songs. Perez worked with the band on their newest album, Shadowmaker, and accompanies them well. His voice can be beautifully light, and moments later a pained – yet musical – scream. Considering the way the band shifts between elegantly classic cello and adrenaline-pumping metal, this is a fitting match.
Before diving into the title track, "Shadowmaker," Perez reminisces about the first time he heard a demo of the song, and remembers how badly he wanted to get the gig with Apocalyptica. Perez sings with passion, a man possessed, and by the end of the show he is wild-eyed and shirtless.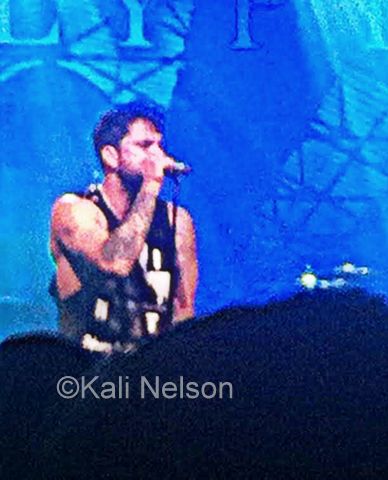 At one point, Eicca Toppinen asks the crowd – with a fantastic Finnish accent – if we are "ready for metal?" He receives a response even warmer than his smile. Toppinen and fellow cellist Perttu Kivilaakso frequently stand close to each other as they play, coordinating their long, blonde hair-whipping. They also make those cellos look deceptively light when they lift them up above their heads. Their banter with the audience is playful and relaxed, with Toppinen chastising any audience members who have not already bought the new album. They're having a good time, and their fun is contagious.
As is generally expected, the band covers Metallica, but they also throw in a fun and quirky "In the Hall of the Mountain King" cover. The rest of the setlist is essentially the same as all of their recent shows – a good mix of new and older songs. Fans seemed to particularly respond to new song "Cold Blood," "House of Chains," and "Grace."
If you ever have the chance to see Apocalyptica live, it is definitely worth it. You can check out future tour dates on their Website
©nightMair Creative.com
all rights reserved
Written by Kali Nelson
all photos by Kali Nelson via cellphone