Despite the unexpected departure of their singer Adam Gontier three years ago, Three Days Grace has carried on. Well, actually, not just 'carried on'. They have done so with spirit, and fire, and success, touring with new singer, Matt Walst (brother of guitarist Brad Walst), to Europe, Russia, South America.
Their newest album, Human (with Walst as singer), has a 'heavier more amped-up sound' than previous releases (according to drummer Neil Sanderson), and has spawned three singles to date, Painkiller, I Am Machine, and Human Race, and the band has been touring nearly non stop since.  Neil Sanderson (who also does artist development – Tim Hicks), took a few moments to sit down with us on the eve of their last Canadian date in Kelowna.
nightMair Creative: how's the tour been so far
Neil Sanderson: Amazing. We just toured Europe and the USA, and then Canada. Lots of sell outs. As a Canadian, its pretty awesome to travel in your own home and have a tour be successful like this. People have really attached themselves to our new album.
nMC: Typically Europe crowds are very much larger compared to North America, is there much difference in response to the music?
NS: I guess that depends. I mean, we were playing a lot of festivals in Europe – a lot of the German festivals had like 100,000 people roaming around, but its been amazing just how many people there were familiar with our music. But playing in front of a Canadian crowd (for us as Canadians) is the most exciting of all.
nMC: even though the audiences are a whole lot smaller?
NS: Yes. A festival is cool because you get to play in front of so many people, but the smaller shows are all about the one band, people are there specifically to see you – its just a different energy.
nMC: tonight's your last show; how long is your break?
NS: We get a much needed month off before we head over to the UK and Europe, as well as Russia and beyond for the next tour cycle.
nMC: with all that's currently happening over there right now, how are you feeling about heading to Europe?
NS: Obviously we feel for the people involved, it's a tragedy, but we're going to keep living our lives and do what we do – it hasn't been a huge conversation for us, we're just going to take one day at a time over there.
nMC: how has the new album been received by fans?
NS: its been overwhelmingly positive. We put out (the single) Painkiller before the album was finished and to have it hit #1 in the USA was pretty gratifying. it set the tone for the rest of the album. Then I am Machine hit #1 –to have it surface at that level is something we're really grateful for.
We've been fortunate to have a lot of US radio play – (13 #1 which is pretty mind blowing). Sirius and Octane have been huge supporters of us. We write music that is really personal to us, we write about real stuff;  and that becomes personal to the listener, creates a personal connection as well.
nMC: you all contribute to writing as well as the music – do you have a personal favourite from the album?
NS: Check out Fallen Angel. It's very personal to me; it was written about a time in my life where I lost two family members, and was too young to fully grasp it at the time. I'm really proud of this album, and that song in particular.
nMC: what can we expect from the show tonight
NS: tonight is the last show -it's going to be a high energy show.  – we'll be going out with a bang!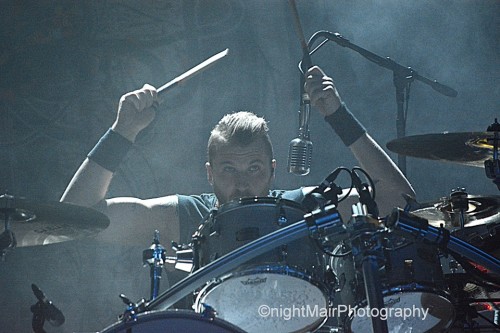 Check out Three Days Grace video for Human Race below.