Canadian Country artist Aaron Pritchett has had an illustrious career spanning 20 years, has just released his 8th album 'The Score', and is coming off the biggest high possible- not only opening for Garth Brooks but being asked by Brooks himself live on country radio. (Check that out here)
Says Pritchett, "You wait for that moment in your career where… (pauses), I guess the best way to put it into terms would be, when I got into the music industry I didn't really know all the things I wanted from it. You know like, I wanted to have a song on the radio, but I didn't realize I could win awards too.. and it became a goal to get the awards. And then I was nominated for awards, and then I won awards, and they were realty exciting times. But it wasn't something I dreamed of – it was something I realized that I wanted and could possibly achieve in my career."
"When it came to the Garth Brooks thing it was completely different.  I was a huge fan of his even before I was in the music, before I even knew music was where I wanted to be. Then everything happened with my music and career, and I modelled myself after Garth Brooks with my live show.. our personality is a little similar and I wanted to be that energetic and make fans feel that engaged. So when this happened in Regina, its like when you dream of winning the lottery but it never happens, and you think, it will never happen.  So this dream of me being invited personally by Garth Brooks to come and play for him was a dream, an actual dream I had when I was 22. And of course you wake up and go, yeah it was just a dream. But then 20 odd years later it actually happens and you're just stunned and shocked. That was the moment I went, this is what I've always dreamed of in my career (remembering the actual dream at 22). To meet Garth Brooks, to be on the same stage with him.. and I thought that would never happen. So this was the moment that changed my whole career for me." 
In fact it changed Aaron Pritchett so much that he had to take an hour away from fans, social media, and even his tour manager and band mates, turn off his phone and in his words, "forgive me for a little bit as I take some time to let this all sink in."  And later that evening a very serious Pritchett recorded a heart felt video message for fans and friends. (here).
"No matter how much success I've had with my music – I've seen it grow, I've created a song, I've recored that song. I've been very proud of it along the way but it was a long process to get it to that point. You hear your song on the radio and thats fantastic. You shoot a video for it, you see it get to No. 5 on the charts and thats so amazing – but its work and goals and the process. Usually dreams are the impossible – and for me that happened (Brooks inviting him on stage) – and ever since that day, I feel like I've achieved everything in my career because of that. As funny as it sounds, I really do feel like.. like I've won the lottery." 
Obviously with a incredible career spanning 20 years, Aaron Pritchett isn't looking for his 'big break'. If he feels like he's achieved everything in his career now, where does he go from here? How can the high of opening for Brooks compare to anything down the road?
"When I thought about it afterwards, if this would have happened when I was 22, it would have been exciting yes – but not nearly as exciting and surreal as it is at this age and the place I am in my career now. It was so unexpected and out of the blue..if it had happened at 22 it would definitely jump-started my career. But now its just this incredible experience to savour. Its not like I need a break in my career… I've done well and had my success in Canada. I've toured all over Canada, played for the awesome fans, and this is sort of.. well I wouldn't say 'twilight' of my career (laughs), but definitely the last third I would imagine. I've had my star status in Canada and I've been really really happy with that, so this is a personal dream come true."
There was a time a few years ago that Aaron Pritchett would joke about his artist son Jordan and himself being brothers. Lately Pritchett has been more philosophical and more open about aging in an industry that celebrates youth. Perhaps because with a career laden with so many highs and accomplishments he's truly enjoying this stage of his life?
"Yeah.. I'm a little less leary to tell people how old I am and I don't know why (laughs). There is a different confidence boost I have. I think there's so many things that play a part, like you said I've had a really great career. I don't need to hide how old I am. I'm really proud of the fact that I'm still touring and still playing shows to thousands of people at 45 yrs old. Most artists don't get that chance. And I try to stay as youthful as possible both physically but also mentally. And psychologically I have to try and keep all my fans of all ages happy and I try to do that by relating to them… (he pauses ) no I don't fear or shy away from the fact that I'm in my 40s – eventually I'll be 50 in the next while. I think being honest and relatable to fans is an endearing quality for them."
And his fans grow old with him…
"They definitely do! It's great to see the 16 to 85 yr old people at a lot of these shows! I've seen grandmothers coming in with their grand daughters and the granddaughters are just as big of fans and that's pretty cool. And I attribute it to.. I call it the Hold My Beer Effect (laughs heartily). The song came out 10 yrs ago this month actually, and I have 10 and 11 yr old kids who were fans listening to Hold My Beer when they were 2 and 3 yrs old.. its kind of crazy!  I still get folks in their 70's and 80's coming out because they loved the song, they think its funny.. and then every age inbetween. I call it that because its like a nursery rhyme (laughs). You can never get a nursery rhyme out of your head because its got a catchy melody and a catchy lyric and that's always what its about.. 'Hold My Beer' – that phrase gets stuck in your head. So yes I see a wide variety of ages at my shows and the older generation bring the younger ones with them.
Hold My Beer came out 10 yrs ago and was a massive hit. Pritchett has followed that up with Dirt Road In Em, his highest charting single in 10 yrs. The song is the lead off Single from his new album, 'The Score', which is his first full length album of new material in six years. And the title? Refers to  Pritchett's 20 years as an artist.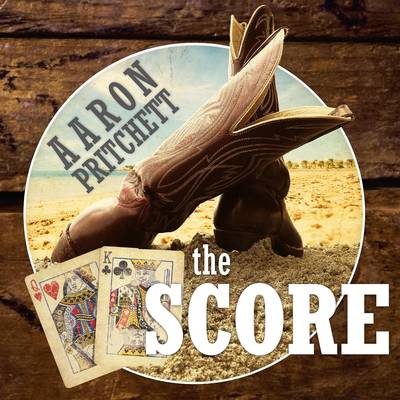 "20 years ago I released my very first record to the world and very first single to radio. It was called Young In Love. I released the title track, a song written by Rick Tippe, and I think as I remember it, one radio station played it ..once! Nonetheless, the proverbial ball was rolling and here I am today, 20 years later… a "Score" with an album full of new songs." 
'The Score' is out now! Available at all HMV and Walmart, as well as iTunes. Pick up your copy as its chock full of great tunes. And you'll most likely hear a few of them at the next Aaron Pritchett show. Catch Aaron July 22 in Penticton, and July 23 in Cloverdale. Canada day Pritchett will be playing a free show at Canada Place; on stage at 4pm.
Check out Aaron's tour dates on his website, and give him a follow on Twitter or Instagram where he does all his own posts.
©nightMair Creative.com
all rights reserved