Don Henley. Adele. Peter Frampton. Slipknot. Bruno Mars. Cyndi Lauper. Neko Case. The Lumineers.
Nope, not next year's line-up for Pemberton, just the growing list of artists who either currently or wish to ban your cellphone use at their concerts. Although maybe we could get them together and launch "Cranky Old Man Fest".
I get it. Are these snot-nosed punks with their noses glued to their screens just busy looking for Pokemon in the venue? Hooking up on Tinder? Texting a string of indecipherable acronyms to their BFF who couldn't make it?
For the most part, no. Because I am one of those people.
This comes up because recently the latest venue Don Henley was gracing with his presence used social media to Tweet a ban of recording devices. 3 times in a row. JICYMI the first two times.
I've been to my fair share of a variety of concerts lately. Everyone is taking pictures! Video! Heck, I used Periscope to stream the first couple of songs when U2 kicked off their tour here in Vancouver last year. I haven't had the hundreds of hits for that broadcast on that app since. Missing out on a concert? You can catch it live-streaming from some twat who is still holding her device upright in portrait mode.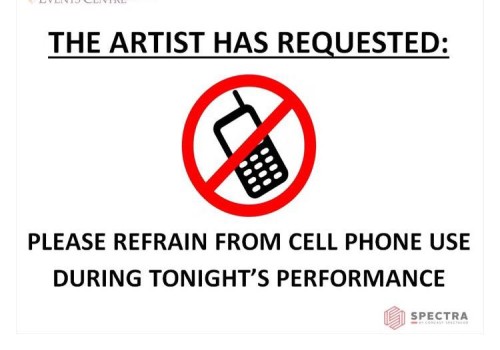 Don Henley, et al, you are a bunch of bloody wankers. People are paying OUTRAGEOUS prices for your tickets. Many of them have never seen you before. Many others have been lifelong fans. They want to take away more than an over-priced concert tee manufactured by children in some sweat-shop. They want to share pictures and video of YOU. They want to share them on fan sites. They want an iconic selfie as a memento that they were THERE at YOUR concert.
But fans, I have a rant aimed at you TOO. Do you need to video the WHOLE fucking show on your gigantic Samsung Galaxy XXL4S?!? How many selfies do you need? Tone it down! Concert photographers…professionals…get TWO songs to get their shots. No flash.
So why don't venues and artists just do that for everyone? First two songs, go nuts. Send your selfie to Gramma in Poughkeepsie. Check in at the venue and hashtag the crap out of your digitally zoomed photo.
And then put that fucker away and enjoy the rest of the show.
In closing, I want to smack the both of you. Artists, get over yourselves. People have been taking pictures and video of you for decades. You sure don't seem to mind fans using their phones to buy your tickets or share your latest Tweet.
Fans, get some good pictures and then enjoy the show. Want to capture an exciting moment? Do it, then put it away.
"When you spend all your time living in the past
With all those pictures that you took,
here's one more for the book" — Don Henley, "Cass County"