Red Truck Beer – the only Country Party for miles around
written by Vaughn Oliver
Preface: Yes, I was born and raised in Alberta. No, that doesn't necessarily mean I am a country fan. Yes, I enjoy certain country artists. No, I had no idea that this event was going to involve so many cowboys and –girls. I didn't realize Lower Mainland British Columbia had so many. You really do learn something new every day. Preface over.
Another exciting day has come and gone at the Red Truck Beer festival, ladies and gentlemen! Another day filled with very talented musicians, performers, singers, songwriters and an audience to match that of a small village. While I may have been well out of my element at this event, there were plenty of folks that were prepared for an evening of fun, dressed up to dance, drink, and other 'd' words that currently escape me. (dressage?). Acts ranging from simple three pieces to full bands – Washboard Union included – occupied the main and secondary stages to entertain and enthuse the show goers. Here's how it went:
The New Shackletons were first up on the 2nd stage in the early evening, and even though the party was just getting started they were able to rustle up some less-than-shy two-steppers to get the dance floor moving. With their infectious bluegrass/country renditions of classic pop hits including; Gnarls Barkley's "Crazy", George Michael's "Faith", Britney Spears' "…Baby One More Time", and more, they were a delight to watch perform and sing along with. I would definitely attend another of their shows just to hear what else they had up their sleeves.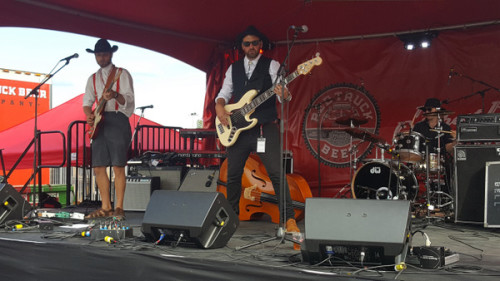 A local favorite, Bucko and Toad, took over main stage following soon after, and the crowd loved them. Hell, they put on a great, powerful, radio-country show, and I'd say they sounded very big. Like, concert hall big. Bucko (AKA Kenn) is a great stage personality, with classic lines such as, "This song is about sex," and, "Who's ready to party?? I can't hear you!" You know, the classics. Toad (AKA Kelly), on the other hand, has a softer approach, regaling the crowd with the stories of the songs, giving us all the personal touch. Bucko and Toad are a power couple not to be trifled with or taken too lightly, and they have great appeal as a duo and as a band all together.
All of a sudden, a powerful, Bruce Springsteen-esque, concert arena-type voice rings out from the other end of the grounds – JJ Shiplett has taken the 2nd stage and is letting everybody know it! The country infused americana-rock style that this group provides is a welcome addition to the night's line-up, bringing a little heavier style into the mix – as well as a keyboardist who didn't quite look like he fit in, but who am I to say? They put on a rocking show, including a cover of a Tragically Hip tune, and, as rocking shows usually go, they went over their time limit and were interrupted by the main stage as they were finishing their final song. The concert series must go on, as they say
The Washboard Union picked things up again in a recognizable southern way, what with them literally having a washboardist and all. I distinctly recall seeing one of the most interesting men alive on stage, holding that washboard, giving it his all, as well as one of the most handsome men on lead vocal. They dipped into a few classic anthemic songs, complete with soaring guitar melodies and catchy sing-a-long choruses. A good combination of tantalizing, energetic, uppity tunes and more accessible, easy-going tracks coming from this group made for a great show.

If there's anyone you'd want to invite to your country party, it's Dan Davidson. He's full of fun, energy simply exudes from his being, and he writes some really catchy tunes. He even does a great cover of Walk the Moon's "Shut Up and Dance". Dan's group pulls all the stops with 3 guitarists rocking in the front and a slide player in the back (like a reverse mullet?), and a tight bass and drum duo that holds them all together. What a gigantic country sound coming from 2nd stage. Headliners beware, Dan Davidson is coming for your main stages! Speaking of…
Jon Pardi – I just want to say one thing – I love his name. It's the best. Jon Pardi throws a hell of a party. I want to be part of Pardi's party. Ok, I'm good, all out of my system. Party on.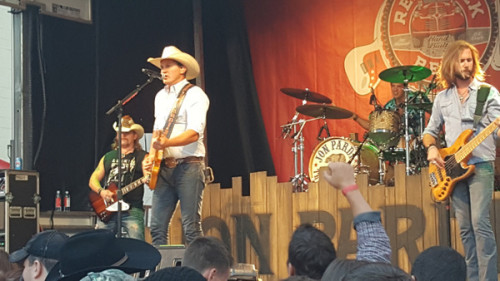 Jon Pardi is quintessential main stage country. He had a gosh-darn wooden fence with his name spray painted on it! It hardly gets more country than that. But I don't think he needed such a boisterous display of his title, as everyone there obviously knew who he was, heck, they brought their own signs touting "WE LOVE JON PARDI" and the concert classic "IT'S MY BIRTHDAY, JON!" And Pardi pleased and was pleased by them. It was a great communal gathering and Pardi was the acting officiate.
All-in-all, the beer flowed, the food was filling, and the people had a great time. And isn't that what the Red Truck Beer Concert Series is all about? I'm excited for next year already!
As I have stated, I'm not the absolute best one to ask for directions around this type of crowd or scene, but this has been my two cents.
©nightMair Creative.com
all rights reserved
written by Vaughn Oliver