Rock the Shores Day 3: The Trifecta
written by Clyton Brooks
As the morning turned over and afternoon rolled in over the sprawling fields of West Shore Parks and Rec. Centre, thousands packed the gates to make their way into what would be the concluding day of Rock the Shores 2016. For the third day in a row, festival-goers were treated to some of the most beautiful weather of the summer so far on Vancouver Island, as Moncton, New Brunswick-based The Motorleague were getting set to take the main stage.
The Motorleague made a lasting mark on the world of modern rock and roll last year with the release of their latest full length LP "Holding Patterns". With their bold version of invigorating and hard hitting verses fueled by hooky choruses, hard hitting percussion and crunchy guitars that drive their unique sound, The Motorleague were able to get the crowd moving and amped for what was coming next. An effective and energizing opening act on the day.
After a short break and just enough time to grab a cold bevvy and a snack from one of the many vendors in attendance, including Taco Justic, Pizzeria Prima Strada, Deadbeetz and so many more, Rock duo Jonny Fox and Renée Couture of The Standstills made their way onto the sun soaked stage. Clear fan favorites around these parts, The Standstills started their set with an edgy, guitar driven instrumental intro, pumping up devoted fans (who LOVE to scream "Jonnyyyy!," I quickly found out) and onlookers alike. Jonny and Renée do not disappoint live: from there, they proceeded to play songs old and new, as well as an impressive cover of "Black Betty" and tracks from their latest release "From the Devils Porch". With the caliber of talent these two bring to the table, it's incredible what you can do with drums and a single guitar..
"YUKON BLONDE!, YUKON BLONDE!, YUKON BLONDE!.." Yes, that happened. Apparently these guys are somewhat popular amongst the rather sterling Canadian indie-rock scene. Having never seen them play live prior to Rock The Shores 2016, I was definitely stoked to have the opportunity. Originally from Kelowna and residing in Vancouver since 2009, the indie-rock quartet formerly known as Alphababy wasted no time jumping into hits from their first release; 2011's "Everything in Everyway", to their most recent; 2015's "On Blonde", and a few in-between.
July Talk was another band I had never seen live, and it's more than safe to say I was a little blindsided by their performance. July Talk is lead by singers Peter Dreimanis and Leah Fay, and was formed in 2012 in Toronto. Their stage presence is enormous and it's hard to deny the underlying sexiness of their show. Everything from flirtatious back and forth's, sung to the lyrics of their alt rock/punk blues songs, to Leah hopping off the stage to be with fans as she walks the front row railing, holding hands while singing to her adoring and undoubtedly thrilled fans. July Talk brought just about everything you would hope to see in a live rock performance, as they had the crowd head-banging, moshing, crowd surfing and dancing, all simultaneously. It's exceedingly hard to imagine they don't make a plethora of new fans at every festival they play.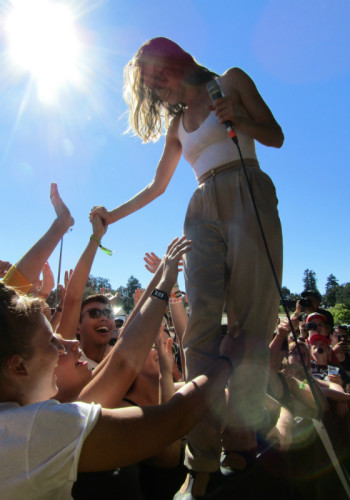 Another wonderful thing about July Talk (as if I haven't said enough good things about them..) is they were the perfect segway into the next act to swarm the stage; Palm Desert California's Eagles of Death Metal. Rock the Shores' lone non-Canadian performer's took to the stage to the absolute delight of what would seem to be the entire audience, and for good reason. Their live show, lead by lead singer Jesse Hughes, has to be one of the more interactive rock shows I've seen, as Jesse brings the crowd into the very essence of what they do. Between songs he's telling jokes, asking the crowd how they're feeling, complimenting beautiful women and telling stories; the absolute epitome of the kind of dude you would want leading a band, in my humble opinion. Founded by Hughes with the help of Josh Homme in 1998 (drums. You may also know him as the lead singer and guitarist of Queens of the Stone Age). Homme describes their music as "A combination of bluegrass slide guitar mixed with stripper drum beats." However, their brand of music may be more easily described as garage/blues rock with rockabilly undertones. It was quite simply one of those live performances that leaves you on the edge of your seat (figuratively speaking in this case) for it's entirety, and when after the last song, you're left thinking "it's over already??".
Hamilton, Ontario's Arkells were left with the daunting task of following up the amazing EODM, and they did a bang up job. If you've never seen Arkells live, I'll tell you this: It's one of the most fun and entertaining live shows around. Lead singer and guitarist Max Kerman – aside from bringing unbelievably clear and crisp vocals to his live performances – has more fun on stage than any other lead singer I've ever seen. Slaying hits from their first release, the phenomenal "Jackson Square", to tracks from the latest collection "High Noon", not to mention previews of new tracks from their upcoming release (August 5th!) "Morning Report", as well as Elton John piano covers and a gorgeous cover of The Tragically Hip's "Music at Work" with the help of the lovely Leah Fay of July Talk, Arkells had thousands in pure blissful elation over the span of their hour on stage. It's extremely hard not to love these guys.
Much like the conclusion of Day 2 of Rock the Shores the night before, the sun was just beginning to set as fans patiently awaited the arrival of Sunday's much anticipated headlining act, Toronto's Metric. Founded in 1998, Metric has gone on to win multiple Juno Awards, as well as Casby Awards and Polaris Music Prizes spanning their 18 year existence. Emily Haines and co. wasted no time dropping hits from their various masterpieces, such as 2007's "Grow Up and Blow Away", 2012's "Synthetica" and 2015's "Pagans in Vegas". Their carefully crafted live show has all the ingredients you would expect from these masterful veteran rockers including a dazzling light and smoke show and tight guitars, synths and percussion, carried by an unwavering glow of stylistic elegance. Emily and the boys from Metric left the crowd pleased to say the least, and capped off Rock the Shores 2016 in just the perfect way, as it deserved to be.
..Finishing off a cold beer after chatting with some locals and looking through the days photos, I made my way toward the West Shore Parks and Rec. main exit. Straight to the point: this was a weekend I will probably never forget. I met some of the most amazing and kind people I've probably ever met since moving to the island in 2015. I got to be five feet from Emily Haines and Dallas Green, not to mention so many other exceptionally talented and awesome people. I made friends, met artists, took memorable photos, basked in the beautiful island sunlight (the sunburn still lingers..) and brought home some amazing merchandise I probably couldn't have found elsewhere. All in all this was an experience unlike any other. There are many things I won't do next Summer, and missing Rock the Shores 2017 is one of them.
©nightMair Creative.com
all rights reserved
written by Clynton Brooks