To say that Canadian Country artist Dallas Smith has come a long way in three years, or that his live performance has improved dramatically. or he's become more comfortable on stage  – or any cliche phrase that tends to be used – automatically implies a negative, and that would be incorrect. Let's say this then… Smith has grown into himself, become more of what he already was, always has been .. and it's glorious to watch (as well as being a whole lotta fun).
Dallas Smith hit Kamloops last night as his Side Effects tour nears the end (last two stops Penticton and Abbotsford this weekend). The stage was big, the set design was arena sized, and the lights were fabulous from a distance, but the main attraction was the music. And the voice. And the interaction of Smith and his band mates (and guests) with the crowd. Quick to smile, and dancing around a stage triple the size of his last tour, Smith makes use of every inch, owning it and using it to reach not just the front few rows of fans, but those up in the bleachers, drawing in the entire audience to the experience. So much so that in our 'arms crossed, sitting down' section, at least 10 people finally stood up, 4 started to dance and the people who remained sitting at least clapped and sang.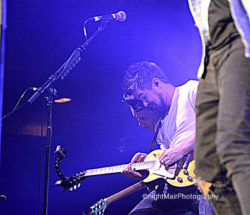 Smith performed not only his hits (and there are many!) but some of his lesser known and equally loved songs (like '50/50′, 'Sleeping Around', and 'Wastin My Time' from his Default rock days). He told us of how he make the choice years ago to leave a successful (but unsatisfying) rock career and head to Nashville to see if the dream of being a Country singer was actually doable, or just that – a dream. The rest of course is history, but country is where Smith's heart is – and it shows.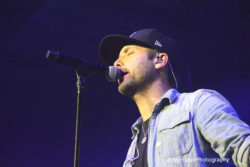 The sound was fantastic; Smith's vocals crisp and sharp (especially during the intro to one song without accompaniment from guitars or bass). Amid songs Smith (and opener Lauren Alaina who was fantastic!) shot t-shirts from a cannon out to the crowd, regaled us with short blurbs about the band, or introduced where a song started from. A duet with Alaina, and with Andrew Hyatt, as well as bringing Michael Ray and Shaun Austin on stage for a song kept things flowing nicely. The show never felt rushed, and never stalled, even while Smith took selfies with fans phones (while still singing). The only respite for the audience to catch our breath was when the band reluctantly left the stage for the encore… we made so much noise on the wooden bleachers it must have been deafening where they were congregated underneath!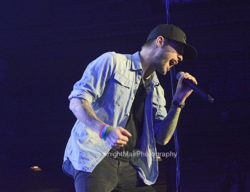 A few more songs including 'Cheap Seats' and my personal favourite, 'Lifted', and it was time to head out. Of course.. decompression of a show like this requires one to play Smith's entire catalog in the car stereo for the entire drive home.
They dropped a few tickets earlier today for Smith's Abbotsford show.. snap them up if they're not already gone!
Solid 5/5
©nightMair Creative.com
all rights reserved