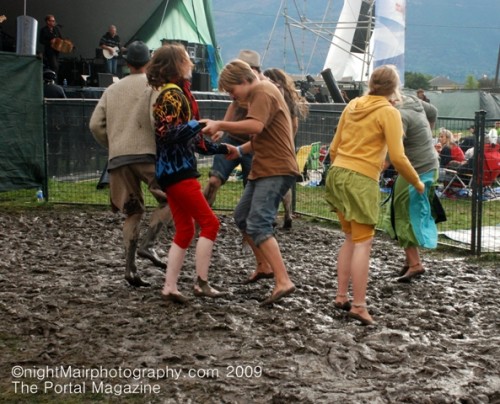 Weekend summer music festivals are generally interesting but often hit and miss for the quality of organization and caliber of talent invited to perform at the festival.
This summer, the Salmon Arm Roots and Blues Fest stands out for me above any others I've attended. From the eclectic mix of artists/musicians performing, to the coordination of the many hard working volunteers, to the venue itself – there was nothing that could have been more perfect about my weekend experience.
I caught Lee Harvey Osmond Friday night down at the Boogie Bar just before closing time. Funky little stage right when you first walk onto the fair grounds, with its own beer garden and a draped tent style roof to keep off the light rain that was falling. After about two songs, Lee Harvey asked for the white stage lights to be turned off, and suddenly we had  mood lighting; reds, purples, greens all changing to the music of a very unique band. The sound board was in total darkness and the intimately small audience were able to groove in their own fashion.
Saturday was a full day. David Ross MacDonald and Sierra Noble back to back at the Boogie Bar, Murray Noble immediately following, at the far end of the fair grounds on the Blues Stage then straight on to Trombone Shorty and his band all the way from New Orleans, on the Main Stage.
Each performance I watched was fabulous and very different from each other; each had its own special flair.  David Ross MacDonald is a singer/songwriter who also holds a degree in geology but decided to give it up to get back to his first passion; music. Sierra Noble has incredible insight for someone so young; the highlight of her show was when her guitarist decided to play a random bit of music and had her in stitches on stage. Trombone Shorty and his band were fabulous. I had a chance to talk to Trombone Shorty and his band prior to their set and learned some neat things about how they make music, where they've played  and how they got started.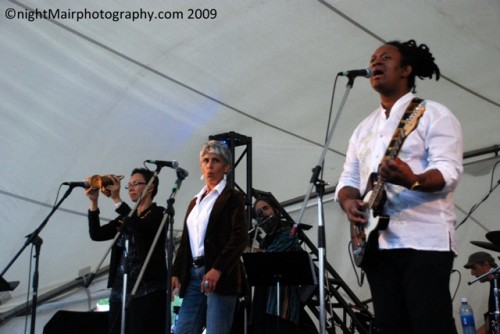 In between all the performances were workshops and indie bands and so much to look at and do that it was impossible to get to see it all. The food booths were set up in two rows with walkways in the middle, and the main beer garden was at the far end of the fair grounds and very well supervised; this was a family event and there was no sign all weekend of anyone getting out of hand. It rained off and on, and the minute any area got too mucky, the event staff were out in a gator, dumping sawdust to maintain the public walkways. The only mud pit was beside the main stage- left there on purpose for people to dance in barefoot.
Sunday was another full day! I sat in on Thump – a drum workshop with multiple artists all giving thoughts on percussion.  Young and old were gathered round to watch and listen. Just down from there was a dance lesson in progress, and between this and the many venders booths I just 'had' to browse through, I almost missed lunch!
Sunday evening was the close out – another round of amazing artists. Trombone Shorty played again, this time on the smaller more intimate Blues Stage; a completely different set list than the day before as well as different antics to please the crowd.  Donne Roberts  was back at the Boogie Bar and was an awesome surprise – very polished, very danceable, very unusual mix of Metis, Native and African fusion.
With a few hours between the afternoon performers and the close out Sunday night, I found some dinner, decided to check back stage for anyone interesting to chat with and found a few musicians catching some zz's on the couches spread around the artists' lounge. Looked good to me, so I pulled up a cushion, curled up in a couch corner and caught a rest myself. About ten minutes later, Lee Harvey Osmond came in and sat down beside me and we chatted at length about music and the autographs on his guitar (Marty Stewart and Carl Perkins among others).  About five minutes after Lee Harvey left, Sam Roberts walked in and I was engaged in another great conversation which culminated in Sam surrounded by 4 very lovely, very nervous and very appreciative ladies for a photo op on the couch.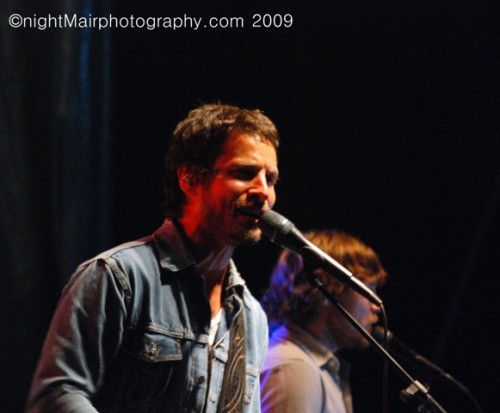 The finale of the weekend was Dr John and the Lower 911; a man of great legend who some call the father of Blues, followed by Sam Roberts who always always puts on an energetic intense show (look for our Sam Roberts concert review in our blog).
All in all, this was an action packed weekend that was incredibly fun to be invited to cover. If you're in the area next summer, be sure to stop for a few days of R+R and some fantastic music. One of the best run festivals I've ever attended.