Fogerty's very name brings to mind a slew of hits, even if you aren't a product of his generation – Fortunate Son, Born on the Bayou, Heard it Through the Grapevine, Centerfield! The man has a string of hits longer than your arm and leg put together, most of which still stand the test of time. We've seen Fogerty live only once… the man doesn't tour often and had a long hiatus from touring (or making any sort of music) thanks in part to lawsuits alleging that his new material was a 'rip off of John Fogerty' or as the slide show before the concert stated with humor, John sounded too much like himself.
Our tickets had a 7:30pm start time, and as Fogerty is in his late 60's we headed down on time.. just in time to catch opener Lukas Nelson and his band, Promise of the Real, who literally started exactly 7:30. Unfortunately we missed half their set due to standing in line for merch (a lesson here – be on time!). They sounded fabulous and we caught the last few songs – a cover of The Stones Sympathy for the Devil, with a twist in the ending…. acoustic strains of Amazing Grace on Nelson's guitar as he finished up the song.. nice touch! The energy this band put out on stage was palpable. The sound best described as Hillbilly Rock meets  Indie punk… watch the video!
End of set the band announced they were signing autographs at the merch booth in the lobby, so we went out to meet them. At least 90% of the people in line to meet the band, bought cds – not just one, but both cds! The band had a sign up sheet, and business cards with their site info on it and many people left with cards in pocket. It's not often we hear opening bands that stun and amaze us, but Lukas and the Promise of the Real are such a band! Be on the lookout for this band to become better known in Canada. And yes, Lukas is Willie Nelson's son, on 4 Espressos, channeling The Ramones or a 20 something Fogerty (it's the hair).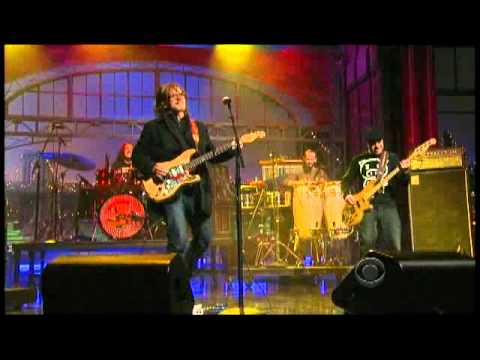 A short break and on to the main event! Large stage setup but very simplistic in it's layout – nice and open so even those in the side wings (us) can see the entire stage and it's players unobstructed. Three big screens enabled close ups of Fogerty and the band, and various panels around the drum and keyboard risers allowed for some very cool images added to select songs.
Fogerty arrived on stage like a bashful rockstar – the build up, pyrotechnics, and high octane launch into the first two songs including Born on a Bayou  – with a sheepish grin that is both endearing and refreshing for a man of his stature in the music industry. Before the next song, Fogerty spent a few seconds to say hello to the massive crowd, told us how beautiful Kelowna was, and how happy he was to be playing for us.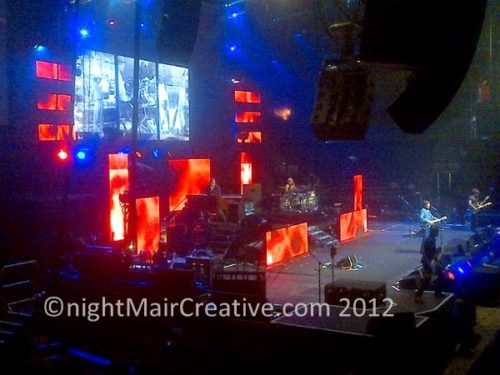 Straight back into the music which included such greats as Who'll Stop the Rain, Suzie Q, Out My Back Door, Hot Rod, Midnight Special, Candle in the Window, Rock n Roll Girl, Down on the Corner, Around the Bend, Have You Ever Seen the Rain, Pretty Woman, Centerfield (complete with Baseball Bat Guitar), Heard it Through the Grapevine, Old Man Down the Road with Fortunate Son, Traveling Band, Bad Moon and Proud Mary (with massive confetti!) as the encore of a more than two hour show!
Early in the show, security were up trying to get people to sit back in their seats as many were dancing in the aisles… a word from Fogerty on stage (nice to see you all up and dancing, thanks for singing along to my songs) and MORE people got up to dance including a fellow dancing in his wheelchair!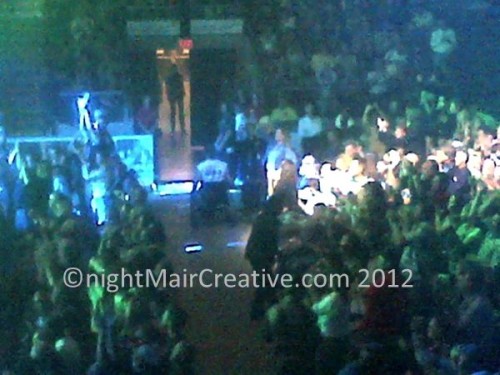 Security gave up and the entire tone of the event changed – it became a block party, a communal back yard ho-down and it was spine tingling… Fogerty thanked us often for singing, never stopped smiling, and shared anecdotes between songs about where the song had come from or who he had written it for. He's had much love in his life and it shows! A long full career of doing what he loves, what he's good at – the guitars he plays (all 25 of them – he owns over 300) are extensions of his very being – he practices 4 hrs a day (all info via the slideshow prior to the concert) and the practice has more than paid off – his songs have a hook but they're also engaging, emotional, memorable. Such is the man himself.. and as we left the building, he even serenaded us out! Rather than house lights with silence or some unknown band on the speakers, we left still singing to Fogerty's tunes on the sound system – nice touch, kept the mood going long after the man had taken his final bow and waved goodbye.
8/10
©nightMair Creative 2012