Long time fans of Rock Princess Bif Naked might be confused when they plug in Bif's new album Bif Naked Forever: Acoustic Hits and Other Delights,  and the first track, So Happy I Could Die kicks in. What? Has the Power Punker become Pop? Not on your life. Despite the opening track having a Pop flair musically (which we quite like!), the lyrics are hard hitting, self expression Naked all the way. Hooky, dancy, boppy, So Happy I Could Die will stick in your head for days – we guarantee it!
The concept for this new acoustic album came through Bif's re-discovery of her extensive catalogue of hits while on tour with her guitarist performing them as they were originally written.  Three new songs were added, including the opening track, Nobody Knows, and The Only One – Piano notes open this song in a delicate feeling of wonder and sadness.. the lyrics echo this as does Bif's soft/strong vocals. A song about love and loss, heartache and acceptance with a bit of a twist.. the bridge incorporates a bit of a dance vibe to it, which transitions back into a soft acoustic finish.
Nuggets of goodness from I Bificus (Spaceman, Moment of Weakness, Lucky), Purge (October Songs, Tango Shoes, Chotee, I Love Myself Today), Bif Naked (Daddy's Getting Married, My Bike), and The Promise (Honey Bee) all grace this new album.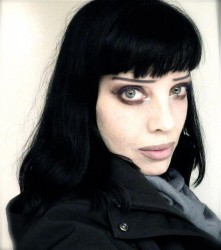 Each song has been reworked, slowed down, given a new lease on life with a freshness and truly Bif quirkiness – whistling in Tango Shoes that is trippy and endearing, a little side story to set up Honey Bee, and I Love Myself Today performed in a way that brings shades of 60's psychedelic groove to it. (love it!) This is Naked at her best yet. Despite a few melancholy songs (October Song, Nobody Knows) the album is fun, lively and really allows Bif to shine as an artist. Her powerhouse of a voice suits acoustic as well as full on rock – actually the acoustic allows the listener to truly hear and appreciate Naked's melodic voice even better.
This album will be on our play list for some time to come. We're rating it
8.5/10
You can listen right now at CBC's website where they're live streaming it for a few days prior to the December 4th release. Album available at iTunes and all the usual outlets.
©nightMair Creative 2012 all rights reserved