Despite Prospera Place only being about two-thirds full (about 1500 seats sold), Metric came, played, and conquered!  Fronted by Emily Haines, the band is a mix of punk, new wave, electronic, pop, rock, and high octane, as well as superb musicianship by all members. Haines literally bounces nonstop with microphone in hand – tag teaming between facing the audience, and jumping behind the keyboards to play with one hand while still singing into the mic in the other hand without missing a vocal nuance or dance move. Mesmerizing to watch – could not take my eyes off her!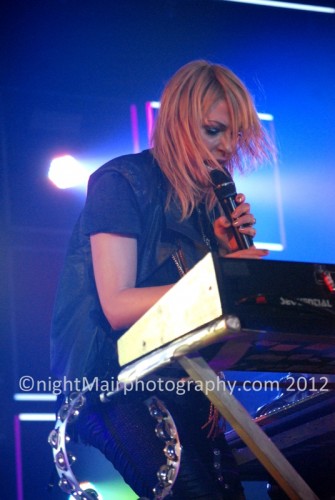 The band is a tight unit;  guitarist James Shaw (who also plays the synth), bassist Joshua Winstead and drummer Joules Scott-Key, are less remarkable in their stage presence (or perhaps just overshadowed by Haines who commands the bulk of the attention by sheer charisma), but their playing is an integral part of the overall package and their talent is blatantly obvious.
Metric is a live band – a recorded cd, even a Youtube video, does not do them justice – not even close! This band thrives in the live element.. and despite the empty seats, once the band started the show, one would be hard pressed to even notice it…even if the smaller Community Theatre would have been free for this evening, Metric is an arena band! A sit down venue of the same size would not have contained them!
Never seen Metric live? You're missing out.. this is one band we highly recommend, even if you've never thought about going. Go! You'll be happy you did.
We're rating this show 8.5/10
You can find more images at our Gallery!
©nightMair Creative 2012 all rights reserved