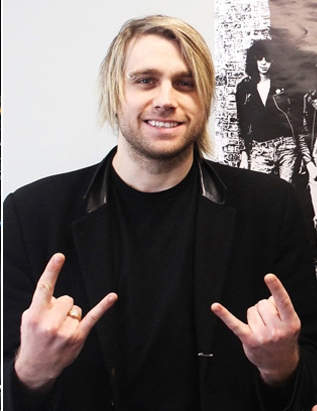 Citing health reasons,  Frontman Adam Gontier has resigned from Three Days Grace just weeks prior to their upcoming co-headlining tour with Shinedown. The band has replaced Gontier with My Darkest Days singer Matt Walst for the tour.
A brief posting at the band's website revealed that Gontier has left the group effective immediately. The band's bassist, Brad Walst, stated in a press release, "We were surprised and distressed by Adam's sudden departure. We are however very excited for this upcoming tour and to have my brother Matt stepping in as lead singer." No further info was given as to the health issue that led to Gontier's exit.
With Three Days Grace being one of rock radio's most successful bands over the past decade, recently scoring a chart-topping single with Chalk Outline off their latest album, 'Transit of Venus,' the news comes as a complete surprise. Three Days Grace will still kick off their co-headling tour with Shinedown, with Matt Walst on vocals, starting February 1 in Moline, Ill.
My Darkest Days' future is also up for speculation. Just last week the band revealed that guitarist Sal Costa had left the group, but that they were starting work on their next album. With the band's singer heading out on tour with Three Days Grace, it's not known how that will affect My Darkest Days.
Three Days Grace have also posted audio of Matt Walst performing with the group to give an idea of what the singer switch will sound like. Listen below, as well as a vid of Three Days Grace performing Chalk Outline live acoustic: (Edit.. the Soundcloud clip has since been removed by the band's mgmt).