It's not that easy to get working folks out on a week night to party it up in a small working town, but CMT's HitList Tour did just that! With Emerson Drive and Doc Walker co-headlining, and Special Guest Aaron Pritchett, Country music was well represented Thursday night in Salmon Arm, BC. Being only the second stop on the tour, one would expect all three bands to still be working some of the minor kinks out of a mixed show, but it was not only a flawless performance with each band doing their part, they threw in some surprises as well!
We arrive at the Shaw Center about 10 minutes before curtain call, easily find our floor seats, and had literally 'just' enough time to sit down before the hockey arena goes completely dark and the crowd erupts in whistles and cat calls to which Canadian Country singer Aaron Pritchett comes bounding out on stage smiling wide enough to Light it Up inside the venue. "Salmon Arm are you ready," he yells out to the crowd to match our volume, and jumps into his trademark brand of high energy fun songs. The crowd is then treated to a brand new Pritchett song, Sun Tan City, due out later this spring.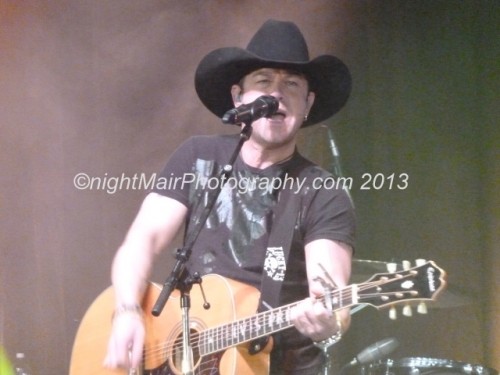 Then Aaron 'reps' the Salmon Arm Silverbacks Hockey Team well, donning a jersey given to him earlier, (much to the frenzied delight of the 20-somethings up front), and lights into Hold My Beer, not needing to encourage us to sing the signature chorus. With a wave and a bound, Pritchett is off stage, lights dim and before it seemed anyone has time to catch a breath, out comes Doc Walker! (the bonus of having a stage large enough for all the gear without needing to 'change over' between artists).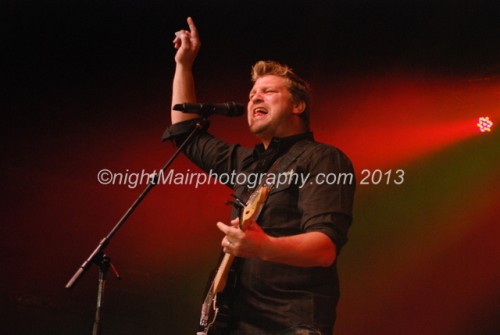 The crowd is back on it's feet (all save the section to stage right who are definitely the older crowd), and Chris Thorsteinson fairly glows as he croons to the audience. Second song in, and Thornsteinson waves his arms, "get up, get on your feet," he tell us, still smiling, and this time even the die hard seated section stands up and the party continues. Doc Walker's set is about 30-40 minutes and affords them the opportunity to sing the slower songs with the fast paced, and the audience eats up both speeds, often singing along with the band. At one point, we're suddenly bopping to a cool version of Beyonce/Fresh Prince of Belair Theme Song hip hop mix up. Very cool! Thorsteinson and guitarist Dave Wasyliw are joined by tour musicians drummer Stephen Broadhurst, guitarist Joey Landreth and bassist Brent, (all three frontmen introduced their bands, which is very cool), and then suddenly, a surprise! Emerson Drive keyboard player, Dale Wallace, jumps in for one song, amid many cheers, and disappears into the blackness allowing Doc Walker to finish their set. Dave Wasyliw and Chris Thorsteinson saunter off the stage with grins still on their faces, waving to as many people as they can before exiting side curtain.
Again, the lights stay off, and we're right into the next band at full throttle! First person into the light is Emerson Drive's front man, Brad Mates so full of energy that it's electric. The party in the aisles has kicked it up a notch to the point that a huge section of seats has been folded and stacked on the floor to allow the crowd the space it needs to dance to the tunes all night. Despite the many trips back and forth with two handed beer cups, everyone is well behaved and just here to have the best time possible.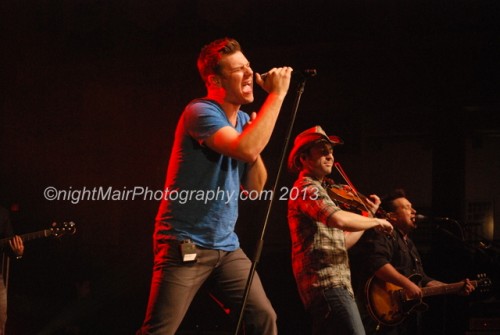 Emerson Drive's five members are all over the stage – fiddle player Dave Pichette matching Mates stride for stride from one side to the other, and hanging on the very edge to tease the delighted crowd in the front few rows. Security has their feet against the flimsy barricade so it won't topple over, but are leaning against the stage grinning as well. Tempo switches gears, and Mates stops the band.. "This is my favorite song of all of our songs, and I need the bass to be working… is it working over there now?" and laughs as the bass player is handed a new instrument, plugs in, and tests it then nods. The song is Moments, and the audience hushes right down immediately… near the end, cell phones are held up to light up the night, and over in one corner the youngsters go old school with lighters and flames (wonderful to see).
Back into a swifter tempo, and Mates and Pichette lean over together, and pull a young boy up on stage. Dave hands him his fiddle bow, Brad tells him "hold on tight, hold it straight up", and Pichette does a kick-ass fiddle solo by moving the instrument up and down the outstretched bow in the little boy's hand. High Fives all around and the youngster is handed back down to dad, and the show continues.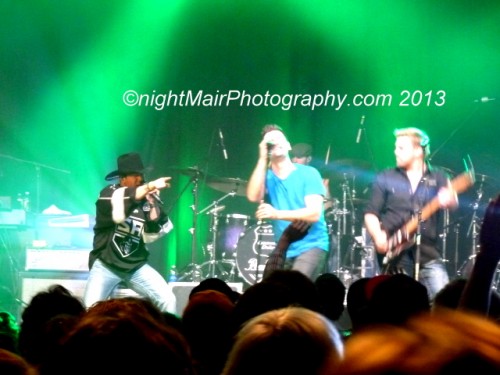 The end comes too soon (or so we think).. of course, one always expects an encore, and so we make noise! A few moments later, not only do Emerson Drive come back on stage, but Doc Walker as well! A few more songs, and they bring Aaron Pritchett back out too! The stage is littered with musicians and we're listening to the best in Canada all on one stage! Aaron waves, heads back off stage and Doc Walker and Emerson Drive close out the show with a killer rendition of Coldplay's Viva La Vida! What an incredible show!
Find more photos in our Gallery!
Our score 9/10
©nightMair Creative 2013 all rights reserved