At first glance, Shinedown seem to have it all – their last album, Amaryllis sold 106,000 copies in it's first week, they're currently on tour with KISS and are planning another Carnival of Madness tour in the USA soon after this one finishes, have toured Europe, America and Canada more than a few times, to sold out crowds, and seem to be genuine, likable people. We had a chance to talk to them before their Kelowna, BC show and we can tell you this – they ARE genuine, likable people, and with a lot of hard work, they DO have it all… and don't take it for granted.
nightMair Creative: All four band members (Zach Myers guitar, Barry Kerch drums, Eric Bass bass, Brent Smith vocals) have input into the 'music' part of your songs, do any of you also have input into lyrics or is that solely Brent?
Brent Smith: On Amaryllis yes – Eric helped me out a lot on I'll Follow You. The song was essentially built around the piano part that Eric came up with, so he helped me with the lyrics on that. We had a lot of fun writing that one. With Bully, Zach helped me with lyrics and he and I put that one together. Eric also had input with Enemies. I'm always going to put pressure on myself, but with this album (Amaryllis) I had the other guys around me, so there was no sense in me locking myself in a room and just trying to do it on my own, because I wanted to know what they thought as the stories were being developed. They had just as much right to give me their opinion as anyone, because we're all in this band together.
nMC: the legend of the Amaryllis is a romantic Greek Myth (read HERE). How did you guys choose to call the album Amaryllis?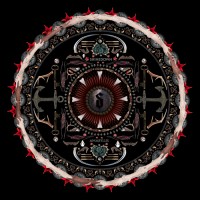 Brent Smith: There was a day when we were 20-something songs into the album (they wrote 33 songs for the record). Around 20 songs, we kind of hit a wall.. not really writers block but we didn't want to rehash the same subject matter. We gave each other a homework assignment – go to the beach, go to the library, just do something different for a bit of time away from each other. We came back and came across this flower (the Amaryllis) through research on the internet.
Some people call it the Belladonna or Naked Lady, but that's not what we took from it. The Amaryllis is this incredibly beautiful flower that grows in the desert and the time of year it grows, there is very little vegetation around it growing.. so there is no explanation really of how it can grow, and how it grows strong, and beautiful. That was the kind of symbolism we wanted – through adversity you rise above and you let your Amaryllis bloom. Not necessarily a quintessential metaphor, but using an element you really don't see in Rock and Roll. This flower was really a symbol of pride and perseverance.
nMC: Shinedown songs are quite angst ridden, but always have an air of hope or hopefulness about them too. Is it difficult to write something like this?
Barry Kerch: well, I think its just how we live, how we've always written songs, or gone into it. Anything we write or talk about on a record, from the beginning of Shinedown til now, is a reflection of what we've seen, or gone through, or what people around us have gone through. Shinedown as a whole has always been about overcoming, and kind of lifting yourself up and lifting up the people around you. Supporting the people around you. I think that gets reflected in the songs. That's why a more aggressive song like Bully still has a positive message behind it, even though its a sad subject. Its not necessarily intentional that we always do that, but it's just the way we feel on a daily basis. We're always trying to lift each other up, our crew, and those around us. We're pretty positive people even when we're having a down day.
(anyone that follows the band on Twitter can attest to this)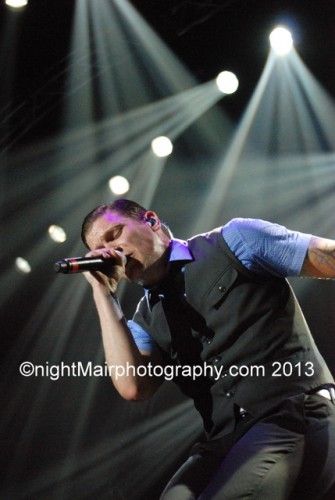 nMC: you guys are pretty open (on social media) about your faith – do you think your faith is part of what keeps all this together?
Brent Smith; everyone in the band has got a different opinion about religion. Its a topic that we don't shy away from but we don't bring up a lot. I believe in God because… there has to be a God. Faith with us is.. none of the songs have anything that has to do with spirituality. Like, none of them. Nothing to do with Allah or Kaballa, or Christianity or Christ. None of it is built on any type of spirituality. As far as the band is concerned we all have our beliefs and what we live by day in and day out.
nMC although the lyrics to Unity comes close in one section – depending on how you interpret it.
Brent Smith: absolutely.
Barry Kerch: the cool thing about music is that everybody's going to pull something different from the song.
Zach Myers: I was saying that earlier today – I don't want to know what Hallelujah is about.. I really don't want to know. Its one of my favorite songs of all time, and I don't want anybody to tell me what that song's about because I have my own interpretation of it.
Eric Bass: Brent and I were talking about this last night too.. we knew we could look up the song we were talking about on the internet, but 'I really don't want to know what its about" was what we both said.
Barry Kerch: we're very spiritual, positive people, but we just keep that out of the tunes.
Eric Bass: but at the end of the day, and this is just my personal opinion, your spirituality or your faith is something that helps keep you centered and gets you through your life in hopefully a positive way, and thats what's important.
nMC: the band has a new look – gone is the longer hair, eyeliner, and harder edge replaced by suits and ties and a more polished look. Zach (Myers) said on Twitter one night that 'we aren't 19 yr olds anymore' and that it was a joint decision by the group (not mgmt) to dress up a little more – tell me about that.
Barry Kerch: it was definitely a band decision. We always have conversations about what we're doing on stage and where we are as a band.
Zach Myers: I think we're at a place now too, that we know what we want to be remembered by. We all made a joke the other day, that the only pics we look at of ourselves in the past, is where we're a little dressier – and anything else we look at, at least one of us is like, 'what was I wearing?! I can't believe I wore that!" I just think this is a classier look and even if we don't do the suits and ties, we're getting older and want to make it fun for our audience.
Barry Kerch: you're never going to look back 20 years from now (on the internet and photos) and be mad that you wore that suit. We'll be mad that you wore those pink polka dot pants.
Zach Myers: (laughing) and the red fur coat!
Eric Bass: I did that! I liked the fur.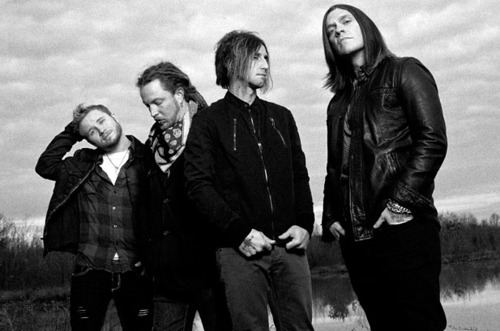 Brent Smith: and to be honest with you, I don't want to see a black leather jacket ever again. Ever ever. Ever.
(laughter from the guys)
Zach: Ever. I think he threw out all his black leather jackets.
nMC: do you find that your fans are changing with you or are they trying to hold on the older Shinedown?
everyone: we get both.
Eric Bass: the majority of people – and I think Brent says this readily – the band has grown so much over the last few years that a lot of people look at Shinedown and don't know there was anything else. That feels good, not to take away anything from anyone that was here before.
Brent Smith: I think that ultimately people -whether they've been aware of this band from day one or just found out about the band last week – they should understand at least from my perspective, that the band wouldn't exist without Eric or Zach. Me and Barry started the band a decade ago, but the band itself wouldn't 'be'. And I can say this honestly – it's ferocious! We feed off one another because we live with each other day in and day out, but we have an immense amount of respect for each other. We all four have an ego and we don't try to hide from that. But the thing is that that's exactly why it lasts and why it will continue to last, and why it continues to get stronger, because we all try to better one another.
Eric Bass: and talking about the ego – thing is we all do have one but not really with each other.
Barry Kerch: we keep each other checked thats why! (laughs)
Zach Myers: I think we have way more pride than ego
Eric Bass: we've seen each other at our best, and our worst.

Zach Myers: and help each other up, or knock each other down a peg, either way that's needed at the time.
Brent Smith: we work out together, eat together, we play hard together. We have a lot of fun but we also get into some massively, heavy heavy subjects, and deal on a business level that would probably drive most people insane. But because we've been doing it for awhile, I think that's why we continue to get better with age. I don't think we're getting older, we're just getting better.
We think so too!
©nightMair Creative.com 2013 all rights reserved