We found out about Wild Mountain Music Fest (near Hinton, Alberta) from Sam Roberts Band tour schedule, and as a big fan of Sam decided to check out their lineup this year. So glad we did! With artists like Blackie and the Rodeo Kings (who were really really good at last year's Rock the Peach and Salmon Arm Roots/Blues), and with bands like Elliott Brood (who we've heard a lot about and never seen live), Ashley MacIsaac and David Wilcox, a definite road trip was in order!
Heading off to Hinton, it was a mere hour down the road from Jasper (about 8 hrs from home), and the Wild Mountain Music Festival did a great job with signage, pointing us in the right direction 8 miles out of town to the Entrance Ranch up on the hill.. beautiful spot! Well laid out, lots of volunteers to keep traffic organized, and many checks along the way to make sure people had tickets and knew where they were going. We arrived, were directed to our camping spot for the weekend and took a wander around the site to get the lay of the land.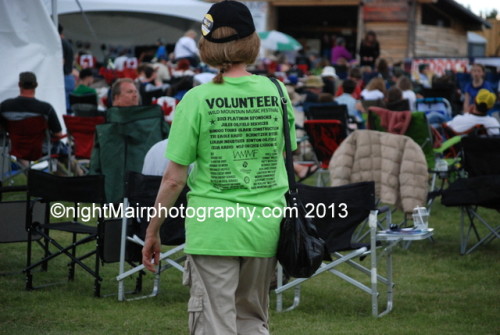 Now in it's 6th yr and gaining speed, Wild Mountain Music Festival is the largest 100% Volunteer run music fest in Canada. This army of ladies and gents know how to put on a good party! And keep the peace, and not dampen anyone's enthusiasm…  they've got a good balance figured out. . Was great to meet festival President Brian LaBerge, and get the lowdown, including the event contributing $1.5 to $3 million dollars to the local economy annually!
Music started around dinner time Friday night, with a very loose 'schedule' and it was great that it was a mere 4 minute walk to the stage areas. Highlight of Friday night for us were definitely Blackie and the Rodeo Kings. This power trio (and a drummer) usually consists of Tom Wilson (of Junkhouse, and Lee Harvey Osmund), Stephen Fearing and Colin Linden, but Colin is off playing with Bob Dylan! Tom and Steve brought a friend in to cover bass, mandolin and backup vocals (didn't catch his name unfortunately) and with only a few days practice he fit in seamlessly. The first song was a little rough around the edges but delightful and the entire set was a rocking good time with nearly a full 2 hour show! (as the closeout band they were on till nearly 2am!) We got our cardio for the day with all the dancing we did.
Surprises of the night included Cadence and Nathan, a sibling duo with a mix of Pop, Country and Folk played with Cadence on acoustic guitar and Nathan on lap steel guitar. The crowd loved this pair.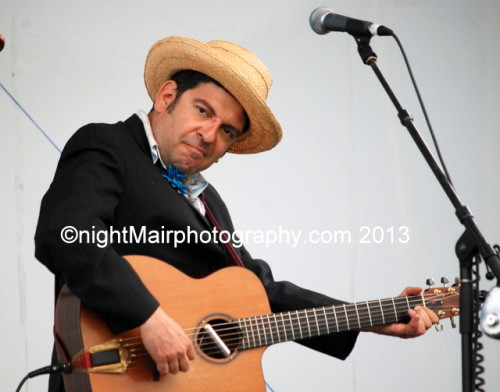 Also fun to watch were The Dead Stringers. Upright bass, guitar and fiddle trio playing a mix of Gypsy Jazz, Western Swing and many original compositions. The Dead Stringers drew in quite a crowd right from the opening song, and soon had a small group of people up at the front dancing to the beats.
Ashley MacIsaac was okay – good to listen to from the beer garden or as you wandered around to snoop at the vendor and artisan's offerings, but didn't put much snap into his performance. Fabulous fiddle player, but with his guitarist missing (MacIsaac announced that he had quit before the show), the only other 'band' member was playing a beat box and trying to fill the vocal void with improv turntable/beat box sounds. Definitely would have piqued our interest more with a full band and/or vocalist in tow.
David Wilcox was interesting too – but played about 30 minutes longer than held our interest. His voice is crisp and clear, melodic, his guitar playing impeccable and fast as lightning, but too many songs about 'David Wilcox' and with his style, the songs are quite long and draggy.. a shorter shift would have left us wanting more.
The boogie lasted till 2am- and we listened to the last refrains of Blackie and the Rodeo Kings from our temporary home, had a great night's sleep in preparation to do it all again!
Saturday
The Wild Mountain Music Festival has gone to amazing lengths to keep weekend campers happy – a small 'general store' that stocked everything from candy bars and pop, to bug spray and even tooth brushes. As well, a free shuttle bus (courtesy of Sundog Tours) was available most of the day to run people into Hinton and back (40 min round trip) with stops at the main mall, and a few hotels for the 'out of towners'. They even taxied people back to Jasper (an hour away) for free so they wouldn't have to drive after drinking. Tip your shuttle bus driver became the mantra for those of us using this service.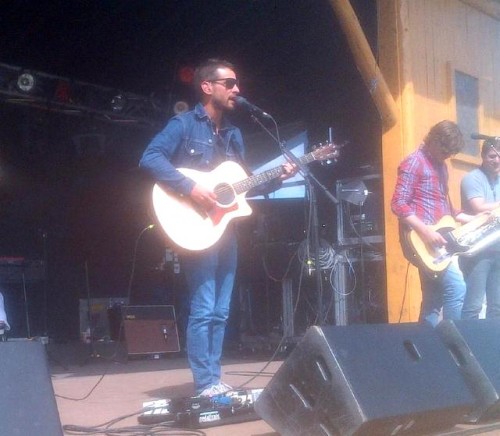 Just as we were heading to the shuttle bus departure zone, we heard sound check, Sam Roberts Band 'Mystified, Heavy' and at first thought it was the techs using a CD (they often do that to adjust levels) but then realized, it's Sam! We headed over to the main stage area and sure enough, Sam and full band were just launching into 'Taj Mahal', in front of a smattering of seated, relaxed, or sleeping concert goers in their chairs and blankets. 'Without A Map' (our favourite) was the final sound check song and the band were treated to clapping in between songs to which they blushed, not expecting a live audience just yet. Fun to watch, and as Sam strode off stage after putting down his guitar, he smiled wide, and waved. We had about 3 minutes to run for the shuttle! Made it and headed to town.
Later, we took life easy and listened to Oscar Lopez – very Latin influenced mix of Jazz, Blues and even Pop, and really really good. Very much flamenco finger picking acoustic guitar and Spanish vocals but he complimented the afternoon laziness and it was good.
The Front Porch Roots Revue were also one of our favorite bands Saturday afternoon.. old 60's style Swing/Jazz with a touch of Rockabilly and great to dance to. Many small kids were up front just giving it. So were the adults!
Enough time for a quick dinner and (new to us) Elliott Brood hit the stage. Loved them! Our first time seeing them live and they put on a really good crowd pleasing show. Very personable, gregarious and have that spark that the audience can feel. So glad we got to watch them perform live.
Feeling really good with the great tunes, and beautiful weather (mix of sun and clouds – just enough to keep us from being too hot), the wind suddenly picked up, the heavy clouds rolled in in record time and we were deluged by a summer shower! Everyone was soaked to the skin but it couldn't dampen the enthusiasm of the Festival. Fresh dry cloths and next up is Sam Roberts Band!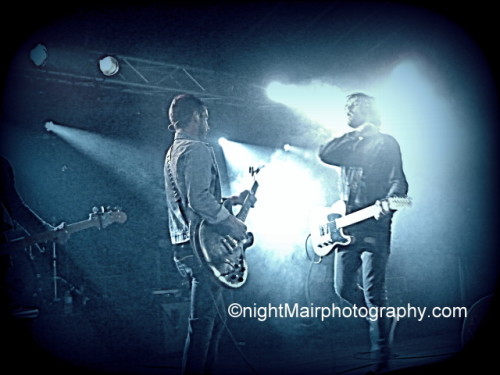 SRB started just after dark (10:30) and the man was on fire! Truly. Every Sam Roberts show is different, all are 1000% effort from Sam and the band, and tonight was exceptional. Don't know if it was the audience being allowed to literally lean on the stage in the front row (no gulf between artist and fans), or the camaraderie of everyone being drenched earlier, or just being in the fabulous mountains and open air, whatever it was, Sam was smiling more, shaking hands with people up front 2 or 3 times, and pulling some of the older tunes (like 'Dead End') out of the closet to toss to the audience. The band even road tested a new song from the new album they're working on! It received a resounding favorable response. It was fun to watch the crowd too – split right down the center, stage right was younger, a little glow-on from the drink, and bouncing up and down almost as one complete unit.. stage right was at least 10 yrs older, feeling a little more laid back from Nature's hemp and just grooving in their own space with smiles on faces. We were somewhat in the middle and having the time of our lives. Gone too soon after a 3 song encore, it was time for us to hit the hay and nurse some over worked calf muscles – 3+ hrs of cardio in two days thanks to Blackie and the Rodeo Kings and Sam Roberts Band – good stuff.
The weekend was a blast… good fun. The travel time was enjoyable too as we went on a scenic tour through Banff to Jasper with stops along the way at Lake Louise, the Columbia Ice Fields, and Athabasca Falls. Very beautiful country through the Rocky Mountains, and time your trip so you can catch the Wild Mountain Music Fest next year. Of course.
©nightMair Creative 2013 all rights reserved