When you come from a place called Flat Lake, Alberta, it's pretty tough to get noticed. For Brett Kissel though, it's pretty tough to be ignored. The 23-year-old singer/songwriter has released four independent albums (the first at age 12!),  and has earned two Canadian Country Music Association Award nominations, his first at age 16, becoming its youngest nominee ever. Brett has recently released Started with a Song, which became the most added song at Canadian country radio in its first week, surpassing a record set by Taylor Swift. Brett is a force to be reckoned with and at only 23 he knows what is important to him in his music and in his life. Brett took some time from his busy schedule to talk to us about that.
nightMair Creative: HI Brett nice to meet you!  Its pretty amazing that you released your first album at the age of 12.. what can you tell us about that time?
Brett Kissel: At the time I didn't realize how unique it actually was. It was one of those things for me that there was enough of a demand locally, people just wanted to get a copy of what I had done.. we made this local project that turned into a very cool event, and we had a great little release party and just had a lot of fun with people. At 12 yrs old you don't know how unique it is, but now looking back on it now I realize what a cool experience it truly was to record an album at that age.
nMC:Iit was well received you said, so did that give you incentive to keep going with the music?
BK: It certainly has.. from that moment on music was all I wanted to do and I've been so lucky to have gotten the opportunity to continue to make music, and play shows, and record albums.
nMC: How do you approach your songwriting, where do you get your inspiration for your songs?
BK: I often start with a song title, which is often the start of a cool idea. I draw on a lot of inspiration from my personal life.. because I feel that's the most believable way to write songs. It's difficult for me to come up with something that I haven't lived, or don't have experience in, so you'll find that most of my songs are about a similar topic: about having a good time or about young love. I think that as time goes on I'll write about different things as I live them or experience them. But for now I'm just thrilled about how my songs have turned out and the type of song writers I've been paired up with – we've come up with some really great stuff.
nMC: do you have more fun writing the party songs or the deeper songs?
BK: for me, every show and every song on my albums have a special place and means a lot to me because I was singing every different type of Country music. I'm going to put on a different show for a large music festival than I would for a smaller more intimate venue like The Barking Parrot (Penticton tour end) – each song has a different place in the show and I can't really pick which I like better. Sometimes a real tear-jerker I wrote about my Grandpa passing away can really speak to me in a different way than a real uptempo rowdy song can -but then there are certain elements of a rowdy song that can fire up a crowd in a way a tear-jerker just never could. for me it depends on my mood, the mood of the crowd and that's what I love about being an entertainer that can take people on a journey throughout the show.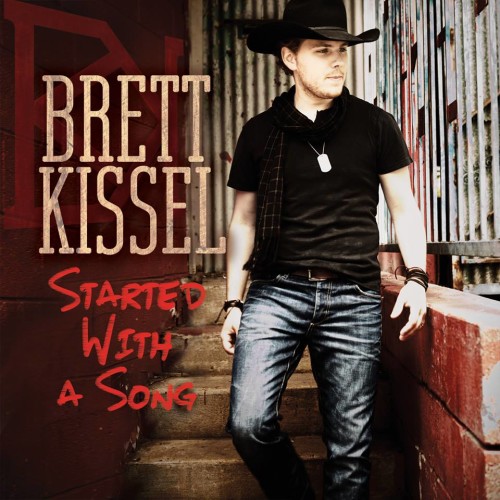 Check out Brett's new album,

Started with a Song

available on

iTunes now
nMC: who are some musicians or people who have influenced you to write, perform or in life in general?
BK: its a very vast array of people – I've really drawn on experience and inspiration from a lot of people not just in the music world. A very good friend of mine Bret Wilson (Dragon's Den) has taught me a lot of good life lessons and given me great advice. My grandfather only had a grade 7 education but was one of the smartest guys I've ever known and I had a lot of great influence from him. Then there's influence in the type of music I like to play – bands like Brooks and Dunn (who I've never met), artists like George Strait etc, who have taught me (by me watching them) many great things I take into account when I perform my shows now, and guys like Aaron Pritchett who took me under his wing when I first started out, brought me up on stage to perform, and has given me great advice on my career and been a great mentor.
nMC: Tell us about the upcoming Young Guns Tour you're co-headlining with One More Girl, that's about to start.
BK: I'm excited to be touring with friends One More Girl. Our tour starts off February 4th, in Saskatoon and ends* in February 15, in Penticton at the Barking Parrot which is one of the coolest places in town. We can't wait to meet our fans out on the road and share some of the new songs.
nMC: thanks for taking the time to speak to us, good luck with the tour, and congrats on the Association of Country Music in Alberta Awards nominations. (Male Artist of the Year, Rising Star Award, Single of the Year (for Started With A Song)  and Song of the Year)
BK: thanks, and thank you very much for talking with me.
*edit Brett's tour includes dates in Kamloops, Penticton, and Vancouver and the tour has been extended to March with more dates in Eastern Canada added.. for full tour schedule and ticket info head to Brett's site.
©nightMair Creative.com
all rights reserved