Canadian Country star Aaron Pritchett had the honor of seeing a lifelong dream come true last night, opening for Garth Brooks in Saskatoon. If you missed the back history on this story, you can find it HERE starting with Brooks asking Pritchett live, on air radio, to come open for him. The story was picked up by nearly every Country radio station in Canada, and Pritchett, who was on a radio tour at the time to promote his new song Dirt Road in Em, was the talk of the country. Turns out, once the details were hashed out, Pritchett was asked to open TWO shows! Last night's and again on Sunday June 12.
Excited as a 5yr old on Christmas Eve, Pritchett could hardly contain himself the last few days prior to his big moment.. and who can blame him?! Brooks' unique style of not just entertaining, but finding ways to engage and include every audience member, is what inspired Pritchett's own passionate performances whether performing for a few hundred at charity fund raiser, or 10,000 at summer festivals over the years.
And how did Pritchett (backed by son Jordan Aaron, and John Sponarski) do?? Well, let's let the Garth Brooks concert goers and fans tell you! (taken from various tweets)



And in pics!  Look at the size of that crowd! Thanks Rob Buchanan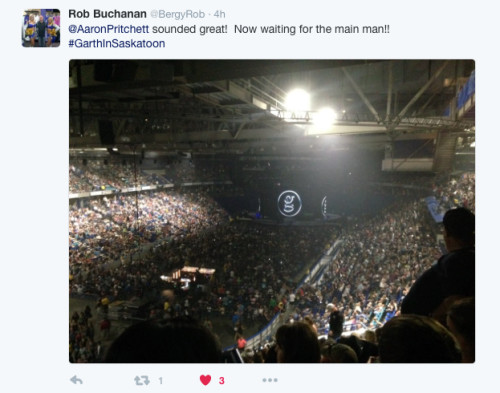 And Pritchett on the big screen thanks Jeff Wittal.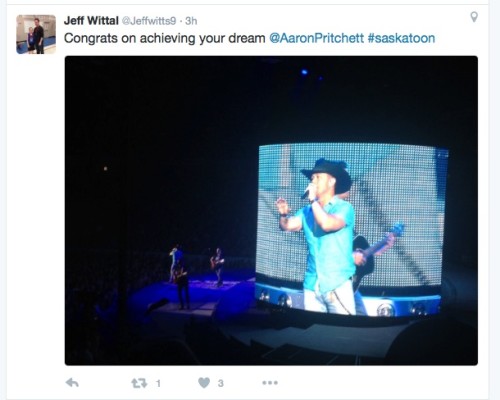 And Aaron Pritchett doing what he does best, trying to connect with the audience – check him out leaning toward a fan in the audience reaching up. Thanks Rhonda Stock.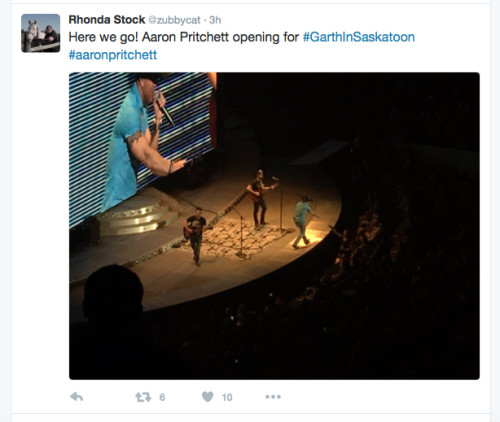 Hearty congrats to Aaron Pritchett being able to live a life long dream that he's had since he first started in music  20 yrs ago. One more show to go (Sunday) and then his new album is out! Look for 'The Score' out June 24. (A 'score' is 20 years).
©nightMair Creative.com
all rights reserved
featured image Sharon/@Saskie35