Amsterdam Station The River. The Sound. The Wake.
written by Kevin Lee/Donna Mair 
Amsterdam Station's debut The River. The Sound. The Wake piqued my curiosity. Billed as 'alternative rock/ electronic folk rock/ synthwave' on their SoundCloud account, it sounded like a really interesting combo; what happens when you combine electronic folk with rock?
Well, unfortunately, not my cup of tea. But there are melodic guitar hooks and tasty enough solos, folky harmonies, a kind of 90's college pop-punk rock raw vibe which other listeners might find intriguing and engaging.
I found myself saying 'nice' a lot, but is rock'n'roll supposed to be 'nice'? I like melodic rock as much as anyone but I want some raunch, some dirt in there, and The River, The Sound, The Wake just isn't that sort of album – heavier on the 'folk rock' than alternative rock.
Some of the lyrics did catch my attention: 'Circadian Swing' (track 6) especially, was relatable to me on a personal level, "All my life I've been waiting for a change/Still in my little world I am the same."
Lyrics are always most effective when they feel sincere, and another song, 'From Hell or High Water' nailed it for me as well, "I was a fool in my youth, Damned by your ways, it's the truth." and from 'Stage IV: Separation' this lyric, "But don't worry about me 'cause I'm doing the best that I can, It's me just me, That's all I am." Not earth shattering, but there's a simplicity here that seems genuine and heartfelt.
There were also other lyrical rewards: from an interview I found out that the song 'Florence' was dedicated to one of the band member's grandmother who had passed away, and told the story of her passing. I found this quite touching, although I never would have known the song had this meaning without reading the interview. (Perhaps the band should add this info to their site's band bios)
For me, Amsterdam Station are not quite there yet. While they definitely rock in their own way they strike me as a band still finding their sound, but there's enough lyric content and song writing craftsmanship here to hint at their future potential. If you want a band to listen to while cruising around the city this could be a band for you. But if you like your rock more RAWR you'll want to look elsewhere.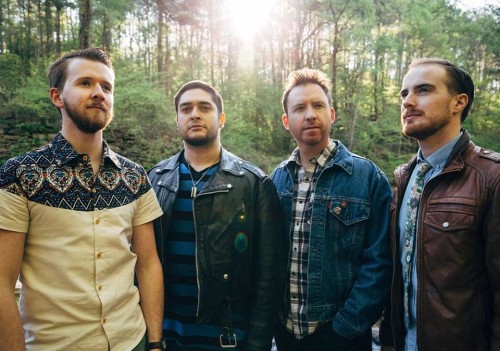 Amsterdam Station hail from Atlanta, GA and have been getting some radio traction on 99X and Radio
105.7. Check it out yourself on the band's Soundcloud account HERE and check the band out on Twitter and Facebook, and their Website for further info.
By Kevin Lee /Donna Mair
©nightMair Creative.com
all rights reserved