We can hear music outside the venue – loud music. But it's not country, its Cold Play's Viva la Vida! So we figure it's the sound engineers testing the system until we realize the voice belongs not to Chris Martin but to Brad Mates, front man for Country band Emerson Drive who have teamed up with friends Doc Walker, and special guest Aaron Pritchett for their latest cross country CMT Hitlist Tour. The sound is even louder as we enter the Salmon Arm hockey rink, and we can feel the chill of the ice even before we see the actual rink. Emerson Drive's tour manager leads us right down to the front of the rink where we're greeted by a bevy of heavyweight talent overflowing the stage for tonight's show – Chris Thorsteinson (Doc Walker) is the first who sees us, and his face lights up as he recognizes us from Nakusp Music Fest and the Breakout West awards a few years back. Dave Pichette, fiddle player for Emerson Drive smiles at us (the man never stops smiling – he just lights up a room) and we see Aaron Pritchett near the back of the stage with Dale Wallace, Emerson Drive's keyboard player, who both look up together, and smile and wave. The Coldplay song is indeed being sung by Brad Mates, Emerson Drive's founder and frontman, and the man we're here to talk to!
Mates finishes up his sound check and jumps down off the stage all smiles, sticks his hand out and introduces himself.. we do likewise, and we step outside to the band's tour bus where it's much quieter, and surprisingly, jump into very easy conversation with Brad. (surprisingly because the one time we've seen Emerson Drive at a live show, Mates has seemed to be painfully shy and quite introverted – boy were we wrong! ) Our interview with Mates is one of the most enjoyable we've done in some time.. the man is attentive, smiles easily, laughs often, and really is what he seems to be – down to earth, unpretentious and loving every minute of his public and private life.
nightMair Creative: For our 'hard core' Rock fans that may not know your band's back history yet – a few questions about the beginnings of the band if you don't mind. The band changed it's name early on, from 12 Gauge to Emerson Drive – tell me about that.
Brad Mates: Yeah, it was interesting because when we started the band, we didn't realize it would turn into something big enough where we would have to do a name change. We were 12 Gauge in Canada, but once we went to Nashville and got going, we found there was an R & B band registered as 12 Gauge. That was the time we had to start looking for a new band name if we wanted to be registered and all that.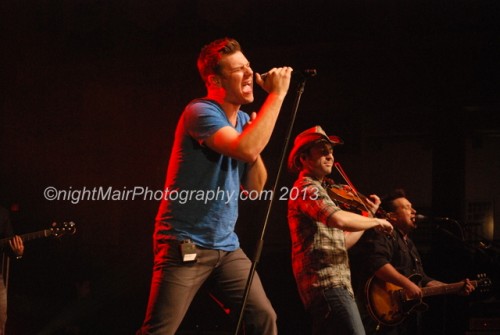 nMC: So what was the inspiration behind the new name – where did 'Emerson Drive' come from?
Mates: We were trying to tie into something back home, outside the Grande Prairie area in the Peace Country (Northern Alberta). That whole area was a huge backbone for us growing up as kids, and starting out the band in high school, so I wanted to make sure to have something that tied us back to that area. Emerson Drive come from 'Emerson Trail' which was an old gravel road farmers used to get to Dawson Creek and Mile Zero in Alaska. Everyone in that area has heard of that road at some time or other.
nMC: you guys are a Canadian band from the Peace Country, then you headed to Nashville and tried to break into the USA market. That seems to have gone well.
Mates: it took a few years, but when we finished high school in 1996 we made a twice yearly trip for basically five years, putting together showcases for Industry and new record labels to see where we were supposed to fit in to the music scene. It was an eye opener of course! At 18 years of age, being one of the only young bands outside of Grand Prairie playing all the small spots, we were the group that everyone wanted to see. We felt unstoppable. When we got to Nashville, we realized how many different types of people there were from around the country trying to do what we were trying to do. It was like, "holy man, we have a lot of work to do."
nMC: instead of big fish in the small pond, suddenly small fish in the big pond full of other small fish.
Mates: Exactly! Those were the years we spent 300+ days on the road and played 5, 6 nights a week in bars, clubs and such.. and that really defined who we were as musicians, and as a band. You can't take those days away, because they definitely gave us what we are now, gave us the foundation to know how to play.
nMC: as a band, you've had a lot of members come and go over the years. How have you been able to maintain a clear vision of what you want for the band, maintain a clear direction?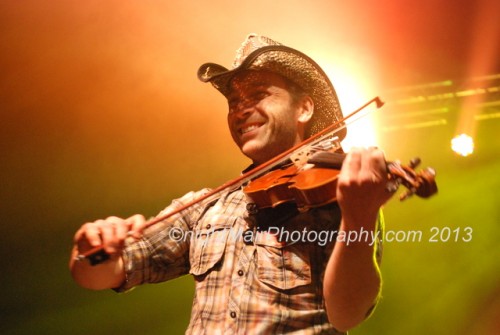 Mates: Dave (Pichette) our fiddle player and Dale (Wallace -keyboards) have been with the band for 9 years now. Seventeen years ago we started the band .. it was six of my good buddies I grew up with in high school to start. From that band, I'm the only original member left. Some of those guys changed careers, went to college instead of music and such. The core though has always been Mike (Melancon) our drummer, and Dannick (Dupelle), and then Dave and Dale joined us for a good portion of our recording career (of 11 years). It's interesting to look back. Two of our band members that left early on, had hard decisions to make about balancing family and career – we were still playing and touring 230 days a year back then and it was a tough choice for them. The whole vision of Emerson Drive has always been there from the start though, we've never lost what the salt of the group is. It's unique how a band is always going to have a sound and with the core of our group with us for 15 years, our sound is there, that's never going to change. Dale and Dave have added a tremendous amount of experience to this band too.
nMC: (speaking of which… at this point Dale Wallace walks into the bus, asking about a hairdryer, apologizing for interrupting, and we promise him we'll tell people he's from Kamloops – a local boy 🙂 )
nMC: at this point Dale Wallace walks into the bus, asking about a hairdryer, and we promise him we'll tell people he's from Kamloops – a local boy 🙂  
nMC: you have also gone through a lot of release issues, and record label issues in the 17 years of being a band. The more I learn about the business, the more I respect artists who don't become jaded. How do you not get discouraged, and keep pushing, saying, 'I have something people need to hear?'
Mates: You nailed it. All the emotions that you would normally go through in life, come into play; discouragement, frustration.. you get mad. You point fingers as to why things didn't work. At the end of the day, there are so many thinks that are out of your control. One thing that's always been consistent though, is what we do on this tour bus. Every time we leave to go to a different city, everything on this bus runs almost perfectly, meaning, we're self-contained. There is no outside influence which ever makes us 'get in the ditch' which is really interesting because there are so many aspects in this career which work against you.. but I've always found that the road is our safe place. That's where we always find the reason to keep moving on for another year, because we can look back and see the progress, the new fans, the music that seems to work for people. That's why we keep doing this.
I've always said right from the beginning, if I ever feel like I didn't feel it anymore, or we weren't making a step forward, it would be time to take a look at what this was – and it hasn't stopped yet so its exciting! Now we have some longevity to our career.. 11 years recording music, 17 years since we started. I'm proud of that. We're not selling out arenas but we have an incredible fan base of people that allow us to have a career and keep making music.
nMC: how did you end up working with Doc Walker?
Mates: We've know the boys for 17 years. They started a band the same time we did and we ended up running into them in almost every bar across Canada over the years. Chris (Thorsteinson) and I spoke about working with each other at every CCMA awards over the last 5 years – but kept blowing it off. So finally, this time we made time for it and sat own and wrote Let it Roll in a 3 hour writing session. It was great just writing about stuff we both knew from the road over the years and what we have become as bands. It was really cool. We felt it was going to be a single, so we called Doc Walker and told them it would be on the record, then we did a video together, and then this tour came together with them as well. It's been great. .. a snowball effect. It's such a great feeling to get on stage and off stage and know that it works. We knew it would, but its great to be doing it.
nMC: I think it was a bit of a shock for fans to see Emerson Drive and Doc Walker on the same stage at the last CCMA awards show singing together. Often there seems to be a lot of competition fostered by Industry with artist against artist.. you guys complemented each other very well then, and are now with the new tour. its nice to see collaboration and no ego from artists working together.
Mates: Omg I know! We talked about 'who goes first' and we both don't care. Its one of those things that people are going to get a great show no matter what. Just from our last few shows the reaction we've had, we know we're doing the right thing right now. The collaborations you see in our show especially at the end is what we wanted people to really see and feel.
nMC: is it harder to get people at a sit down venue, fired up at a show?
Mates: yes and no. I love getting the crowd fired up but I love sit own venues because I know people are listening. (as opposed to being at the back of the bar fighting or talking).
nMC: are you still shy on stage?
Mates: no I'm not. (laughs) Well I shouldn't say that
nMC: are you still shy on stage?
Mates: no I'm not. (laughs) Well I shouldn't say that. Its a weird thing.. when I first started singing I had no idea what to do. I'll be honest with you, I still do whatever feels natural to me and sometimes its weird and awkward. But that's the crazy thing about being a singer and frontman in a band- its finding your spot and your place. I think iIve definitely opened up more over the last 5 years from where we started.
nMC: what strikes me is that you've completely open with what you're doing on stage at the time. You don't worry about what you look like, you're into the song itself instead.
Mates:  it seems to me in the last 5 years I find myself getting more and more into what i'm singing. I love singing. I've never ever been tired of singing even when we played bars 300+ shows a year. I've always enjoyed it!  It gives me something emotionally. I've been a quiet person my whole life.. I'm not a loud person. I usually like getting off the grid when I'm not on the road.. so I don't have this completely left wing personality like some artists when I'm off stage, but on stage I definitely have a different personality.
nMC: "what is your dream gig like?"
Mates: It's later in life. I already know what it is… its at the cabin, with my son. For a weekend of fishing or hunting and then playing guitars at night. Thats my dream gig. I did that with my dad a lot growing up and would like to do that with my son.
nMC: "what's your nightmare gig?"
Mates: ooh.. nightmare gig. I'd have to say doing something on my own! Because I've never done something alone.
nMC: what do you see for the future of Emerson Drive?
Mates: Thats a good question. i never expected us to have a career as long as we have. Everything from this point, to be honest with you – if we get another 10 years out of this, then I'm going to sit back and be like, "I'm 45 years old, started a band when I was 17, and how did this ever happen?" I'll still be that way. Because I know that we're lucky. I know that we worked our asses off…
nMC: (laughing) you just said an oxymoron. You said you've been lucky. And that you've worked your asses off. You've been lucky BECAUSE you've worked your asses off.
Mates: Absolutely.. I agree. We've had some good people. We've had a couple of lucky breaks which comes in life sometimes. I know when we were in our 20's there wasn't anybody who worked harder than we did. It all goes together.
If it wasn't for all the road work we did in the past – (with all the record label changes and such), we wouldn't be where we are. If you know how to play on the road and make a new fan, that's really all that you need. Our fans are what keep us going.
Our many thanks to Brad for his time, and for the people who made this interview possible. The show later this night was fantastic and all three bands brought something unique to the show. You can read our review HERE and Cindy's review of their first show in Vancouver, HERE.