Brian Lopez – Ultra
written by Taryn Wallis of TSWZine
It's difficult to categorize Brian Lopez's music. 'Desert Noir', a label used by a French journalist, is the description that most resonates with Brian himself, and this does capture the beautiful, multi-layered and emotive music on Ultra, his first full length solo album.
Given that Brian grew up in Tuscon, Arizona, it is perhaps unsurprising that the desert features prominently on Ultra. Brian's personal favourite song on the album is Where The Cold Wind Blows: "It's the album's sleeper track. It's a really slow, haunting song about the desert at night, but I love how it builds. I also love playing it live because we pump it up even more." I Pray For Rain the track that I've pretty much had on constant repeat since getting the album, is evocative of the desert's heat and dust, and the need for relief and redemption. Even The Killing Moon, a cover of Echo & The Bunnymen, fits in with the desert theme. "I had a dream one night that we covered the song with a mambo beat. We tried it the next day in rehearsal and it sounded awesome, though it evolved over time to the recording you can hear on the album now."
The feeling of the Arizona desert is intensified by the use of Spanish on the album. While Brian's father is Spanish, and the Latin influence is strong in Tuscon, Brian grew up speaking English. "I had to go overseas to learn the language. I lived in Barcelona for six months while at university. Right now, my Spanish is kind of crap, but it comes back if I'm in a Spanish speaking country for a while! At the time that I recorded Ultra, I was in a mambo orchestra and so it made sense at the time to have that in my music. I won't necessarily do that again; I'll do it if it makes sense."
The only fully Spanish track on Ultra is El Vagabundo, while two other tracks – El Pájaro y El Ciervo and Leda Atómica – incorporate both English and Spanish. Brian is particularly proud of the former: "The arrangement came out really well. I wanted it to sound like a Disney tune, you know the ones where there are real humans and animated birds."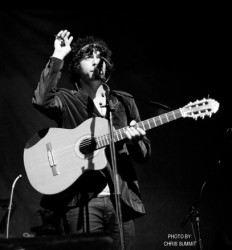 While the Spanish on El Pájaro y El Ciervo is more gentle, that on Leda Atomica, spoken by Tuscon poet Salvador Duran, is quite dramatic. Combined with Brian's singing, this creates an energetic tension that captures the song's meaning. Leda Atómica is a painting by Salvador Dali, about the Greek myth of Leda who was seduced by Zeus in swan form. In Dali's painting, in line with his fascination with atomic energy, nothing is touching, and for Brian this summed up the challenges of being in a long distance relationship during the months he spent in Barcelona.
Brian's time in Barcelona also comes out on the album in the opening track, Montjuic, after the hill overlooking the city. "It's about a couple who meet on Montjuic, fall in love and get married. The wife eventually dies in her husband's arms, and later they meet again on Montjuic, in the afterlife."
Ultra is an album that will stay with you long after you've finished listening to it, though it will demand that you play it repeatedly, and it will reveal more of itself each time you do. While Brian performs with a full backing band on Ultra, his upcoming tour of the US and Canada in September/October, opening for KT Tunstall, provides a special opportunity to hear Brian's songs at their purest – just him and his guitar. Given his incredible vocal talent and guitar skills, he doesn't need much else.
We give Brian Lopez 5 out of 5
©nightMair Creative.com 2013
written by Taryn Wallis